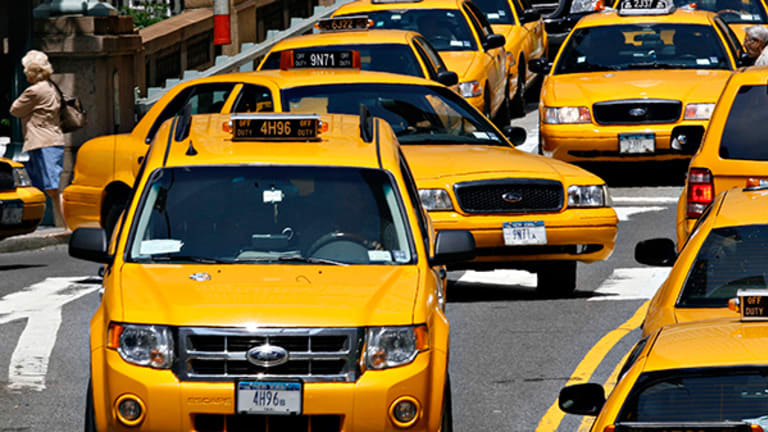 Uber Now More Popular Than Taxis in New York City Among Business Travelers
Uber and Lyft market-share gains among business travelers as well as the general population have taxi medallion lenders feeling the pain.
Editors' pick: Originally published April 21.
Yellow cabs in New York City are starting to feel a lot more like the payphones that still occupy real estate on city sidewalks where pedestrians pass by, staring at their smartphones. For taxis, it's both the smartphone and Uber, the service you can use to hail a car with one, that are killing the cab. 
For the first time ever, business travelers coming to New York are using Uber and services like it to get around more than taxis, according to a new report from expense-management software company Certify. 
New York City is the most protected taxi market among major U.S. cities, but for the first time, Uber overtook yellow cabs as the top choice of business travelers in the first quarter, reaching 51% market share, up from 44% in the fourth quarter and only 9% two years ago. 
Nationwide, Uber's dominance over taxis for business travelers has been true since the second quarter of 2015 (see chart below).
For taxis across the country, things are only more dire now. In the first quarter 2016, ride-hailing services reached 46% of the business traveler market share. Meanwhile, taxis fell to an anemic 14% share of business traveler wallets among Certify customers, down from 20% in the fourth quarter and 37% two years ago. The six percentage point sequential share decline is the worst quarterly drop for taxis since ride-hailing services entered markets in 2011.
Ride-hailing also widened its market share advantage versus rental cars to six points. Ride-hailing services have gone from 8% to 46% in the same 24 months -- unprecedented speed from market entry to No. 1 share in a large and mature market.
Share of Business Ground Transportation by Mode Among Certify Client Base Nationwide
In a three-team race among Uber, another popular ride-hailing service, Lyft, and taxis (excluding rental cars), Uber's U.S. share increased from 14% in the first quarter of 2014 to 69% in 2016, entirely at the expense of taxis (see chart below). Lyft continues to grow the fastest, albeit off of a still relatively low base, rising 22% sequentially compared to 6% for Uber and a 15% loss for taxis. 
The most pronounced share gains occurred in New York City (+30% to 51% share), where Uber's share exceeded taxis for the first time, Atlanta (+20% to 61% share) and Chicago (+19% to 44% share) and the fastest sequential increases for Uber were observed in Dallas, New York City and Chicago.
Share of US Business Traveler Trips in Certify Client Base
Cost may be one of the culprits. Ride-hailing has proven to be much cheaper. Lyft showed the cheapest average fares at $23.53 to Uber's $26.41 and taxis at $39.68. In addition to a significant price advantage, users again rate the ride-hailing experience higher than taxis, with Uber receiving the highest rating at 4.7, followed by Lyft at 4.5, rental cars at 4.1 and taxis at 3.8 on a 5.0 point scale.
The taxi trip and meter revenue data provided monthly by the New York City Taxi and Limousine Commission (TLC) demonstrates these trends are not isolated to the business traveler segment in the most protected major U.S. taxi market. The chart below shows monthly trips and farebox in NYC have declined by 28% and 21%, respectively, in the three years ending January 2016, a period in which the Uber driver network in New York City went from roughly 1,600 to around 30,000. Moreover, the taxi declines have accelerated to the worst year-over-year comparisons in the last six months than at any time during the ride-hailing era (down 13.8% and 9.6% for trips and farebox, respectively, compared to down 8.1% and 5.3% in the preceding 18 months). To make matters worse, Uber reduced average fares in New York City by 15% on January 28 and subsequently reported over a 30% rise in trips in the first three weeks after the reduction. It will be very interesting to see the impact on yellow taxis when the February TLC data becomes available.
NYC Taxi Trips and Meter Revenue in Accelerating Decline
Long-time lenders to taxi medallion buyers (those who operate the cabs) are also experiencing a significant hit to loan quality in terms of both its precipitousness and magnitude. Trends through the fourth quarter of 2015 are ominous with spikes in medallion loan delinquencies, troubled debt restructured and other non-performance factors for the most exposed taxi medallion lenders (see charts below).
One such lender, Montauk Credit Union, was already seized by regulators and another, LOMTO Federal, has foreclosed on 19 Chicago medallions in just the last two weeks and likely has regulators breathing down its neck. The percentage of non-performing taxi medallion loans for the four largest New York credit unions, in aggregate, has gone from 3% to almost 45% in one year. For Medallion Financial (TAXI) , the percentage of non-performing taxi medallion loans has gone from 1% to almost 16% in just 12 months, and the debt market required a 9% interest rate for a company with an average cost of debt nearer 2% to raise $30 million in corporate bonds.
Medallion Financial Taxi Medallion Loan Non-Performance Trends
Credit Union Taxi Medallion Loan Non-Performance Trends
This article is commentary by an independent contributor. At the time of publication, the author held no positions in any of the stocks mentioned.