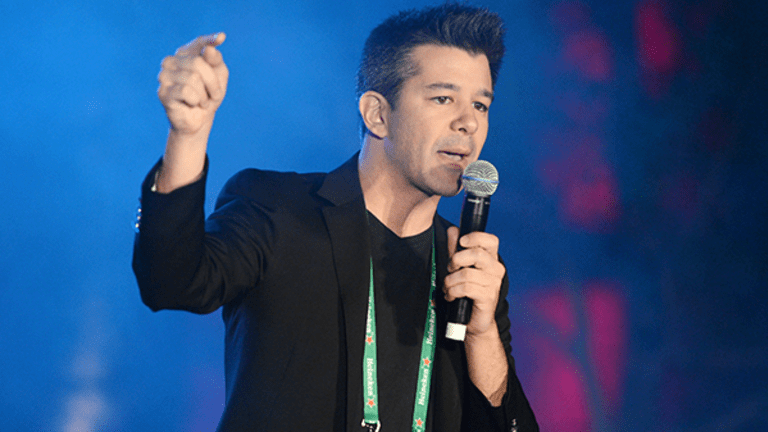 Uber Must Be Careful Not to Skip That Vision Thing
In searching for Travis Kalanick's replacement as chief executive, Uber's board can't simply hire a competent manager.
Whoever replaces Travis Kalanick as CEO of Uber Technologies Inc. had better be more than just a good manager. 
In the wake of Kalanick's resignation, Uber's board of directors is faced with a hiring that stands to make or break a ride-hailing service that has become one of the great success stories of Silicon Valley. Yet while Kalanick's vision and drive are credited with building Uber into a global concern with a valuation of more than $70 billion, his management style also is blamed for a string of strategy errors and a boorish work culture.   
"Uber needs to keep the persona and the vision that brought it this far, but they also need to bring in professional management," said Max Wolff, a market strategist at 55 Institutional. "At some point, it's possible Travis comes back in another role because they're still going to need big brass vision, or they're in trouble."
Indeed, the idea that Uber simply needs to replace Kalanick with someone who has experience running a large technology company may not be sufficient for a business that has yet to become profitable and is facing stepped-up competition from rivals such as Lyft Inc.
Kalanick is credited with not only helping to develop an easy-to-use technology that efficiently matches a rider with a driver but also creating a lifestyle brand that make any user feel like a globetrotting executive. 
"I'm not convinced that Uber no longer needs a visionary at the top of this company," said Dan Eaton, an attorney and business ethics lecturer at San Diego State University's Fowler College of Business Administration. "Uber is not done with the vision thing, and to that point it's important people fully appreciate Travis' ambitions. Unfortunately, at some point the range of needs of this company just overwhelmed him."
According to The New York Times, Uber's largest shareholders overpowered whatever efforts he may have made to retain his CEO post after agreeing two weeks ago to take a leave of absence from the company he helped found in 2009. Venture capital firms that have invested billions of dollars in Uber lobbied its board to demand that Kalanick resign his executive position, though he will remain a member of the board, the Times reported, citing people with knowledge of the situation.
One of those firms, Menlo Ventures, had the following to say about Kalanick's resignation:
"Travis has done a lot of good in the world and created millions of opportunities for drivers with his talent and tireless devotion to Uber's mission: "make transportation as reliable as running water," Menlo said in an e-mailed statement. "Sometimes great leadership means empowering others to lead the task at hand, and that is what he has done here to help important and necessary changes at the company happen so Uber can reach its full potential. We are grateful for all that he accomplished.
For Uber, replacing Kalanick follows a scathing report that investigated a series of sexual harassment and discrimination allegations. That report, conducted by former U.S. Attorney General Eric Holder, found that Uber's workplace had fostered a frat-boy culture that prized immediate results over a respect for rules of law. Uber has been accused of using software to skirt local law enforcement as well as stealing intellectual property from Waymo, the self-driving car business owned by Alphabet Inc. (GOOGL) - Get Report , Google's parent company.
Uber's shareholders have also become impatient with recent missteps, such as its brash and ultimately unsuccessful effort to enter China. Kalanick's replacement will be charged with fixing issues both inside the company's walls as well as with governments around the world that have grown skeptical that the Silicon Valley company is willing to play by local rules.
Ultimately, Uber's next CEO must lead the company on a path to sustained growth and profitability, Wolff said.
"Part of the upset about culture and about Travis, while totally deserved, is really about being upset by the losses and the setbacks in the business," Wolff said. "Growth is the cure-all in Silicon Valley, and whoever replaces Travis has to get this company growing again. This is still a juggernaut, superstar company that will be able to attract top talent at all levels."
Jim Cramer and the Action Alerts PLUS team on a recent call with members of the investment club said they aren't buying Apple Inc. (AAPL) - Get Report here and think Facebook Inc. (FB) - Get Report and Alphabet look better on a dip.
More of What's Trending on TheStreet:
Travis Kalanick Has Resigned As CEO of Uber: A Timeline of Uber's Recent Struggles