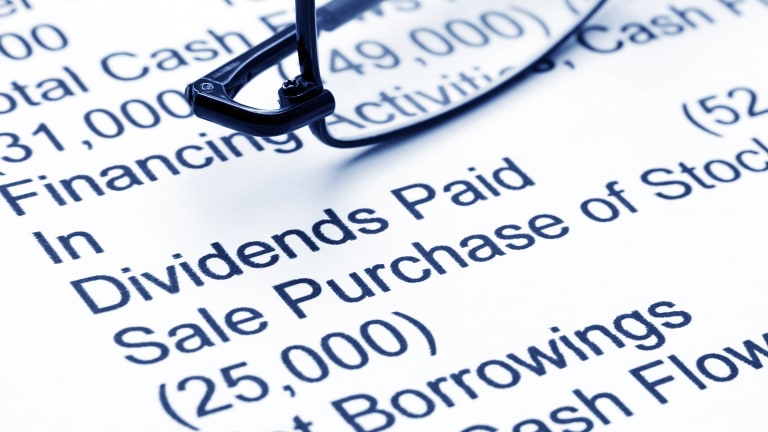 U.S. Bancorp and Illinois Tool: Two Ex-Dividend Stocks to Buy Now
Dividend capture can be a lucrative strategy, but in the case of U.S. Bancorp and Illinois Tool Works, the stocks are smart buys for more fundamental reasons as well.
NEW YORK (TheStreet) -- Shares of U.S. Bancorp (USB) - Get Report and Illinois Tool Works (ITW) - Get Report are scheduled to go ex-dividend Monday. To qualify for a dividend check from either company, investors must own shares on or prior to the ex-dividend date -- the day both companies finalize the rosters of shareholders to whom they'll send dividend payments this quarter.
Illinois Tool Works, a manufacturer of diversified industrial products and equipment, is scheduled to pay its 55-cent quarterly dividend (yielding 2.60% annually) on Oct. 6, while investors can expect a check from U.S. Bancorp a week later on Oct. 15. The latter pays 25.5-cent quarterly dividend that yields 2.50% annually.
Not only do both those dividends exceed the average annual yield of 2.00% paid out by companies in the S&P 500 (SPX) index, both stocks appear relatively cheap too. USB shares trade at a P/E of 12, while ITW is valued at a P/E of 16. Compared to the average company in the S&P 500, which trades at a P/E of 21, that means the stocks offer excellent value not just for their dividends, but also as long-term investments.
In the case of Illinois Tool Works, whose shares are down about 12% on the year and 5% over the past twelve months, the stock is a solid turnaround candidate. If it weren't for the impacts of the strong U.S. dollar, which has devalued its overseas sales, ITW stock would be in positive territory. The company has beaten Wall Street's earnings estimates in eight straight quarters, so execution hasn't been the issue.
The way I see it -- patience is still the best play here, given that the company is in the midst of a five-year strategic restructuring. With the company having raised in dividend payout by more than 56% since 2010, investors should hang on tight and buy on the dips.
Likewise, there are plenty of reasons to like Minnesota-based U.S. Bancorp, whose shares are down almost 9% on the year. For starters, if USB stock traded on par with the rest of the market at a P/E of 21, its shares would be valued today at around $64 today, not $40. This is based on actual 2014 earnings of $3.08 per share.
The reason the stock is trading at a discount is that, like the rest of the banking sector, USB is operating in a low interest rate environment that has pressured its revenue and its ability to grow fees. But that's about to start changing.
While it didn't happen at the Fed's September meeting, industry experts expect the Federal Reserve to raise interest rates sooner rather than later. It's now a matter of "when," not "if." When interest rates do rise, this will improve the prospects of banks like USB. In the meantime, USB is working to better diversify its revenue stream. It wants to rely on more than just its borrowing and lending business. That it grew its credit/debit card revenue by 3% last quarter is one example.
At the same time, USB, which reduced its second-quarter non-interest expenses by almost 3%, is becoming more efficient -- posting an 53.2% efficiency ratio, up 10 basis points in the second quarter. All told, like ITW, the struggles of USB has been an industry phenomenon, not due to poor execution. This makes USB stock a bargain ahead of its ex-dividend date.
This article is commentary by an independent contributor. At the time of publication, the author held no positions in the stocks mentioned.