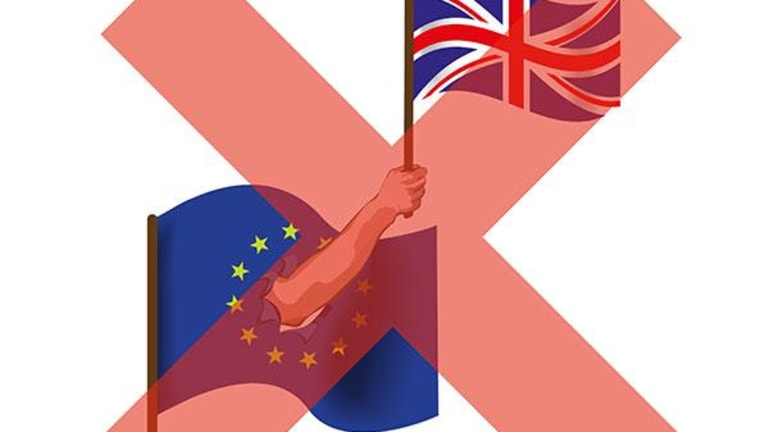 U.K. Chancellor Osborne Sees Tax Increases, Spending Cuts Post-Brexit
Britain's finance chief rules out an emergency budget.
Britain's finance chief rules out an emergency budget.
U.K. Chancellor  of the Exchequer George Osborne said that tax increases and spending cuts will be necessary as Britain adjusts to life outside of the European Union after the electorate voted to leave the EU in the country's referendum last week.
"It's very clear that the country is going to be poorer as a result of what's happening to the economy," the Chancellor told BBC Radio Four.  "We absolutely have to show the country and the world that the government can live with our means."
When asked if that meant tax rises and spending cuts, Osborne, replied "Absolutely. But that decision will have to come under a new Prime Minister." He said there would be no "emergency budget," leaving all decisions to the new government.
Talk of tax rises will worry consumers and exacerbate concerns about a slowdown in U.K. growth in the aftermath of the Brexit vote. Goldman Sachs expects the U.K.'s GDP to expand by just 0.2% next year, compared with a forecast 2% growth before the Brexit vote.
Prime Minister David Cameron stepped down in disgrace last Friday after 51.9% of the people voted to leave the EU, while 48.1% voted to remain. His resignation cleared the way for the election of a new Tory Party candidate to lead the government . Cameron said on Monday a leader would be installed by Sept. 2. Osborne ruled himself out of the running.
The country's shock decision to leave the EU has caused turmoil in financial markets across the world. Equities have lost about $3.6 trillion in value since the decision, and the pound hit a 31-year low against the dollar of $1.3151, before recovering to $1.3306 on Tuesday.
The U.K.'s benchmark FTSE 100 index on Friday was down as much as 8% before recovering to close the session down 3.2%. On Tuesday afternoon in London it was up 2.61%.
Fitch Ratings and S&P Global Ratings yesterday downgraded their credit ratings on U.K. government debt.
Of the recent market volatility, Osborne said, "I think we are in a prolonged period of economic adjustment in the U.K. We are adjusting to life outside the EU, and it will not be as rosy as life within the EU."