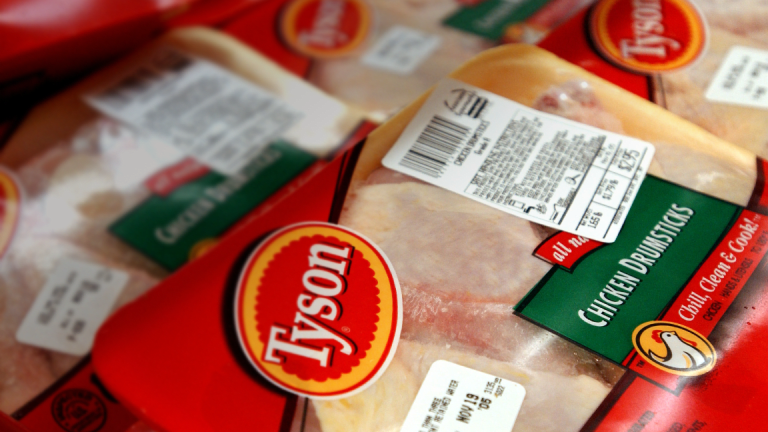 Tyson Foods CEO: We Are Not Afraid to Do a Big Deal
Tyson Foods CEO Tom Hayes is game on looking for the company's next big acquisition. Hayes tells TheStreet he has a full pipeline of possibilities.
Tyson Foods (TSN) - Get Free Report CEO Tom Hayes is ready to bag his next big deal. 
"We are on the hunt," Hayes told TheStreet when asked about the serial acquirer's appetite to make a new purchase. Hayes said Tyson's debt to Ebitda ratio should fall below a key internal target by the third quarter, opening up the path to go big on deal. The company's M&A pipeline is "full" of opportunities, Hayes said.
But Hayes cautioned that with valuations "hot" right now, doing a deal of any size is not guaranteed. "Valuations are hot, it's a seller's market," Hayes said.
While Tyson Foods has been scooping up stakes in next generation meat companies such as Beyond Meat via its venture capital arm, it's last sizable acquisition was Hillshire Farms for $8.55 billion in 2014. In 2017, the company bought ready-to-eat purveyor AdvancePierre for a total value of $4.2 billion. 
Despite his deal hunger, Hayes said he is unlikely to shock investors with an outrageous purchase. In other words, nothing in the mold of cereal giant General Mills (GIS) - Get Free Report buying natural pet food brand Blue Buffalo (BUFF) . 
"For us to do something that would be a bit of a head-snapper for our investors, probably not."