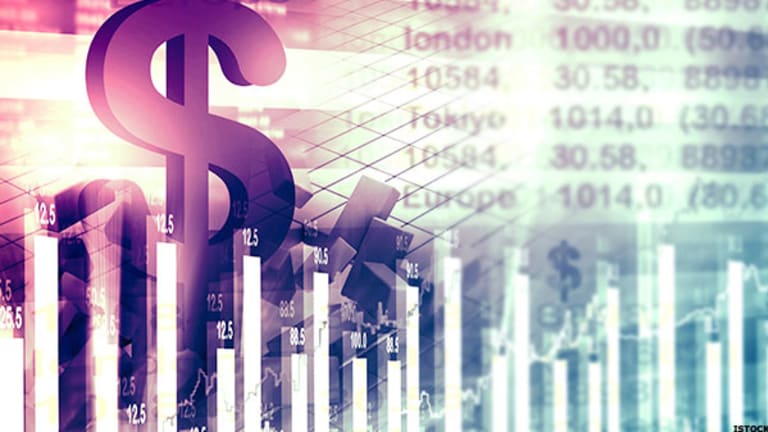 Two 'Tech Stock Fortresses' From Goldman's List of Strong Balance Sheet Companies
Here are two technology stocks with low debt and gigantic cash hoards. If you're worried about a dicey market, these stalwarts will protect your portfolio and confer healthy gains.
A fortress like balance sheet can help a company tide over almost any difficulty.
With Goldman Sachs out with its new list of recommended stocks, it's imperative you choose wisely from the selection. Below are our top two choices, based on key metrics. These two stocks are among the exciting tech opportunities still available, even in this volatile market.
data by
Adobe Systems (ADBE)
First, Adobe has $4 billion in cash, which could help pay off its total debt ($1.91 billion) twice -- a pretty remarkable statistic. Second, in a tough economic situation, when revenues drop, as do profits, cash-muscle is an essential requirement.
Adobe's cash pile is close to its one-year revenues on a trailing 12-month (TTM) basis of $4.8 billion. In other words, in even a worst-case scenario, Adobe can survive close to a year if all of its revenues vanish.
Look at how SAP SE would have dealt with the same situation. With over $10 billion in debt and just a shade more than $4 billion in cash, SAP would be in difficult circumstances if things should come to a standstill.
SAP made $22.57 billion in revenues over the last twelve months and its cash pile would, at the most, make a quarter of it.
Bear in mind, a solid balance sheet isn't just important for staying afloat during times of duress. It's also for key for generating money during normal times. To assess its health, look at Adobe's free cash flow situations. It generates over $1.28 billion in free cash flows, which is over twice its net income.
Free cash flow is important because it helps a company pursue opportunities that bolster shareholder value. That's why Adobe is among a group of tech stars that will shine in 2016.
Trading at a price-to-earnings (PEG) ratio of 1.19, Adobe trades cheaper than the holy grail of software firms, Microsoft Corporation MSFT (2.03 times).
data by
Alphabet Inc. (GOOG)
Our second pick is Alphabet. This company, and by extension its stock, is a Hercules in terms of its balance sheet strength.
Its nearly $71 billion in cash can pay its $8.5 billion debt as many as eight times over (you read that right). With dominant Internet search product Google as its foundation, Alphabet is a bouquet of many firms just as Berkshire Hathaway was 20 years ago. Alphabet has built an impressive portfolio that individuals use frequently, beyond Google search.
To understand what Alphabet can do with its cash, look at what it can achieve.
Alphabet can pay off its debt ($8.5 billion), keep a year's net income aside ($15.44 billion TTM)buy Yahoo! ($28 billion approx.) and acquire Twitter Inc. ($11.46 billion) and still carry over $7 billion in cash.
We also like Facebook for its superb balance sheet, but we like GOOG primarily because of its bigger levered free cash flow (TTM) of $12.26 billion, which is almost three times Facebook's $4.85 billion.
Our preference for Alphabet is also on account of its superior return on assets (ROA), which is 11.8 vs. the industry average of 6.7, and return on equity (ROE) , which is 14.8 vs. 9.3 industry average.
Trading at a PEG ratio of 1.39 times, Alphabet offers immense value for both the industry and the sector, when the S&P 500 is available for 1.60 times.
As we've just explained, Adobe and Alphabet look like great technology bets right now. I've also found a small-cap tech stock that has the potential to surge 100% or more in the coming months. This is a growth story with major momentum, so it's important to learn the full details as soon as possible. The stock is trading at under $8 a share, and its long-term prospects have never been better, making it a great value. I expect this rocket could take off soon, so be sure to click here now and learn more.
This article is commentary by an independent contributor. At the time of publication, the author held no positions in the stocks mentioned.