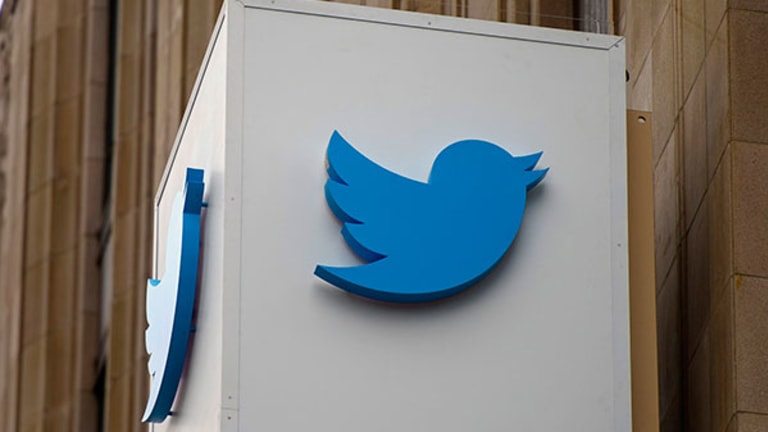 Twitter's Valuation in Perspective
On the fifth day of trading, a comparison to restaurant stocks gives some context to Twitter's valuation.
NEW YORK (TheStreet) -- Twitter (TWTR) - Get Twitter, Inc. Report as a publicly traded company is just five days old, and the need to put it into perspective remains.
The dust is beginning to settle on that first day of trading last Thursday, when nearly 118 million shares exchanged hands. Yesterday, during the fourth day of trading, volume fell to 6.3 million shares, a sizable number, but just 5% of day one's trading. It's still very early, but shares are down about 7% since the first day close, and 16% from the high price on that day.
Read: Time to Profit from J.C. Penney
Those investors who bought at the high can't be happy at this point, but unless you are able to get shares at the IPO price, it can be dangerous to take a position in the early days of trading, especially in such a high-profile and much-anticipated offering.
Facebook's
(FB) - Get Meta Platforms Inc. Class A Report
first several days were much more frantic, and it was a larger offering, with 574 million shares traded on day one, and 13% of that, or 74 million on day four. By then, shares had fallen 16% since the first close, and 29% from the day one high.
Read: Opportunities in Agriculture
One thing is certain: the Twitter IPO went smoothly, and the right preparations were made by the exchange to make certain that there would not be a repeat of Facebook's first-day debacle.
But I'm still trying to make sense of Twitter's now $23 billion market cap, and 42.7 trailing 12-month price-to-sales ratio. Lest you think I'm a Twitter basher, I am not. I use the product, though probably not as much or as frequently as many others. It is a true innovation in communication and social media. It's the valuation that I'm questioning. Shiny objects often attract investors, but there's often a disconnect between price and value.
Read: Is This Really What Gen Y Wants for Christmas?
Consider that Twitter's current market cap is about the same as
Chipotle
(CMG) - Get Chipotle Mexican Grill, Inc. Report
and
Burger King
(BKW)
combined. Together, these chains have generated $4.35 billion in trailing 12-month revenue and $515 million in net income during the same period. The pair has an average price-to-sales ratio of about 5.5, which is high for the restaurant sector, but a fraction of Twitter's.
Sticking with the restaurant theme, for about the same amount, you could string together
Darden
(DRI) - Get Darden Restaurants, Inc. Report
,
Dunkin Brands
(DNKN) - Get Dunkin' Brands Group, Inc. Report
,
Panera
(PNRA)
and
Wendy's
(WEN) - Get Wendy's Company Report
, which have generated nearly $16 billion in trailing revenue, $825 million in net income, and a have a 1.48 price to sales ratio.
Alternatively, for the same market cap, (and this is my favorite), you could put together
Brinker
(EAT) - Get Brinker International, Inc. Report
,
Buffalo Wild Wings
(BWLD)
,
Cracker Barrel
(CBRL) - Get Cracker Barrel Old Country Store, Inc. Report
,
Cheesecake Factory
(CAKE) - Get Cheesecake Factory Incorporated Report
,
Texas Roadhouse
(TXRH) - Get Texas Roadhouse, Inc. Report
,
Jack in the Box
(JACK) - Get Jack in the Box Inc. Report
,
Papa John's
(PZZA) - Get Papa John's International, Inc. Report
,
Dine Equity
( DINE),
Bob Evans
(BOBE)
,
Red Robin
(RRGB) - Get Red Robin Gourmet Burgers, Inc. Report
,
Sonic
(SONC)
and
AFC Enterprises
(AFCE)
.
Read: Everyone Declares Victory After US Airways/AMR Merger
Combined, this group generated $17.2 billion in revenue and $880 million in net income, and has a 1.32 price-to-sales ratio. Furthermore, after collecting a year's worth of distributions generated by the dividend payers in this group of companies, there would be enough cash ($240 million) to purchase
Nathan's Famous
(NATH) - Get Nathan's Famous, Inc. Report
, theoretically that is.
Admittedly, restaurants are not an apples-to-apples comparison to new-fangled social-media companies with high expected growth rates. But they may help to put Twitter's valuation into perspective. Analysts are expecting Twitter to generate $1.14 billion in revenue for 2014, which puts the forward price-to-sales ratio at a more respectable, but still very high 20, especially for a company that is not expected to be profitable until 2015.
Read: What's in Your Bitcoin Wallet? Millions Lost to Hacks, Fraud
Finally, I apologize for the recurring restaurant theme in this piece. I could have substituted other industries or companies in an attempt to make the same point, but it is day three of dieting, and I am hungry.
At the time of publication, the author held no positions in any of the stocks mentioned.
This article is commentary by an independent contributor, separate from TheStreet's regular news coverage.
At the time of publication, Heller was long XXXX.
Jonathan Heller, CFA, is president of KEJ Financial Advisors, his fee-only financial planning company. Jon spent 17 years at Bloomberg Financial Markets in various roles, from 1989 until 2005. He ran Bloomberg's Equity Fundamental Research Department from 1994 until 1998, when he assumed responsibility for Bloomberg's Equity Data Research Department. In 2001, he joined Bloomberg's Publishing group as senior markets editor and writer for Bloomberg Personal Finance Magazine, and an associate editor and contributor for Bloomberg Markets Magazine. In 2005, he joined SEI Investments as director of investment communications within SEI's Investment Management Unit.
Jon is also the founder of the
, a site dedicated to deep-value investing. He has an undergraduate degree from Grove City College and an MBA from Rider University, where he has also served on the adjunct faculty; he is also a CFA charter holder.