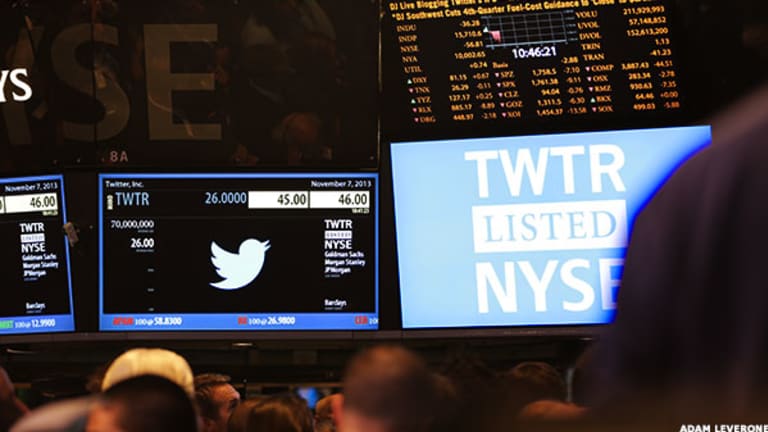 Twitter's Beating Pandora at What Should Be Its Own Game
Pandora is dropping the ball on data. It must move fast to pick it up.
NEW YORK (TheStreet) -- Over the weekend, I hope executives at Pandora (P) felt shame. Because, within the context of a vexing music industry issue, they should be ashamed of themselves. There's no other way to say it -- Pandora has dropped the ball on big data. And quite miserably I might add.
To best cover the subject, I begin from the end, provide relevant history and fill in the present-day and forward-looking blanks.
In a nutshell, as Wall Street analysts jump on the gee, this stock might double (again) bandwagon a little too late, Pandora should take its press clippings and chuck them in the compost bin. That's the only way to move forward -- to pretend today's your last day and that you're only as good and righteous as your last game.
Begin From The End
Over the weekend, Twitter  (TWTR) - Get Free Report signed a deal with former Island Def Jam and Warner Music Group top dog Lyor Cohen's company -- 300 -- to leverage the mounds of data the social network produces on listener behavior and preferences. Data that can help everybody from labels to bands to brands harness the enormous power inherent in entertainment's most passionate sector -- music.
Here are a few key excerpts from a Ben Sisario piece in The New York Times on the partnership:
For the music business, Twitter holds a vast haystack of data with no easy way to find the most valuable needles -- like which acts are attracting the most attention, and where ...
The reading of music's digital tea leaves has become a big business as companies like Gracenote, Next Big Sound and Musicmetric have joined traditional players like Nielsen in providing information about music online. But while music is the most popular topic on Twitter -- users discussed it in more than one billion messages last year -- its depths have not been fully plumbed ...
And there's this quote from Cohen:
There was a time not so long ago when we sold music to retailers and they sold to fans, but nobody knew who those fans were ... I've spent most of my life not knowing who the customer is. Isn't that a shame?
Reading the article, particularly those passages, made me want to rejoice and vomit simultaneously.
Rejoice because this is just what the music industry requires. Smart partnerships like this. Fresh tech- and data-driven ways to discover new talent and market music in ways it has never been marketed before.
Vomit because it's an absolute sin -- a sin to those it could better serve, the music it plays, the investors who buy its stock and the people who run its show -- that Pandora allows companies with a sliver of the music data it has to take the lead on what is a sector unto its own in the music industry.
Sisario notes that Twitter users sent over a billion music-related messages last year.
Big deal.
Since its reincarnation as Pandora Internet Radio, Pandora listeners have thumbed songs more than 35 billion times. And that's just a fraction of the data Pandora collects every second of every day.
The role of data continues to emerge. It's about to explode. And, for no good reason, Pandora has been/is letting names such as Twitter, Gracenote and, apparently, according to The New York Times, Nielsen Holdings (NLSN) - Get Free Report take the lead.
To this end, allow me to be clear -- there's room for multiple players, particularly because each data set is different and has unique (as well as overlapping and confirmatory) value. That's not the knock on Pandora. The knock is that, while others take strides to express the power of data in practice, Pandora, relatively speaking, sits idle ...
which leads to ...

The Relevant History
... that hopefully portends the future.
To understand why Pandora often moves at such a frustratingly slow pace, you must understand its core focus. What brought the company to the dance. The now better understood bread and butter that, with Wall Street, all of a sudden, hopping aboard, renders my predictions of $P to $100 much less silly.
I methodically outline the object of the aforementioned focus in Here's Why Pandora Keeps Crushing The Market.
Condensed takeaway: Pandora is, has been and always will be hyper-focused on two things -- personalized radio and music discovery as listener platforms. There's nothing wrong with that; however, it is not and should not be, by its own words and admission, where Pandora stops.
Pandora has, intentionally and by virtue of its music industry-changing success, assumed greater responsibility ... responsibility that goes beyond its stated mission to "play only music you'll love."
That's where the data comes in. Data that transcends thumbs.
Pandora already uses it to serve two primary ends:
To sell advertising; and
to further connect music fans to the music (and musicians) they love via Pandora Presents personalized concerts.
I explain the ins and outs of the latter in Pandora Steps Up Its Game In A Big Way.
Data drives these primary revenue generators and image crafters for Pandora. They're doing a wonderful job building a business that will stand the test of time on the backs of both.
But it wasn't too long before Pandora upped the ante on Pandora Presents shows that I chirped the company for not doing enough in that regard.
See, for example, I Can't Find Pandora's Name Anywhere In Hollywood and Does Pandora Do Enough To Promote Local Music?, both from May 2013 (when $P was at $16!).
The company responded. And I'm now confident it will continue to up its game in the live personalized concert area. Both in terms of quantity of shows and the names it signs up ... names that range from hot (Imagine Dragons) and huge (Celine Dion) to indie and maybe ... hopefully unsigned.
But it took forever for Pandora to take the next step in an area it probably could have been doing more in all along.
With respect to data, I reckon Pandora's at the same stage of development it was at when I got on its case about upping its game with the Pandora Presents shows. It just has get off of what has become, for better or worse, its corporate ass and move, swiftly and authoritatively, in the right direction.
Filling In The Blanks
For several years now, Pandora, led by co-founder and Chief Strategy Officer Tim Westergren, has been talking about using the data it collects to super serve artists.
For instance, google "Tim Westergren" and "heat maps." You'll get results that date back to 2012. Maybe earlier. You'll see that Westergren was part of a panel at the 2013 Consumer Electronics Show in Las Vegas (the event took place more than a year ago now) where he discussed using Pandora data to help musicians better route tours. On iTunes, you can even find Westergren visioning what Pandora could/might do someday ... (cue Keith Olbermann voice) way back in April of 2008.
It all sounds fantastic. The possibilities are limitless. And they extend beyond the notion of touring heat maps. However, unless Pandora is providing this data to acts and bands in secrecy (and I'm not sure why it would do that), it hasn't unleashed this data at any meaningful scale for anything other than advertising-related purposes.
By refusing to put the power of its data to work for the music industry (labels, performers, songwriters) as well as brands that seek to sell product, at least in part, with music, Pandora does a disservice to these parties and itself.
It's not as if Pandora doesn't have data products. They do. I have seen it.

On a limited scale, Pandora allows musicians to access their artist dashboard. The artist dashboard not only shows an act the number of plays they receive and the location of their listeners, but other useful data such as how Pandora users find that music and what do they after they're exposed to it.
But this is, for all intents and purposes, still in beta because, to my knowledge, Pandora hasn't done much to get the artist dashboard -- and other data sets -- into the hands of the people who can use, benefit from and, in some cases, probably even pay for that data. Outside of artists who make their way to Oakland to perform for Pandora employees at a Whiteboard Session, I'm not sure if any other bands see their artist dashboards on a regular basis. I'm bewildered as to why Pandora doesn't work harder to disseminate this information to every performer and songwriter on Earth and beyond.
As Pandora fights the royalty fight, it doesn't do itself much good by repeatedly speaking of the exposure it provides artists (a righteous argument) and what it can do for musicians with its data if it's unwilling to open the mines and put that data to work at grand scale.
Pandora has enough data to customize it (the way I presume Twitter will) for everybody from performers and songwriters to the music labels to marketers. I could write an article every day for the rest of the decade with examples of what this might look like.
But, for space sake, and to put a nightcap on this one, consider what Game Day Presentation founder and music industry veteran Danny Murphy told me over the weekend when I bounced the premise for this article off of him. Murphy believes digital platforms such as Twitter can help inform broadcast radio stations:
For example, if there is tremendous Twitter activity on the new XYZ song in Denver, labels also need to be able to associate this activity with the radio stations in a given market that play that format. With this information they would be able to work more closely with their radio station partners. Label regional promotion execs can tell the story during their radio promotion calls to station program directors -- 'there were x number of positive mentions of the new XYZ song by y number of different listeners in the Denver marketplace last week. Your listeners want to hear this song.'
And conversely, a decrease in positive Twitter activity for a given song could be an indication that listeners in a specific market are beginning to tire of a specific song, meaning radio might want to consider playing it less frequently ... That's equally valuable data to both the label and the station. There's tremendous opportunity here. There's definitely value in the Twitter data when coupled with a radio station database. Twitter music activity data has the potential to help radio and labels become better business partners moving forward. Add in the benefits of routing tours and identifying potential ticket buyers, with the means to communicate with them individually and directly and everyone wins.
While Pandora might not want to get into the business of informing terrestrial radio playlists (though I see no reason not to get into that business), Cohen's 300 and Twitter ought to heed Murphy's suggestion. Beyond that, the scenario Murphy sketches illustrates a lack of imagination throughout the music industry and even at the Internet radio leading Pandora.
Why hasn't anybody thought of what Murphy visions or the other 6,000,000 uses for the loads of data Pandora and others appear to be sitting on?
Why has Tim Westergren been talking about what Pandora can do with data since at least 2008? At some point, you have got to walk the walk in big enough way for it to count.
I love Pandora as much as the next guy. It's obvious in my writing. I'm the first to admit a bias towards Pandora. I love the company. I love what they have done. To a person, I have nothing but great things to say about the people I have dealt with there and have come to know.
But, all of that said, I have been objective on the company, calling Pandora out in the past where I saw the need. With respect to data, I can't, in good conscience, let them slide. They deserve to be taken to task for dragging their feet on putting their data to work.
I can't imagine the product people and the marketing folks -- and whomever else is involved in the parts of the business relevant to this data discussion -- are thrilled with the pace, or lack thereof, of Pandora's drive to bring its innovation to market in this area.
And, while I'm imagining, one has to wonder -- if Pandora leveraged its data to be a better partner to record labels, others in the music industrial complex, musicians, songwriters and more, would it be embroiled in such a vitriolic fight over the royalties it pays to license content?
--Written by Rocco Pendola in Santa Monica, Calif.
Disclosure: TheStreet's editorial policy prohibits staff editors, reporters and analysts from holding positions in any individual stocks. Rocco Pendola is a columnist for
TheStreet
. Whenever possible, Pendola uses hockey, Springsteen or Southern California references in his work. He lives in Santa Monica.