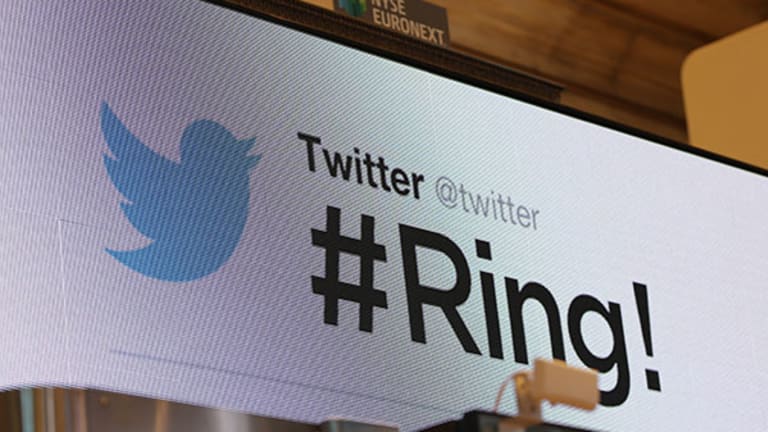 Twitter Stock Is Untouchable for Now
Isn't Twitter cheap below $30? Here's why you should be careful.
NEW YORK (TheStreet) -- Even as Twitter (TWTR) - Get Twitter, Inc. Report closed below $30 Monday, shares are untouchable for the first time since it went public in November 2013, even at these low levels.
On Friday, one of the tech writers covering Twitter asked me if Twitter was now cheap enough to be attractive to a
. "No," I replied.
"Well, at what level do you think it would become attractive?" he asked.
"I would say $11," was my reply. I'm not being facetious.
At $11 a share, Twitter would have a $7 billion market cap and would be valued at around 17 times forward earnings, a level that IAC/InterActiveCorp (IACI) gets as a price to earnings multiple.
I have never owned this stock because I've never judged it to be a screaming buy.
When Twitter was on its IPO roadshow a couple of years ago, the initial price talk for the stock was in the low teens. I had penciled in $20 a share as a price I'd be interested in buying but I never got the chance. Shares priced at $26 a share and closed the first day at $44.90.
You could argue that Twitter is trading at $29 a share today and that's less than the $37 a share where it was trading last week in the initial after-hours period after releasing earnings. But as a fundamental investor you can get seriously hurt if you are just going to jump in and out based on price movements week to week or day to day.
Around the time the stock was in the low $50s, I remember talking to a smart tech hedge fund manager, who has made lots of great calls and who firmly believed Twitter was going to end the year around $75 a share. Then, in April, when the company was trading at $51, it had a huge mishap with earnings and saw shares drop to $37.
There is a real business here. It will find its way. But its valuation has always been extraordinarily high, and when things go bad those types of stocks get whacked, as is happening now. Anyone who's lived through a bear market knows cheap stocks can always get cheaper.

"But won't someone want to buy it here?" was a question I heard on Friday.
This is still a company worth just under $20 billion. Google (GOOG) - Get Alphabet Inc. Class C Report (GOOGL) - Get Alphabet Inc. Class A Reportshould own this asset at the right price -- but it's tough to sit down and write a $40 billion check even if you're Google and your cash feels like Monopoly money.
I wouldn't think of touching it until a new CEO is appointed. Maybe I'll get a crack at this stock around $20. But maybe not.
I don't think it's likely that Twitter actually trades down to $11 as I expect the company will announce a new CEO in the next two weeks, perhaps even this week. When it does, that will likely be supportive of the stock. I hope the new CEO will articulate a strategy investors rally behind.
However, I think it's important for you as a fundamental investor to know what Twitter is worth before you touch this stock.
No position