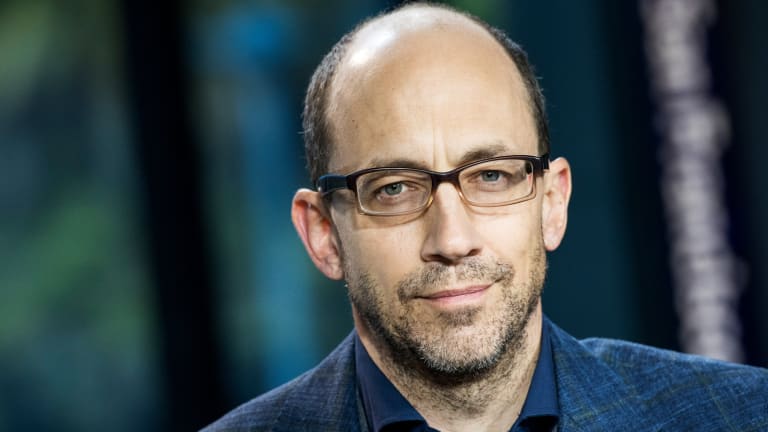 Twitter Shake-Up Stirs Acquisition Speculation: What Wall Street's Saying
In the wake of Twitter CEO Dick Costolo's surprise departure, the social media company could be headed for big change of direction or a buyout offer, analysts say.
NEW YORK (TheStreet) -- Twitter (TWTR) CEO Dick Costolo's departure stoked analysts' hopes for change at the company, up to and including an acquisition by a larger firm.
Costolo, whose departure was announced after the markets closed Thursday, will be replaced in the short term by Chairman Jack Dorsey, a Twitter co-founder who also serves as CEO of payment company Square.
Twitter said on Thursday that it will consider candidates both from within and outside of the company for the permanent CEO role. Costolo won't receive any severance pay as he steps down.
Shares of the company took off on the news in after-hours trading, heading as high as $39.29 from the closing price of $35.83. In premarket trading on Friday, shares were up 2.65% to $36.78.
Twitter reaffirmed its second-quarter guidance, including revenue of between $470 million and $485 million and EBITDA of between $97 million and $102 million. 
As CEO, Costolo's approval rating among Twitter employees had been slipping, down to 87% this year from 94% in 2014, according to a survey conducted by workplace research Web site Glassdoor. That rating was still above the average of 69% for CEOs, Glassdoor said.
While there were no solid predictions, analysts acknowledged the company is at a crossroads. Some suggested that a new chief executive might offer the opportunity to take the company in a new direction, while others wondered whether Costolo's departure would clear the way for Twitter's acquisition.
Here's what a few had to say:
JPM Securities analyst Ronald V. Josey (Outperform, $48 PT)
"While we were somewhat surprised to see CEO Costolo step down this soon given recent product launches and a faster product release cycle, we also believe this action could accelerate Twitter's overall transformation. While few details were released on what the company is looking for in a CEO, management suggested it would prefer a current user of Twitter, though we expect the company to cast a wider net for a product-focused CEO as the service is made easier to use. While the company reiterated 2Q15 revenue and EBITDA guidance, 2Q Monthly Active User growth continues to be pressured as any benefits from recent product improvements have not materialized into new users. We acknowledge the stock is likely to remain choppy in the short term given management transition, 2Q MAU weakness, and increased uncertainty overall. But we also believe Twitter's larger opportunity and strategic value is intact."
Jefferies analyst Brian Pitz (Buy, $60 PT)
"Twitter reaffirms Q2 guidance, but with no replacement CEO waiting in the wings, could this be a setup for a "strategic investor or buyer" to step in? The company reaffirmed Q2 guidance of revenue from $470 - $485MM and EBITDA from $97 - $102MM. Prospective buyers have been interested in purchasing Twitter in the past, and during the interim search period we believe the opportunity for acquisition is heightened (and would likely require a valuation of $30B+). Costolo "began talks with the board at the end of last year" about stepping down, and the lack of a CEO successor signals to us the potential for acquisition."
Deutsche Bank analyst Greg Poole (Buy, $60 PT)
"While most investors were eager to see CEO Dick Costolo step aside, we think he deserves much credit for scaling the business from $3B in value to over $25B over his six-year tenure, a feat few others in consumer internet can match. Further, the CEO dislocation coupled with no super-voting share structure, a board somewhat on the defensive, lots of potential asset value, and the current environment of cheap money - leads us to think M+A from a strategic just became slightly more possible (but we aren't playing for that outcome). At 7.5x 2016 revenue (vs. 10x for FB) and lots of potential catalysts, we view the risk/reward as favorable."
Pacific Crest Securities analyst Evan Wilson (Overweight, $52 PT)
"Clearly, Twitter's future success will depend on who it hires, but Twitter's profile is high enough to have a good chance to upgrade the CEO. We are cautiously optimistic that executive turnover could slow and execution of monetization could improve. We are still not confident that Twitter can return to significant user growth (that is as much an industry issue as a Twitter issue), but continue to recommend TWTR due to obvious near-term monetization opportunities like app installs, retargeting, video and logged-out users."
JPMorgan analyst Doug Anmuth (Overweight, no target pricegiven)
"We believe the transition will be positive over time as it could lead to bigger product changes on the platform. Twitter also indicated that it is fully committed to maximizing shareholder value and believes it can do that as an independent company, but that the Board would pursue its fiduciary duty and evaluate any options. Twitter reaffirmed its 2Q financial guidance, but also reiterated its comments from the 1Q call and our TMT conference in May that the benefits that drove MAUs higher in 1Q (15M net adds) are not extending into 2Q. Accordingly, we believe our current estimate for 2Q net adds of 7M could be optimistic. Near-term performance is likely to remain uninspiring-even with potential for 50%+ revenue growth over the next few quarters-as Twitter tackles both product/user and monetization challenges, and likely would not make any big platform/product decisions before bringing in a new CEO."