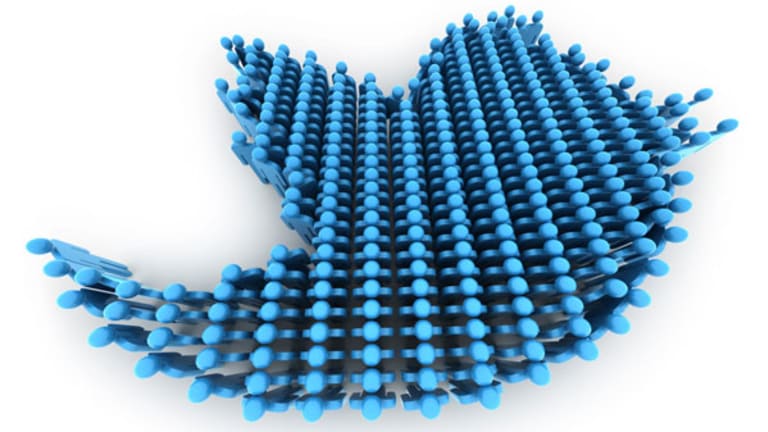 Twitter Needs a Bold Acquisition: Here's What It Should Buy
Twitter management has made smart small deals to this point but it needs to do more.
Clarification: An earlier version of this story failed to disclose the author is an investor in Kik.
NEW YORK (TheStreet) -- We learned in an unexpected way that Twitter (TWTR) - Get Twitter, Inc. Report is looking to do an acquisition. Good. It should be. Twitter management has made smart small deals to this point since going public but has to do something bold.
This unintentional window into the Twitter C-suite came late Monday in a direct message (DM) tweet from new CFO Anthony Noto to CEO Dick Costolo that somehow went public.
The tweet was about a meeting in a few weeks between Costolo and the CEO of an unnamed company that Noto hoped Twitter could acquire. In the message, Noto indicated the CEO of the other company had to be sold on the idea of selling to Twitter, and Noto had some ideas on what to say.
Of course, this "DM Fail" evoked a lot of titters on Twitter when it first occurred. Some of that is justified. We don't hear about Facebook's (FB) - Get Facebook, Inc. Class A Report Messenger failures. This plays into the idea that Twitter, the product, is overly complex and prone to misuse when even the new whip-smart CFO makes a bumble like this.
But the idea is a sound one. Twitter needs to make a bold acquisition, and it should start with Pinterest.
I love Twitter the product and I believe the company will be very successful over time. I think the barrage of criticism of the CEO is overblown. But this company is fortunate that -- despite all the complaints about how its stock price is down from $70 to now under $40 this year -- Twitter still has a valuation of over $25 billion.
Don't say that Wall Street is being short-sighted with this company. It is being very generous with the valuation, and the company needs to use that to its advantage and start spending some big money on a big deal.
Think about the acquisitions Facebook has made since it went public and just weeks before when it did the Instagram acquisition. The company has been very bold. Many criticized Facebook CEO Mark Zuckerberg at the time of the Instagram, WhatsApp and Oculus deals for overpaying. But now they seem, on the whole, to be good deals.
It's clear Zuckerberg did each of those deals through the lens of whether this product can grow to one day have a billion users. If he believes he can get the product there, he can make a boatload of money afterwards.
But these deals were all done mostly with Facebook stock rather than cash. Contrast that with Yahoo! (YHOO) , which has done lots of deals in the past two years but always as all-cash because the targets always had no confidence that Yahoo's stock would go up later -- a very wrong assumption in hindsight. So, Facebook never really had to dig into its own pockets to do these deals. Its cash levels remain very low in comparison to Apple (AAPL) - Get Apple Inc. (AAPL) Report or Google (GOOGL) - Get Alphabet Inc. Class A Report . Yet, the company suddenly got a shot in the arm from these new services.
Think about where Facebook would be today if it hadn't bought Instagram for a billion dollars worth of stock. Facebook's core service is no longer cool with teens, but teens love Instagram and Snapchat. Those services are on the rise. Thanks to Zuckerberg's foresight he owns half of those new properties.
Twitter wanted to buy Instagram but couldn't. Twitter was still private while Facebook was on the verge of an initial public offering. The world would be a very different place today if Twitter had bought Instagram. We wouldn't be constantly sitting around wringing our hands about Twitter Monthly Active User (MAU) growth -- because Instagram's MAU growth would more than cover up the problems at the Twitter core service. Facebook would also own none of the new up-and-coming services popular with teens. Twitter would have direct exposure to that.
Of course, Zuckerberg is too smart and surely would have found another tack if he'd been blocked out of Instagram. He probably would have gone after Twitter.
Where is that same acquisition boldness at Twitter? It's been missing. Twitter management has made smart small deals to this point like MoPub. But I think it needs to go full throttle after Pinterest. That service is insanely popular and is going to be even more popular with advertisers wanting to reach people who've indicated interests in products they want to buy in the future.
Pinterest might have no interest in selling, but it would be a game-changer beyond game-changer for Twitter. It's a bet-the-company merger idea. Most CEOs and boards don't like to do that because they mistrust that someone else's company could be as good or better than theirs. But, in my view, they should be doing this.
If not Pinterest, I think they should go out and buy Kik. It's the top Messenger service among American teens. I know Yik Yak is the flavor of the month now, but that is anonymous and Kik is real users. If Twitter did that deal -- which might cost $2 billion in stock -- it should then roll out its DM service into Kik as a separate app. No more DM fails.
Beyond that, Twitter has done the MoPub deal for Ad Tech. It might want to look at supplementing its Gnip stuff in big data so  it could really truly start tracking our interest graph. There's been a lot of talk about the interest graph to this point but it's just been talk.
Twitter is a truly unique service. It should be using its inflated stock to make strategic deals hand over fist.
At the time of publication, the author was long YHOO and short TWTR, although positions may change at any time.

This article is commentary by an independent contributor, separate from TheStreet's regular news coverage.