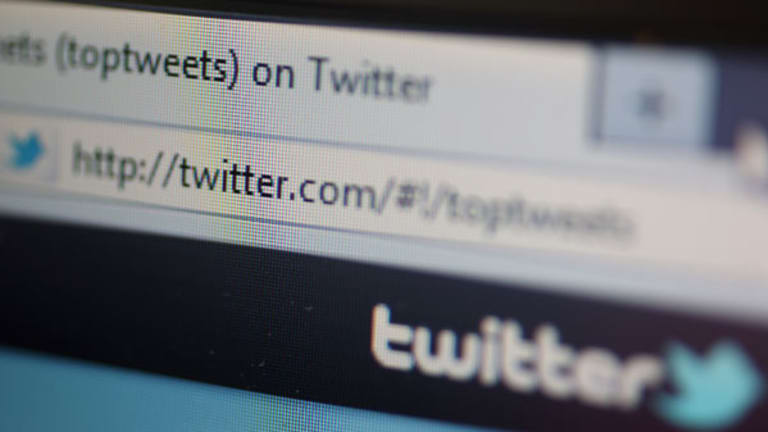 NEW YORK (TheStreet) -- Twitter (TWTR) - Get Twitter, Inc. Report is the king of microblogging for public display. But it could have been so much more.
That it isn't shows the perils of overly focusing on your "core" business.
While Twitter and Facebook (FB) - Get Facebook, Inc. Class A Report are the kings of mobile today -- at least in terms of market capitalization -- it's clear that the hottest parts of mobile are in the messaging space.
Snapchat recently turned down $3 billion from Facebook. Tencent's WeChat is growing like a weed in China. Line is doing the same in Japan. Kik has grabbed up a bunch of teens in the western world. WhatsApp continues to be a big daddy of multi-platform messaging and sharing photos. Even BlackBerry'sundefined BBM continues to surprise critics with how well it's doing in downloads since it moved to a multi-platform approach.
Why is the messaging space so hot now?
[Read: Is BlackBerry a Buy Yet?]
These apps are really the opposite of the traditional public social networks epitomized by Facebook. Instead of wanting to publicly share, people attracted to these alternative messaging platforms prefer anonymity. What's more, they prefer exclusivity. They'd rather only be used by their friends and family.
If we can only limit our communication to behind the velvet rope -- never to be seen by nosy teachers, enemies, or parents -- we can truly share ourselves. There's no fear that a drunk picture of us will surface in the wrong hands.
It's these anti-social networks which are truly the most exciting aspect of the entire mobile space as we enter 2014. They could be about ready to explode higher in valuation.
That may be why Facebook's stock has been notably weak in the past few weeks.
So where is Twitter in all this? Confusingly, it has proactively chosen to avoid mobile messaging. It could have been a major player.
Had it wanted, Twitter could have greatly emphasized and promoted its direct messaging feature. Instead, it's hidden it. On the main Twitter.com or Twitter app, it takes some effort to scroll through various pages to be able to send a message.
[Read: What to Do When Bumped from a Flight]
When it has recently contemplated some changes to Direct Messaging, it's been more in the direction of opening it up so you can spam people who don't follow you rather than promoting it as a private communication tool.
There have been different speculations about why Twitter has chosen to ignore direct messaging. One rumor was that co-founder Jack Dorsey didn't like the feature and pushed that it be deemphasized.
Whether that's true or not, one thing seems clear: Twitter management seems to have made a conscious choice to "focus" on the company's "core strength" of public mobile messaging.
But this is a perfect example of how focusing too soon on some perceived strength, especially in a highly volatile industry like the mobile internet today, is a major weakness and not a strength. In some cases, that focus can nearly kill a company.
Two years ago BlackBerry promoted Thorsten Heins as CEO over former co-CEOs Jim Balsillie and Mike Lazaridis. In part, BlackBerry's board liked Heins German focus. He said the company needed to focus exclusively on getting its next generation phones (BB10) out the door and stop wasting precious internal resources on a Balsillie idea to promote BBM as a cross-platform messaging app.
Two years later, BlackBerry's "bet the farm" approach on BB10 was a bust. Heins is gone. The company can't sell itself. It's now refocusing its efforts on promoting a cross-platform BBM, long after a slew of competitors have suddenly taken all the momentum away from BBM.

Two years ago, it wouldn't have taken much more than Dick Costolo dedicating 10 or so people at Twitter to explore building out Direct Messages into some new kind of messaging app - perfectly complementary to its core public messaging app. Instead, no new work on the feature was done and the competitive space was ceded to Kik, WeChat and Line.
There's a lesson here for any company but especially ones operating in fast moving spaces like the mobile internet: Don't over-focus. What's more, you need to experiment more. Keep skunkworks teams operating internally expanding on features that -- today -- seem ancillary to the core product.
What's more, those skunkworks teams shouldn't be afraid to design something completely antithetical to the mother ship core product. Why couldn't Facebook have promoted a Messenger app completely separated from its core social network? Why couldn't Apple (AAPL) - Get Apple Inc. (AAPL) ReportAAPLAAPL have built out a cross-platform iCloud and iMessage?
If you are going to face competitors trying to unbundle your walled garden, why not be the first mover and take away all their thunder?
There's still a big opportunity for Twitter in the public messaging space. The company isn't doomed. But it could have been the king of public and private messaging. It never spotted the opportunity before its eyes.
At the time of publication the author had a position in AAPL.
This article was written by an independent contributor, separate from TheStreet's regular news coverage.
Eric Jackson is founder and Managing Member of Ironfire Capital and the general partner and investment manager of Ironfire Capital US Fund LP and Ironfire Capital International Fund, Ltd. In January 2007, Jackson started the world's first Internet-based campaign to increase shareholder value at Yahoo!, leading to a change in CEOs in 2007. He also spoke out in favor of Yahoo!'s accepting Microsoft's buyout offer in 2008. Global Proxy Watch named Jackson as one of its 10 "Stars" who positively influenced international corporate governance and shareowner value in 2007.
Prior to founding Ironfire Capital, Jackson was President and CEO of Jackson Leadership Systems, Inc., a leadership, strategy, and governance consulting firm. He completed his Ph.D. in the Management Department at the Columbia University Graduate School of Business in New York, with a specialization in Strategic Management and Corporate Governance, and holds a B.A. from McGill University.
He was previously Vice President of Strategy and Business Development at VoiceGenie Technologies, a software firm now owned by Alcatel-Lucent. In 2004, Jackson founded the Young Patrons' Circle at the Royal Ontario Museum in Toronto, which is now the second-largest social and philanthropic group of its kind in North America, raising $500,000 annually for the museum. You can follow Jackson on Twitter at www.twitter.com/ericjackson or @ericjackson.
You can contact Eric by emailing him at Dr.eric.jackson@me.com.