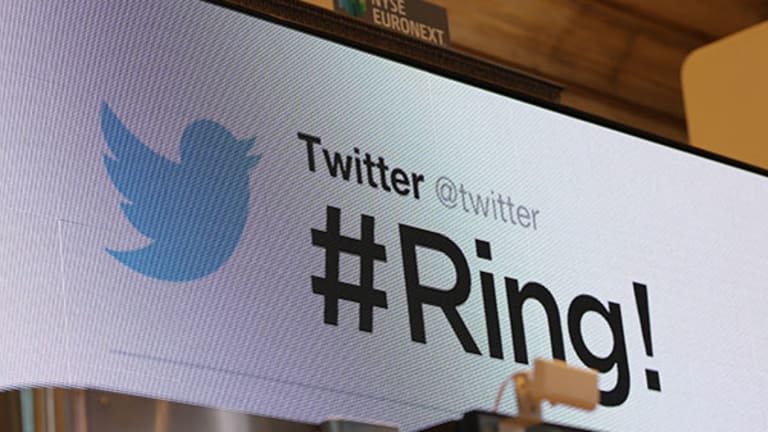 Twitter Could Crush Pandora Without Playing a Song
Minus a serious data business, Pandora will cease being Internet radio's leader.
NEW YORK (TheStreet) -- Over at the artist formerly known as All Things D, the great Mike Isaac wrote an article that stands admirably on its own, but can double as clue number umpteen thousand to an increasingly unaware Pandora (P) management team.
Isaac reported and riffed onTwitter's (TWTR) - Get Free Report acquisition of data reseller Gnip.
Here are a couple excerpts from the article apropos to Pandora:
Gnip is one of only a handful of companies that still has access to (Twitter's) Firehose (of data) -- all the way back through when Twitter first started hosting tweets on the Web -- and Gnip deals with other companies that want to comb that information for any number of uses. The company's customers are as varied as day-trading firms looking for financial insights, to marketers and agencies wanting to scrape up all the social details and sentiment floating around on the Web about their brands.
... "Together we plan to offer more sophisticated data sets and better data enrichments, so that even more developers and businesses big and small around the world can drive innovation using the unique content that is shared on Twitter." (Quote from Twitter's VP of Platform)
Taking those excerpts point by point (the links provide chronological context with respect to Pandora's inaction on data) ...
Pandora has a firehose as well. With respect to music-related related data, it's every bit as impressive as Twitter's firehose, yet Twitter's beating Pandora at what should be its own game.
Companies would love to "comb (Pandora's data) for any number of uses" just as they would/do Twitter's. From music lovers, the music industry and major or indie bands to mega brands, the opportunity for Pandora to create a prolific data business exists, however Pandora management continues to stubbornly leave the lucrativeness on the table.
As Isaac noted, Twitter's data licensing revenue stands at roughly $70 million out of total revenue of $665 million. At this stage, Pandora doesn't have a data licensing business (that I'm aware of). Advertising sales comprise roughly $490 million of Pandora's $600 million total for the eleven months' ended December 31, 2013. "Subscription and other" accounts for the left over $110 million.
It doesn't take an unqualified CEO to realize that Pandora could do $70 million in data-related revenue out of the gate, in its sleep with half its brain tied behind its back just to make it fair if it only tried.
And then there's the quote from Twitter's VP of Platform. What a gem.
Speaking of unqualified CEOs, the importance of that quote is lost on Pandora CEO Brian McAndrews, who, supposedly, is only now warming to the idea of sharing data with record labels. And that's a move that doesn't go nearly far enough.
Even though few people are writing about it, Pandora's future exists in data, not in music or radio as pure plays. Playing music and doing radio well brought Pandora to the dance and built an impressive (and still growing) ad sales business. Now music and radio must service a data business. If it doesn't happen, Pandora will watch everybody from Apple (AAPL) - Get Free Report to Spotify get close enough to their core to make a meaningful dent in it. Over time, somebody's going to match or pass Pandora on metrics such as listener hours and advertising revenue.
That's why it's critical for Pandora to act now on data. Twitter doesn't stream music, but it understands data. And, make no mistake, music is a major part of Twitter's data business.
It would be nothing short of an embarrassment for Pandora to cede early adopter status and subseuqent domination of that space to Twitter (or anybody else).
When Pandora reports earnings next month, don't pay attention to questions about standard metrics (CPMs, RPMs, active listeners, etc.) unless you're short-terming the stock. If you're interested in Pandora's long-term prospects, listen for what Pandora says about its data business with respect to not only assisting starving artists, but servicing -- for a price -- the music industrial complex, marketing agencies and major brands. If they say nothing, run away (like I suggested when the stock traded at $38 in late February).
Pandora stock, meantime, traded down more than 1% Thursday to close at $27.03. Q4 2014 earnings hit after the close next Thursday, April 24. 
--Written by Rocco Pendola in Santa Monica, Calif.
Rocco Pendola is a full-time columnist for
TheStreet
. He lives in Santa Monica. Disclosure: TheStreet's editorial policy prohibits staff editors, reporters and analysts from holding positions in any individual stocks.