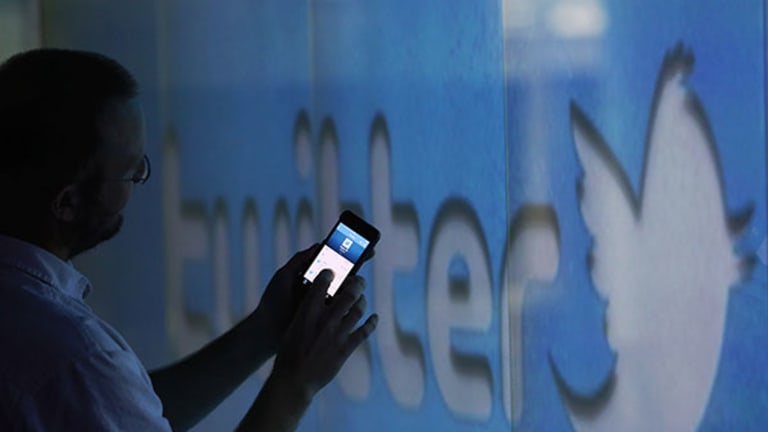 Twitter Being Bought by Google? Why It Just Won't Happen
There might have been a time in Twitter's life when it could have been bought. But that ship sailed a long time ago.
NEW YORK (TheStreet) -- There might have been a time in Twitter's (TWTR) - Get Twitter, Inc. Report life when it could have been bought. But that ship sailed a long time ago.
Still, rumors that the social network might be acquired by Google (GOOGL) - Get Alphabet Inc. Class A Report sent Twitter's stock soaring 4% on Tuesday and up slightly on Wednesday. On Wednesday the stock was trading at $52.88 as of 11:56 a.m. EDT -- a 47% rise in price for this year this far.
It makes perfect sense that Google (GOOGL) - Get Alphabet Inc. Class A Report would want to buy Twitter. Google is nowhere in the mobile arena. It doesn't have a messaging solution. And it doesn't have a popular app like Instagram that's on the top of Apple's (AAPL) - Get Apple Inc. (AAPL) Report App Store rankings.
Google Plus has been a bust as a social network. Ad dollars are moving away from Web search in favor of Facebook (FB) - Get Facebook, Inc. Class A Report and Twitter. So of course it makes sense theoretically that Google would be interested in Twitter. The companies do have an existing relationship, with Google's integrating tweets into real-time search. 
But it just won't happen. Twitter won't be sold now and probably won't ever be. 
Jim Cramer's charitable trust Action Alerts PLUS owns Twitter and recently wrote about its place in the AAP portfolio. Get full analysis on the stock with a free trial subscription.
Some folks on Tuesday speculated that Twitter could be bought by Google, perhaps for $60 billion, or roughly double its current market capitalization of $34 billion.
Twitter's board would have a fiduciary duty to look at any offer, of course. And a $60 billion sale would undoubtedly result in a share price that's a nice premium above Twitter's all-time highs in the $70s. But it still doesn't mean that this is going to happen. 
The question is, Will Twitter's co-founders want to sell their company if offered $60 billion, $80 billion or $100 billion? I just don't think so.
Of course, all those sums mean a lot of money. And if word ever leaked out that they had turned down that kind of price, the blogosphere would go apoplectic.  But let's face it, the Twitter co-founders are financially set for life. They have more than enough money now.
So what's still in front of them? Their legacy. And a big part of their legacy will be what Twitter achieves from here on.  
I think each of them will think that Twitter has much more potential than just cashing in all the chips now for some Google search money sitting in the treasury.
No one gave a chance to Twitter the early days. I remember the co-founders passing out T-shirts at the South by Southwest conference in 2007. They were snickered at and seen as a curiosity. People were asking, "Why would I want to tweet about having a ham sandwich for lunch?"
All the big Web companies -- including Google -- could have bought Twitter for a song years ago. And they all passed on it.
I remember telling a friend of mine in corporate development at Yahoo! (YHOO) in June 2007 that his company needed to buy Twitter and he literally laughed in my face.
These Web companies thought Twitter was either unsustainable, easily copied or a basket case of internal management problems. They were all wrong. And the Twitter co-founders will never forget they were wrong.
When I look ahead at Twitter's future, I see enormous potential. What's the value of everyone's identity in their @ handle? It's like they having their own television channel that's only about them. It's priceless.
So Twitter is worth $34 billion today. Got it. But where is the puck going? The question is, What can the company be worth in five or 10 or 15 years? The answer is no one knows. If Facebook is worth $200 billion today, however, it doesn't seem so far-fetched to think that Twitter could be worth the same, if not a lot more, in the future.
Is it preordained? No. But the company has a very good chance at achieving this with its momentum. Twitter's Adam Bain has always been a rock star on revenue. Kevin Weil is doing a fantastic job since receiving the head of product role last fall. The company just launched Periscope to great acclaim and has brought stiff competition to Meerkat in a matter of days.
Give this wine a little time to breathe.
Twitter's co-founders will.
This article is commentary by an independent contributor. At the time of publication, the author held no positions in the stocks mentioned.