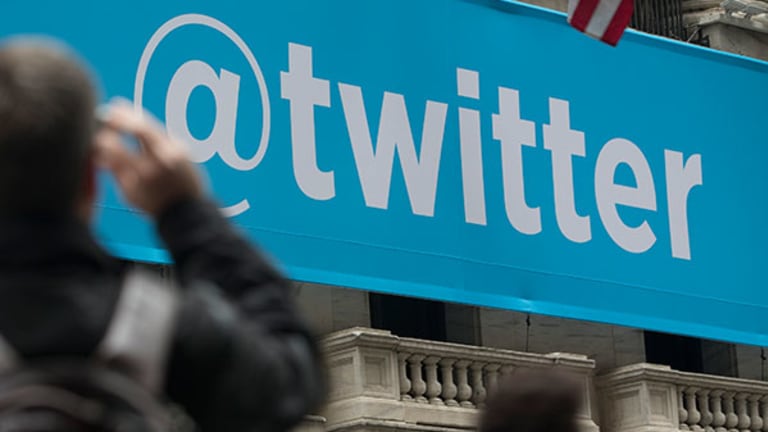 Twitter Advertising and Management Woes Are Reasons for Investors to Stay Away
The company has even been questioning the 140-character limit that made it famous.
Micro-blogging site Twitter (TWTR) celebrated its 10th birthday last week. But the air of uncertainty surrounding the celebrations was palpable. Will this social media pioneer regain its momentum, or are there better investments in the technology sector?
Given Twitter's problems, it's best for investors to stay away. The company has not found a successful advertising model. Its number of users has leveled off, and it has churned through enough CEOs and senior product managers to field a baseball team. There are other workforce problems, and the downward trends have had the company even questioning the 140-character limit on its messaging. This is a company that needs to find itself on many levels.
Twitter revolutionized the way people connected with one another, teaching people how to shrink their ideas and drive home a message. It became an alternative to the newspaper for many people worldwide, delivering important updates on events from the Arab Spring to the Black Lives Matter movement. 
Between 2010 and 2015, Twitter's monthly active users (MAU) grew 30 times from 10 million in the first quarter of 2010 to 302 million in the first quarter of 2015. 
However, throughout 2015, Twitter's growth has been nominal, largely because of its inability to keep users engaged. For reference, Facebook has about 1.6 billion users, a 14% rise from 2015. A shrinking user base will only drive advertisers and marketers, key revenue engines for online platforms, to other rivals like Facebook, Instagram and Snapchat. Photo-sharing app Instagram's MAU's are already about 25% higher than those of Twitter.
The result: According to data from eMarketer, Twitter's advertising revenue growth is expected to decline from 45% this year to 35% in 2017. So, unless the company finds strategies to revive its user growth or a completely new source of revenue, the company's top line itself is not looking good.
Complicating Twitter's task at revitalizing itself, the company has changed CEOs four times since 2008 and had five vice presidents of product development in five years. Last year, Twitter rehired its founder Jack Dorsey as CEO. To be sure overall revenue has grown by 58% over the past year to $2.2 billion. But Dorsey is also running payment service provider Square. Skeptics have questioned how well he can run a company when his attention is partly elsewhere, and the deep-rooted, long-range problems remain.  
Twitter's workforce issues extend beyond the C-suite. Dorsey admitted recently that the company must improve its diversity, if it wants to tout an image as a modern, not to mention Millennial friendly company.
Both operating and net profits now hover in the red. Dorsey faces a hard chore in turning Twitter into a profit-making entity.
Twitter's share price rose above $70 in 2013, just a month after its successful IPO. It reached an all-time low last month and is currently trading at around $15. If things don't rebound, the stock could even hit $6-$7, according to some analysts. Most analysts are not suggesting a Buy for the stock.
The U.S. Presidential elections and the Rio Olympics could help the company. Twitter activity increases during hot news events. Twitter could perhaps even re-involve users and external developers to better its platform, as it did prior to 2012.
Otherwise, the company may fall into the ranks of takeover targets, like other former tech giant Yahoo!. Meanwhile, avoid Twitter's stock.
You see Jim Cramer on TV. Now, see where he invests his money and why Twitter stock is a core holding of his multimillion-dollar portfolio. Want to be alerted before Jim Cramer buys or sells TWTR? Learn more now.
Don't Buy Apple; Buy This Tech Stock Instead: There's a battle raging in the fast-moving world of Silicon Valley. Just as VHS tapes snuffed out Betamax and CDs killed cassettes, the winner of a new "gold standard" for data is about to be crowned. I've discovered a tiny company that figured out a way to corner this new $10 billion market, no matter who comes out the winner. Click here to learn more.
This article is commentary by an independent contributor. At the time of publication, the author held no positions in the stocks mentioned.