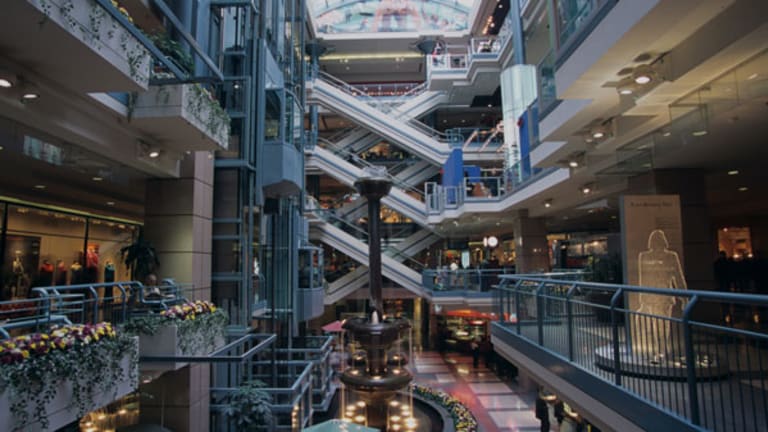 TV Sales Slump Translates to Cheaper TVs This Holiday
Asian sales are down, and so are TV prices for American consumers.
NEW YORK (TheStreet) - What gadget is topping consumer shopping lists? (Hint: It's not a tablet.)
It's a TV, according to a study by the
NPD Group
, a market research firm that tracks consumer purchases.
Sure, tablets, smartphones and video game consoles ranked high on shopping lists, but flat-screen TVs are the most anticipated consumer-electronic purchase, with 28% of people planning to buy one within two years, compared to 20% who plan to buy a tablet.
Ben Arnold, NPD's director of industry analysis, said it may seem surprising that such a mature product category tops the list. But TVs are perhaps the most ubiquitous household electronic device -- he estimates 99% of U.S. households own one. At any given moment, more people will buy a new TV than, for example, a sound bar.
But the other big reason consumers still have a TV on the brain: falling prices on LCD TVs.
"The idea that TV prices are continually falling and becoming more affordable has become part of the consumer psyche over buying TVs. And I'm sure that a lot of consumers wait until Black Friday, when they expect prices to be the lowest. I also would add that we've seen a real move into big screens, and increased affordability is a huge part of that," he said.
Other forces are at work to help prices plummet: LCD glass is getting cheaper due to an oversupply. Glass-panel factories in Asia overestimated demand and slowed production this year, according to Sweta Dash, senior director of display research and strategy at
IHS iSuppli
. This translates into an oversupply, meaning lower TV prices for consumers worldwide.
"Given the slow demand, panel makers reduced utilization rates for their fabs to 79% during the first half (of 2013), 5% lower than the average recorded during the second half of 2012," Dash said.
Dash says there will likely be some excellent deals on LCD TVs this holiday season.
"We are forecasting about 9%-to-10% price reduction for 32-inch panel from last year second half to this year second half," she said. She predicts a 32-inch LCD TV will be selling for around $133, compared to last year's $148.
That's a conservative prediction. Some analysts, she added, are "expecting set price reduction for 32-inch to be even more aggressive than that this year" -- to as low as $100 for a 32-inch LCD TV.
Last decade brought astonishing technology changes to the TV industry, as people upgraded en masse to flat and larger screens. The U.S. switched to digital broadcasts in June 2009. High-definition TVs became mainstream.
But this decade has so far seen lackluster TV sales. The hype of 3D has been relegated to a feature -- not a reason to buy a new TV.
"The major features we've seen in the past five years have not necessarily been movers of the market," Arnold said. "3D definitely was not. Even though we saw sales of 3D TVs grow, people weren't buying 3D TVs
per se
, but only because the feature was attached to TVs. The same is partially true with Smart TVs, when you get (Internet-) connected TVs with
Hulu
,
Netflix
(NFLX) - Get Netflix Inc. Report
and
Pandora
(P)
. But a lot of consumers have that feature on four other devices in the house."
It's been a rough year for TV makers.
In May,
Sony
, said its TV sales for the year had declined 30.8% from the prior year, and it later revised its 2013 forecast of LCD TV sales downward.
In July, Japan's
Toshiba
blamed slumping TV sales in North America and Europe for missing analyst estimates.
Best Buy
(BBY) - Get Best Buy Co. Inc. Report
, meanwhile, mentioned in a July conference call that TV sales have flattened after a period of declines.
Overall, TV-set sales worldwide are expected to fall about 2% this year, down to 234.1 million, according to
IHS Television Market Tracker
. Within that group however, LCD TV sales are still rising and expected to grow 3% to 216.7 million.
"Demand for plasma TVs is going down. CRTs is down. Even though LCD is growing, it's not growing to the extent of taking over the loss of plasma and CRT," Dash said.
This decade isn't without some high-tech buzz. Ultra-high-definition TVs, also called 4k technology, is akin to the difference between watching standard-definition and high-definition TV, says Dash. "It looks fantastic," she adds. "My own personal experience is I was standing two feet away from it and looking at a concert. I felt like I was there."
There's also OLED, short for organic light-emitting diode, another type of flat-screen TV technology promising better picture quality. Second-screen apps add interactive features on a tablet or smartphone to coincide with live TV shows.
But so far, none of the new technologies have spurred the urgency to upgrade to a new TV, unlike the mainstreaming of high-definition did last decade. Prices for the new technologies are still very high. The new 55-inch Samsung curved OLED TV is just beginning to show up in stores -- for $8,999.
Still, new technology attracts early adopters and enthusiasts.
In its
, Best Buy president Hubert Joly noted that the sale of larger TVs and newer technologies like OLED and ultra high-definition screens helped the company's performance.
"We are, of course, also intrigued by the innovation in the space with 4K TV, OLED TVs, and so forth," Joly said during the call. "We love the fact that in our stores now there's TVs with a price point of $15,000, $8,000, and that's helpful from the top-down selling standpoint."
Tamara Chuang is an outside contributor to TheStreet. Her opinions are her own. Email her at
and follow her on Twitter
.
Tamara Chuang is an outside contributor to TheStreet. Her opinions are her own.