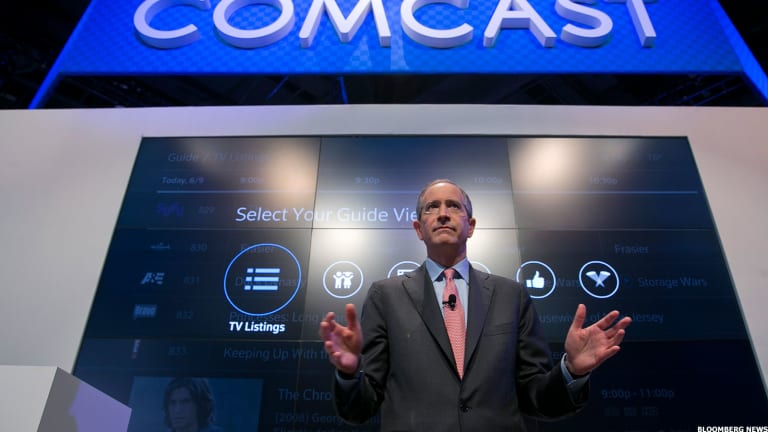 Publish date:
Tune Out the Static and Buy Comcast Ahead of Earnings
It's time to place a long-term bet on the media giant.
It's time to place a long-term bet on the media giant.
It's time to make a long-term bet on shares of media giant Comcast (CMCSA) - Get Report .
Forget wondering where it will be in 12 to 18 months. Forget about cord cutting, where consumers cancel their cable subscriptions in favor of internet-based services including Netflix (NFLX) - Get Report and Hulu.
Comcast has been fighting back, and that should show up in its fourth-quarter earnings results expected ahead of the opening bell Wednesday.
Analysts see earnings growth at an annual rate of almost 14% in the next five years, more than doubling the 5% annual growth rate of the S&P 500 (SPX) index. Earnings were in line with expectations for the last two quarters. At around $54, shares are down close to 4% so far this year but less than 1% for the previous 52 weeks.
For the quarter that ended December, analysts, on average, expect 82 cents a share in earnings on revenue of $18.77 billion, increases of 11% and 6%, respectively, over the same quarter the previous year. For the full year, earnings are projected to climb 2.5% to $3.28 a share; full-year revenue of $74 billion would mark an increase of 7.6% from the year-ago quarter.
While both the full-year revenue and earnings projections appear solid, Comcast has felt some of the cord-cutting pain. In its fiscal third quarter, for instance, Comcast's profits declined almost 20%, thanks, in part, to a 48,000 net decline in its video subscribers. But at the same, unlike some of its competitors, the Philadelphia company has many other assets in technology, theme parks and tons of content exposure to offset weak subscription revenue.
Its high-speed internet delivered third-quarter revenue of $3.13 billion, up more than 10%, while its business services surged almost 19.5%. Add in the third-quarter 21% rise at NBCUniversal and the 14% increase at its theme parks, the breadth of Comcast's operations is -- at least -- on the level of The Walt Disney (DIS) - Get Report  if not close to it, especially when factoring in Comcast's filmed entertainment business.
Even as consumers fret about paying $123 a month, which is the average American pays for cable, according to research from NPD Group, that price is projected go even higher, reaching estimates of $200 per month in the next four years, according to the same study. Comcast will get a lot of that revenue, although the risk of subscriber cancellations will increase with those prices.
Still, this stock has a consensus buy rating and an average 12-month price target of $70, suggesting 26% gains. That's why it belongs in your portfolio.
This article is commentary by an independent contributor. At the time of publication, the author held no positions in the stocks mentioned.