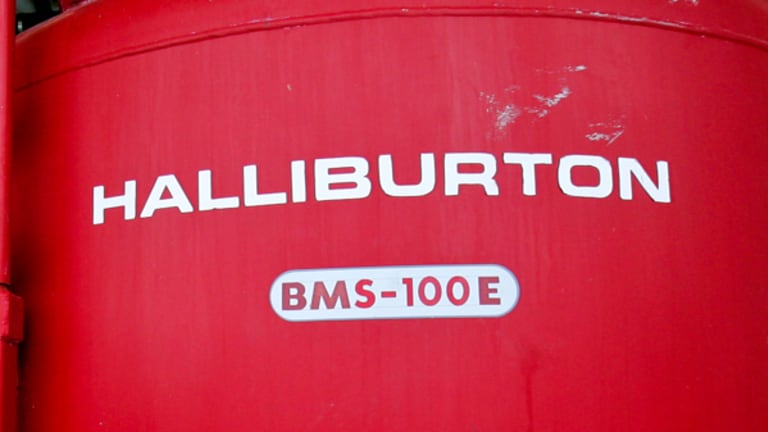 Tumbling Oil Prices Pose a Major Challenge to Halliburton
Despite delivering solid quarterly results and giving a positive outlook, the oilfield services giant is not immune from the weakness in oil prices, analysts warn.
NEW YORK (TheStreet) -- Oilfield services giant Halliburton (HAL) - Get Halliburton Company Report is optimistic about its future, despite the tumbling crude prices, but analysts see a major challenge ahead with a possibility of oil falling to $75 a barrel in 2015.
The Houston-based company released its third-quarter results on Monday showing revenue climbed by 16% from the same quarter last year to $8.7 billion due to higher drilling activity in North America and strong growth in international markets. Halliburton's net income, excluding one-time items, rose 43% from last year to $1.19 a share, thanks to more than 30% increase in adjusted operating income from North America.
With a strong performance, Halliburton ended up beating the market's revenue and earnings estimates, as per data compiled by Thomson Reuters.
Further, Halliburton's CEO Dave Lesar said during the conference call the company has "not received any indication" of a slowdown in oil and gas drilling activity, despite lower crude prices. The company's peers Schlumberger (SLB) - Get Schlumberger NV Report and Baker Hughes (BHI) also gave similar comments when they released their quarterly results last week. The world's leading oilfield services provider Schlumberger went even further by suggesting an increase in oil and gas spending in 2015 on the back of ever-increasing global oil demand.
Fadel Gheit, senior analyst at Oppenheimer told TheStreet in an email interview that no oilfield services company, however big or small, is immune to lower oil prices. All oil-producing companies will be "forced to cut spending" if oil prices do not recover "as their operating cash flow will fall short of capital spending," he said. Drilling activity will suffer if that happens, dragging the future growth of Halliburton as well as its peers.
Halliburton did not witness any drop in drilling activity in the third quarter which is due, in part, to relatively better oil prices. For the three months ending September, the futures for WTI oil were trading above $90 a barrel. At this level, according to an Oct. 14 report by the International Energy Agency, nearly all of the North American oil projects would be profitable.
However, the equation changes with WTI hovering at the current levels of around $80 a barrel. At this price, Edward Morse, prominent energy economist and the head of commodities research at Citigroup, wrote in an Oct. 14 research report, the shale oil and gas production could begin to be impacted. Things could get worse if the price falls, and sticks, to $75 a barrel when the oil and gas producers could start scaling back some of the drilling rigs, which will result in lower levels of activity and a meaningful drop in production growth, Morse wrote.
This could be particularly troubling for Halliburton since the company is the world's leading provider of fracking services to shale producers. However, Halliburton's Lesar said lower prices "are not sustainable" in the long run and the market conditions could improve "in a relatively short period of time."
Citi's Morse is also optimistic, saying the oil prices could start to rise from the fourth quarter. Refineries will gradually become fully operational during that period, increasing demand, following the end of the seasonal maintenance that occurs in September and October. This could be followed by additional recovery with WTI prices averaging at $89.5 a barrel in 2015.
That said, Morse has also warned that without meaningful production cuts from OPEC nation, WTI could fall to as low as $75 a barrel in 2015.
When contacted, Halliburton's spokeswoman did not provide any additional comments to TheStreet besides what was discussed in the earnings call this week.
Halliburton's shares have climbed around 9% this year, currently trading at $55.30.
At the time of publication, the author held no positions in any of the stocks mentioned.
This article represents the opinion of a contributor and not necessarily that of TheStreet or its editorial staff.