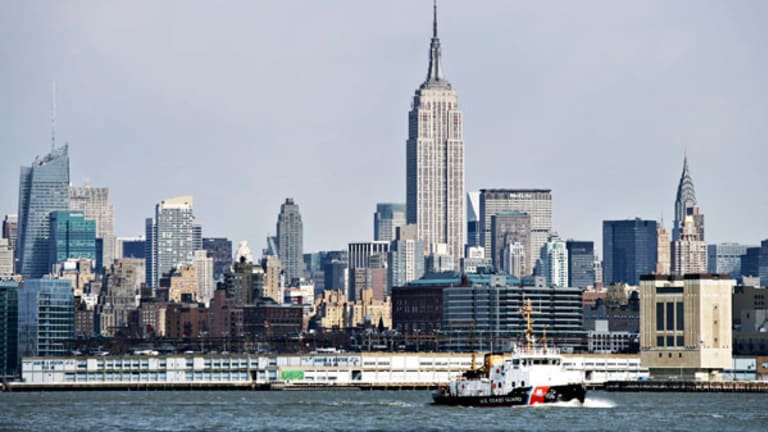 NEW YORK (TheStreet) -- On Wednesday the Empire State Realty Trust (ESRT) - Get Empire State Realty Trust, Inc. Class A Report listed shares on the New York Stock Exchange. By listing as a real estate investment trust, or REIT, investors have the opportunity to participate and now trade shares in an efficient manner, with full market liquidity.
The new REIT consists of 12 office properties encompassing 7.7 million square feet (around 83.5% leased) and six retail properties, consisting of four free-standing buildings that are 100% leased (excluding the Empire State Building).
The combined portfolio, encompassing around 8.4 million rentable square feet, is located in midtown Manhattan; Fairfield County, Conn.; and Westchester County, N.Y.
The most recognizable property in the REIT portfolio is the Empire State Building, constructed in 1931. At 102 stories tall, the iconic tower was the tallest tower in New York City. The building was developed by a group of prominent businessmen including John Jakob Raskob (founder of
General Motors
), Coleman Du Pont, Pierre S. Du Pont (president of
E.I. Du Pont de Nemours
), Louis G. Kaufman and Ellis P. Earle, from Empire State, Inc. and Alfred E. Smith, former governor of New York four times and presidential candidate in 1928.
Ground work for the tower commenced in 1930 and on May 31, 1931, President Hoover pressed a button that turned on the lights, officially opening the building to the public. The tower was sold a couple of times in the 1950s.
Then on Aug. 23, 1961, the building was sold to an investment group headed by Lawrence A. Wien for $65 million -- a price (which did not include the valuable Fifth Avenue land under the structure) that was believed to be the highest ever paid for a single building at that time.
In 2002, Peter L. Malkin, who has previously acquired the land from Donald Trump, purchased the actual building, making Malkin both majority owner and manager of the Empire State Building. However, Malkin was joined in complex partnership that consisted of more than 2,800 shareholders, some dating back to 1961 when Lawrence Wien was the managing partner.
Malkin and his son Anthony "Tony" Malkin forged a deal with the other majority owner, the Helmsley Estate, to consolidate the fractional owners and provide them with liquidity, diversification and more predictable cash flow through a REIT securitzation. Now, after a dramatic decade or so of protests -- many legacy investors were not keen on or undecided in the REIT concept -- the battle with shareholders (decided by the courts) has ended and the Malkins have finally realized a vision of providing investors full liquidity, diversification and transparency in a REIT wrapper.
It took a court approval in May of this year to convince the majority of the building investors to trade in the archaic shares in one building for more liquid shares in 18 buildings. As Brad Case, Ph.D., CFA, CAIA, senior vice president at NAREIT, explains: "The listed REIT market is so competitive today, lots of real estate investment managers would like to do an IPO but can't convince investors it's worth it to part with their capital. Any successful IPO in this market means investors think you've successfully combined a high-quality portfolio with a high-quality management team."
Under the previous ownership structure the distributions were lumpy and not as predictable due to typical partnership-level accounting. However, now that the company is a REIT, the distributions, or dividends, will be based on a more reliable method in which REITs are forced, by law, to pay out at least 90% of taxable income.
Also, the new ownership structure should enhance profitability as the internally managed ownership group is able to lower its cost of capital (i.e., debt costs) and become a more efficient multi-property operator (the previous ownership was not the same).
For new investors, the IPO will provide an alternative for investing in a "pure play" New York area office REIT. Although the unlocking of legacy investor shares (in the new REIT) will likely pose volatility risks, the market price for the shares may not offer a compelling discount on the first day of trading. On the first day, Empire State Realty Trust began trading at $13.05 a share and as of mid-day the shares had traded up by around 2.8% to around $13.36. Shares closed at $13.10. The dividend yield is trading in-line with other modest-paying office REITs at around 2.7%. The new REIT priced 71,500 shares of its Class A common stock.
According to the
, the average vacancy rate for the company's combined office portfolio is 83.5% and the iconic Empire State Building's occupancy is 77.8% occupied. (The retail buildings referenced above are 100%)
Compared with the other office REITs in the peer group --
SL Green
(SLG) - Get SL Green Realty Corp. Report
,
Vornado Realty
(VNO) - Get Vornado Realty Trust Report
, and
Boston Properties
(BXP) - Get Boston Properties, Inc. Report
-- the new REIT could grow its funds from operations and create more growth and possibly an opportunity to own shares at a discount. The New York City real estate market has become the "gold standard," specifically the office and retail sectors market, and the new "pure play" REIT should benefit from space absorption as well as rising rents (
earlier this week here).
The demand for liquidity in the REIT world is befitting investors like Empire State Realty Trust. As Ronald Bohlert, director with NYSE Euronext, explains: "There has been some healthy momentum in the REIT IPO space so far this year, most recently with Empire State Realty Trust raising approximately $930 million and listing Wednesday on the NYSE. In all there have been 17 REIT IPOs this year, raising a total of $3.7 billion, and a healthy pipeline of new listings slated for the fall as well."
I'm not going bananas today but I will definitely keep my eye on Empire State Realty Trust in hopes of being a landlord in a REIT over which even King Kong would go ape. For more information on "sleep well at night" REITs, check out my newsletter
.
Follow @swan_investor
This article was written by an independent contributor, separate from TheStreet's regular news coverage.