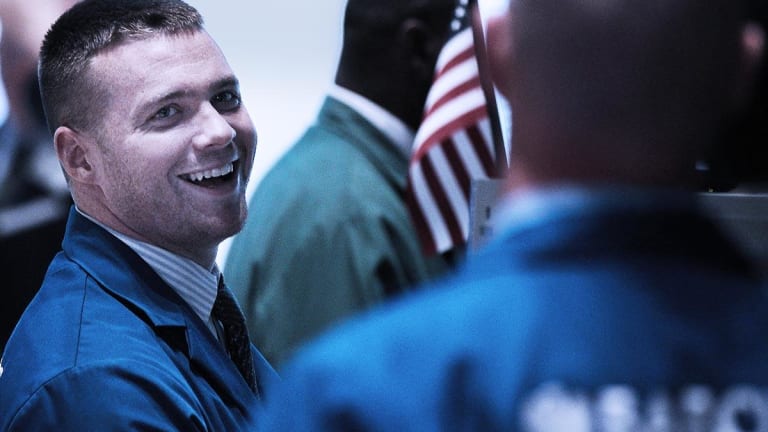 Tuesday Turnaround: Pepsi for the Win, Tesla Makes Moves and Here Comes Russia
Let's go over some of the top stories on Tuesday.
One day closer to the weekend.
But before you leave the office, catch up on what's going on Tuesday.
Here are three of the hottest topics in the market right now.
Pepsi
PepsiCo (PEP) - Get PepsiCo Inc. Report beat analyst expectations by 9 cents on Tuesday, July 10.
PepsiCo CFO Hugh Johnston sat down with TheStreet's Brian Sozzi to talk about the earnings.
The beverage and snacks giant smashed analyst profit forecasts by 9 cents a share, posting adjusted earnings of $1.61 a share on the back of cost cuts in its various divisions. At $16.1 billion, net revenue was slightly ahead of consensus estimates. Organic revenue, which reflects the core operations of PepsiCo and excludes currency fluctuations, rose 2.6%.
PepsiCo's Johnston told TheStreet trends in the soda business are slowly improving amid renewed marketing efforts. Gatorade is also turning around, Johnston said.
"Nothing new to report at all, I wouldn't narrow things to re-franchising. We are basically focused on maximizing the long-term value creation out of all the businesses, North America beverage included. That's true of every business," Johnston said. "We will continue to look at options. If nothing else, this management team has proven to be all about creating value for shareholders."
"We were pleased that PEP generally exceeded muted sales growth and EPS ests heading into the print—and we expect the stock to respond favorably today in response," wrote Wells Fargo analyst Bonnie Herzog following the results.
"That said, results were not entirely clean, and we note that a gain from refranchising the company's beverage business in Thailand contributed 5pts to core OI growth (although this was partially offset by a -3pt impact from last year's gain from the Britvic minority stake sale). Furthermore, we are disappointed by mounting commodity pressures (negatively impacting results across all of PEP's segments) and soft NAB results, which despite sequential improvements, remain challenged."
PepsiCo is a holding in Jim Cramer's Action Alerts PLUS.
Tesla 
Tesla Inc. (TSLA) - Get Tesla Inc. Report is back in the news after the Shanghai government announced that the mayor of Shanghai, Ying Yong, had met with Tesla's CEO, Elon Musk. 
The two have entered into an agreement that allows Tesla to begin planning to build its third gigafactory in Shanghai. 
In a press release, the government of Shanghai said, "Tesla's Gigafactory, which aims to build 500,000 electric vehicles per year, has officially settled in Shanghai Lingang Area Development Administration. It is the largest foreign-invested manufacturing project in Shanghai's history. Today, on July 10th, the Shanghai Municipal People's Government and Tesla signed a Cooperative Agreement. Mayor Ying Yong and Tesla Chairman and CEO Elon Musk were in attendance to unveil a plaque for the Tesla (Shanghai) Ltd. Electric Vehicle Development and Innovation Center. The agreement was signed by Zhou Bo, Executive Vice Mayor of Shanghai, and Robin Ren, Tesla Vice President for Worldwide Sales."
"Shanghai will be the location for the first Gigafactory outside the United States. It will be a state-of-the-art vehicle factory and a role model for sustainability. We hope it will be completed very soon. We've been impressed by the beauty and energy of Shanghai and we want our factory to add to that," said Musk.
"Last year, we announced that we were working with the Shanghai Municipal Government to explore the possibility of establishing a factory in the region to serve the Chinese market. Today, we have signed a Cooperative Agreement for Tesla to start building Gigafactory 3, a new electric vehicle manufacturing facility in Shanghai," said a Tesla spokesperson in an email to TheStreet. "We expect construction to begin in the near future, after we get all the necessary approvals and permits. From there, it will take roughly two years until we start producing vehicles and then another two to three years before the factory is fully ramped up to produce around 500,000 vehicles per year for Chinese customers. Tesla is deeply committed to the Chinese market, and we look forward to building even more cars for our customers here. Today's announcement will not impact our U.S. manufacturing operations, which continue to grow."
When asked if Tesla will be able to finance the gigafactory, Gabe Hoffman, a hedge fund manager, compared Tesla's balance sheet to a plane nosediving.
"This is like being in an airplane and the thing starts taking a dive at 30,000 feet. [Tesla's] balance sheet is equivalent to a plane at 2,000 feet," said Hoffman.
Russia
This week, President Trump will be sitting down for a one-on-one meeting with Russia's president, Vladimir Putin. 
"So, I have NATO, I have the U.K. which is somewhat in turmoil, and I have Putin," Trump told reporters before boarding presidential helicopter Marine One on Tuesday, July 10. "Frankly, Putin may be the easiest of them all. Who would think?"
TheStreet's Anders Keitz dug into Trump's trip overseas.
Before Trump meets with Putin on July 16, the president will attend a NATO summit in Brussels, then travel to the U.K. to meet with Prime Minister Theresa May and sneak in a golf trip in Scotland.
Trump will then travel to the U.K., where there is a chance he could be greeted by a giant inflatable baby Trump, and will attend a black-tie business dinner at Blenheim Palace, working meetings with Prime Minister Theresa May at her country home at Chequers, and a tea-time visit with Queen Elizabeth at Windsor Castle, according to USA Today.
The president will bridge the trip to London and Helsinki with a weekend in Scotland, where he will—naturally—play golf. Trump owns two golf courses in Scotland, including the Trump International Golf Links in Aberdeen and Trump Turnberry in Ayrshire.
Trump will participate in meetings with 28 allies on Wednesday, and the sessions will center on NATO's mission of countering Russia, according to U.S. ambassador to NATO, Kay Bailey Hutchinson.
"Our major areas of deterrence would be Russia and the malign activities of Russia, the efforts of Russia to divide our democratic nation, INF Treaty violations," Hutchinson told reporters last week. The U.S. has accused Russia of violating the Intermediate-Range Nuclear Forces Treaty, which generally forbids nuclear and conventional missiles in Europe.
Keitz reports that Trump has spent 125 days at golf courses during his presidency so far. 
And that's a wrap.
It's almost the weekend, right?