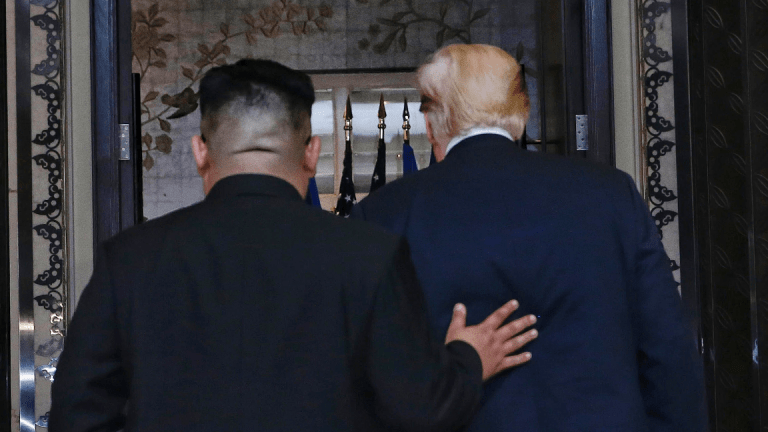 Tuesday Turnaround: Have You Talked Politics Today?
Tuesday was all about the Trump-Kim summit.
So let's go over the top headlines from Tuesday.
Have you heard about anything that isn't the Trump-Kim summit? If you haven't, that's OK. Kind of hard to focus on anything that isn't about the summit.
Dennis Rodman was hard to miss at the summit in his Make America Great Again hat and ...crypto shirt?
At least the photos from the Trump-Kim summit aren't half as awkward as the ones from the G-7 summit.
Trump and Kim vs. the world.
TheStreet's Kinsey Grant followed the summit. She broke down the document that the president and the leader of North Korea signed. 
The markets felt pretty shaky about the summit, they fluctuated throughout the day on Tuesday, June 12.
As TheStreet's staff reported, stocks were mixed on Tuesday, June 12, after Trump and Jong-Un signed a "comprehensive" agreement to continue discussions that would lead to the denuclearization of the Korean peninsula and Wall Street turned its attention the start away from the Federal Reserve's two-day meeting.
 Stock gains were limited after the text of the document signed by Trump and Kim was scant on new commitments or advancements. The historic importance of the first meeting between a sitting U.S. president and a North Korean leader was blunted somewhat after the agreement included no new actions or commitments on the part of North Korea to end its nuclear weapons program.
Bernie Sanders tweeted that the summit was a 'positive step.'
Is today over yet?
Is it too late now to say sorry?
Peter Navarro, a Trump adviser, doesn't think so. 
In an interview with Fox News Sunday, Navarro said, "there's a special place in hell" for Justin Trudeau, the Canadian Prime Minister.
Lest you forget, the U.S. and Canada are currently locked in a trade war.
Navarro apologized at the Wall Street Journal's CFO conference. "In conveying that message, I used language that was inappropriate and basically lost the power of that message," said Navarro.
Navarro isn't the only adviser to speak out against Trudeau. Larry Kudlow, Trump's economic adviser, said Trudeau's comments were akin to "betrayal."
Maybe Navarro should have taken a page out of Justin Bieber's book and just said, "You know I try, but I don't do too well with apologies."
Seattle says 'baby come back'.
Seattle and Amazon.com Inc. (AMZN) - Get Free Report seem to be having a lovers' quarrel. But don't worry, Seattle caved and reversed the business tax it had planned to implement. 
"The so-called Amazon Tax will cost the city's biggest companies, with annual sales of more than $20 million, around $275 a year for each full-time employee over a period of five years. While that figure is about half of the original proposal of $500, Seattle hopes to raise around $250 million from the new tax plan and use the cash to build affordable housing and improve services for the city's homeless," reported TheStreet's Martin Baccardex in May.
Amazon blasted the decision and it threatened to halt its expansion in Seattle. Amazon employs some 40,000 in the city. 
"The tax would have fallen on businesses that generated more than $20 million in revenue. The 585 businesses in the city that qualified would have faced a $275-per-employee tax, money that would have gone to pay for affordable housing and programs aimed at curbing homelessness," reported TheHill.
Amazon closed up $9.63, at 1,698.75. It is a holding in Jim Cramer's Action Alerts PLUS portfolio.