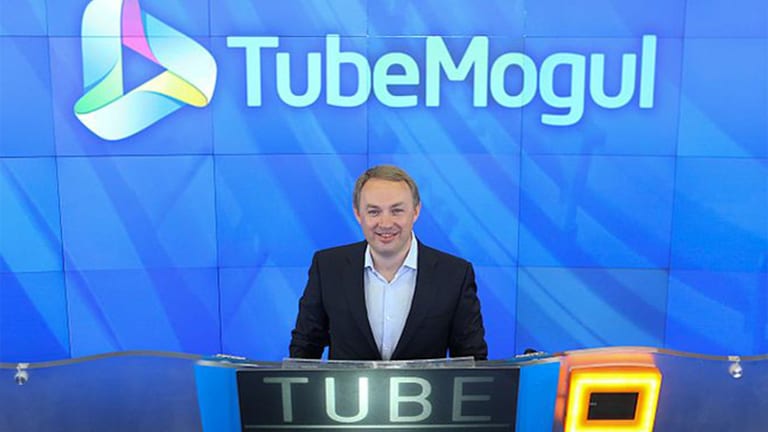 TubeMogul Pushes Forward Through Lots of Volatility
TubeMogul's stock went tumbling following an announcement the ad tech company will offer five million shares in a secondary offering.
NEW YORK (TheStreet) -- To be a TubeMogul (TUBE) investor is to have a stomach for volatility.
Shares of the Emeryville, Calif.-based advertising technology company have fallen for five days running, or 11.6%. Late last month, the stock went on a three-day tear, climbing 12%.
TubeMogul's latest dip was tied to a secondary stock offering of five million shares, worsening an already difficult year. The stock, which closed at $14.65 Monday, has lost 35% so far in 2015.
"The number of new private companies is falling, as well as the size and scale of other ad tech companies," said Rohit Kulkarni, analyst at JMP Securities. "There are selective winners out there, which is why we like Rubicon Project (RUBI) - Get Rubicon Project, Inc. Report and TubeMogul."
Seven of the nine analysts following TubeMogul have issued positive recommendations for the company, with a consensus price target of $21, only $2 lower than its all-time high reached in December.
Throughout its dips and occasional surges, TubeMogul's story has remained the same: The company operates a advertising platform that allows marketers the opportunity to buy advertising space on thousands of Web sites in real time. The ad-tech market is expected to surpass $20 billion in ad sales by 2016, according to The Wall Street Journal. The market is set to expand as it takes advantage of the mobile market, which is estimated to be 56% of the total display ad spending in 2015.

Yet, surviving long enough to take advantage of that demand may present an issue. TubeMogul acknowledged in its stock prospectus that it has a history of losses, and that it may not be able to "achieve or sustain profitability in the future."
As with any high-growth industry, there are a lot of companies fighting for their piece of that pie. Rocket Fuel (FUEL)  stock has lost 48% for the year to date while Rubicon Project stock has gained 5.6% and Millennial Media's (MM) has added 6.3%. 
TubeMogul is betting the roughly $51 million raised through its recent stock offering will allow it to make the necessary investment to spur growth. The new funds come as venture capital investments that were once "freely flowing" to ad-tech, have largely dried up, according to The Wall Street Journal.
"There has been a drop off in funding," Kulkarni said. "Not just in the number of deals, but the amount of financing."
TubeMogul is hoping to make good use of its new investment and, over time, avoid volatility.
This article is commentary by an independent contributor. At the time of publication, the author held no positions in the stocks mentioned.