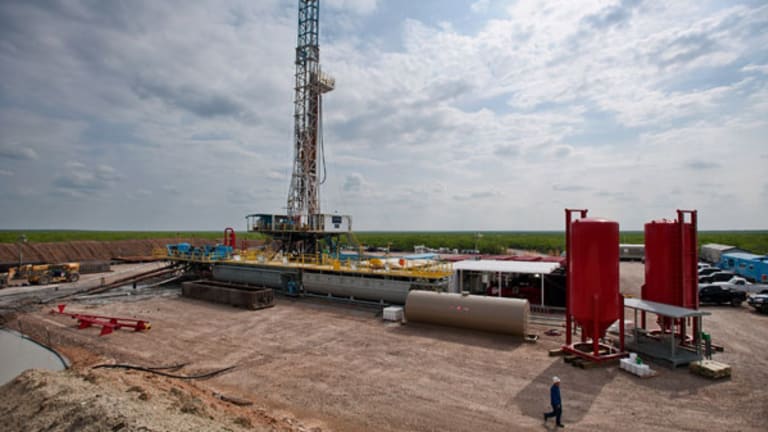 Trying to Profit From the Next Phase of the Natural-Gas Boom
Focus on gas properties that can reach export markets and pipeline operators that extend their networks to new fields.
Focus on gas properties that can reach export markets and pipeline operators that extend their networks to new fields.
NEW YORK (TheStreet) -- With Cheniere Energy (LNG) - Get Report ready to open the U.S. for natural-gas exports in late 2015, the next phase of the U.S. natural-gas boom has begun.

The initial phase of the natural-gas boom in the U.S. produced a glut of gas and low prices. Now the business will be built on high prices, with gas becoming an export product and with premiums paid for natural gas that can be shipped overseas. 
Savvy investors should focus on natural-gas producers that can reach the export market and look carefully at where companies that provide pipelines and other infrastructure are expanding their networks.
>>Read More: Credit Suisse Makes Energy Transfer Equity Top Energy Pick of 2014
Cheniere is an example of a company poised to capitalize on exports. Its stock has more than doubled during the past year on the prospects of it being able to export natural gas from its terminal near the Texas-Louisiana border. Cheniere is developing the capacity to liquefy the gas at the terminal so that it can ship the gas overseas.
Meanwhile, Chesapeake Energy (CHK) - Get Report CEO Aubrey McClendon is concentrating his new company, American Energy Partners, on leases in areas such as Ohio's Utica Shale, where there are plenty of pipelines available to send the gas to ports and eventually to global markets.
Chesapeake itself is spinning out its drilling operations as Seventy Seven Energy, which will trade under the ticker symbol SSE. The company will give investors a new pure play in oil and gas production.
The promise of exports is also increasing investment in natural-gas pipelines.
Pipeline owner Kinder Morgan Partners (KMP) has seen its stock recover from March lows on the strength of new projects to supply gas from the Marcellus Shale, a rock formation in the Northeast, and from gas fields in Texas.

The company is also increasing its gas-carrying capacity between Texas and fields in the Northeast, including the Utica Shale, as it pursues its own gas export terminal.
Apache Corp. (APA) - Get Report is another company that may become a great play in the new gas era. Apache is spending $8.5 billion this year, selling foreign and offshore fields in favor of onshore gas projects.
Technology Apache funded at Rice University could even create a second profit center from gas, in the form of a carbon compound that can sweep carbon dioxide from a natural-gas well. The gas collected through the compound could be injected into wells to produce more methane or sold for use in products such as dry ice, rather than being wasted.
>>Read More:
In About Face, U.S. Supports Vietnam in Oil Dispute With China
Apple and Nintendo: A Match Made in Purgatory
Super Mario Gabelli of Gamco the King of M&A as Hillshire Deal Shows
At the time of publication, the author owned no shares in companies mentioned in this article.
This article is commentary by an independent contributor, separate from TheStreet's regular news coverage.