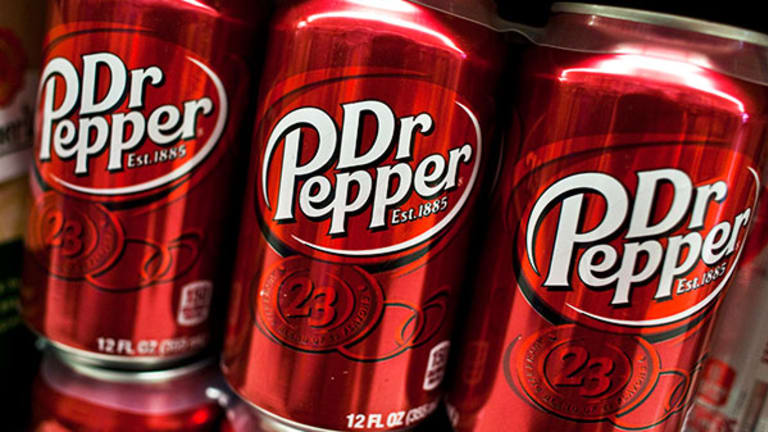 Try Dr Pepper Snapple Instead of Your Usual Brands: Opinion
Dr Pepper Snapple's 1Q earnings showed continued good business performance including a strong commitment to shareholder returns.
NEW YORK (TheStreet) -- Making your brand stand out from the pack matters, judging by the hundreds of millions of dollars spent annually on advertising in the soft drinks industry.
Whatever your taste for soda, I think from a share perspective the company that has stood out so far this year has been Dr Pepper Snapple undefined, which has outperformed Coca-Cola (KO) shares by just over 10% and PepsiCo (PEP) shares by just under 10%. Dr Pepper Snapple shares recently traded at $53.50, up nearly 10% for the year to date. Shares reached an all-time high on Wednesday when first-quarter numbers were released.
Why? Well, it has nothing to do with volumes, which edged down 1% in the first quarter on a year-on-year basis. Reading down the corporate results, much more striking was the 16% rise in operating profits over the same period. Core earnings per share rose even more.
The advantage Dr Pepper Snapple has is a market capitalization of just over $10 billion. Contrast that with Coca-Cola's $178 billion. Both companies have efficiency-boosting cost-reduction plans being implemented -- no prizes for guessing which company had more success during the last quarter in getting its plan to influence corporate earnings.
Dr Pepper Snapple has been about more than just an efficiency drive to keep profits moving forward. Available cash flows after capital spending are being used exclusively for dividends and share repurchases. Put the two together and that is a equivalent shareholder return of over 6%. Coca-Cola cannot match that.
PepsiCo might be able to do that as its management continues to struggle to justify keeping the company's beverage and snacks businesses together. But then there is the difference on valuation to consider: Dr Pepper Snapple trades on 15 times forward earnings, PepsiCo and Coca-Cola nearer 20 times.
Higher proportional shareholder return, superior profit momentum and a lower valuation. I don't think it is difficult to see why Dr Pepper Snapple has performed better than consumer stalwarts like Coca-Cola and PepsiCo.
Clearly none of these big consumer brands are going away. But I think investors looking for reasonable yield should complement their usual soda choices by taking a look at Dr Pepper Snapple.
At the time of publication the author had a position in DPS.
This article represents the opinion of a contributor and not necessarily that of TheStreet or its editorial staff.