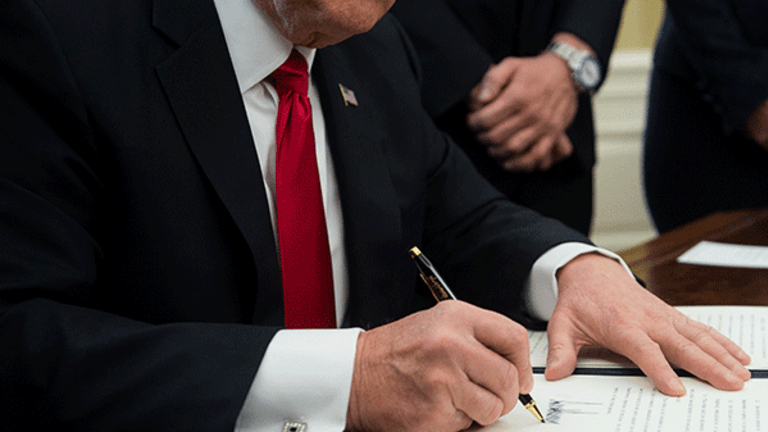 Trump, Wall Street, Strive to Make Securities Fraud Great Again
A federal judge Wednesday ruled against opponents of the Department of Labor's fiduciary rule. But the fight isn't over. It's a tough time to be a small investor.
A federal judge in Dallas said Wednesday that the Department of Labor had acted within its authority when it created an investor-friendly rule set to be implemented April 10.
In an occasionally biting 81-page opinion, Chief Judge Barbara Lynn of the U.S. District Court for the Northern District of Texas upended the arguments of nine pro-business groups who had sued the DOL over its so-called fiduciary rule. The crux of industry's outrage: That the agency wants financial salespeople giving advice on retirement accounts to put clients' interests ahead of their own.
Surely we can't allow something like that.
It's the third federal court to give its blessing to the rule, but the financial industry, with the help of the Donald J. Trump administration and others, is arguing with a straight face that acting in clients' best interests would somehow be against clients' best interests.
Add to that the administration's goal to neuter the post-financial crisis rules of the Dodd-Frank Act and a fresh round of attacks on the Consumer Financial Protection Bureau, and you're looking at a perfect storm of reasons to get a little paranoid if you're a member of the investing public.
The attacks on investor protection are numerous and sometimes bizarre:
On Thursday, Texas congressman Jeb Hensarling penned an op-ed in The Wall Street Journal arguing that the CFPB was a "rogue federal agency." He suggested Trump should fire Richard Cordray, the agency's director, and implement policies "that actually benefit consumers," such as putting limits on the public's ability to bring class actions. I'll bet that'll keep the banks in line. What Hensarling didn't mention is the agency's biggest sin in the eyes of its critics: It has published more than 700,000 customer complaints, along with company responses, exposing the stunning breadth of industry misconduct.
In a Feb. 3 memorandum, Trump told the DOL to examine the fiduciary rule to determine if it was reducing investor access to retirement products, disrupting the retirement services industry, or likely to cause an increase in litigation. We'll get to that "reducing investor access" nonsense in a minute. But it would be a stretch to think that the president is worrying about anyone other than the financial industry when he's looking to shield industry from lawsuits and reduce "disruption" -- code for "loss of business when you can't get away with selling overpriced garbage."
Now for that investor access stuff. In their push to get rid of the DOL rule, industry opponents have peddled an argument that customers would have less access to the sometimes-toxic products that brokers and others pitch. Investors may indeed wind up with fewer choices from the menus of the rule's critics, and that may not be a bad thing. With sellers of index funds and other financial products engaged in price wars and some low-priced robo-advisers happily accepting small accounts, there are plenty of low-priced options to be found elsewhere. Some of the loudest anti-DOL rule whiners have threatened that if they don't get their way, they'll start dumping small accounts. To which I say, dump away.
One of the sillier arguments in the lawsuit seeking to quash the fiduciary rule was that DOL was violating the financial industry's First Amendment rights. Judge Lynn put that one to rest. "At worst," she wrote, "the only speech the rules even arguably regulate is misleading advice."
Five of the nine plaintiffs said in response to her ruling that they would pursue all of their available options "to see that this rule is rescinded." While the battle continues, one thing is clear: It's a dangerous time to be a small investor. Plan accordingly.