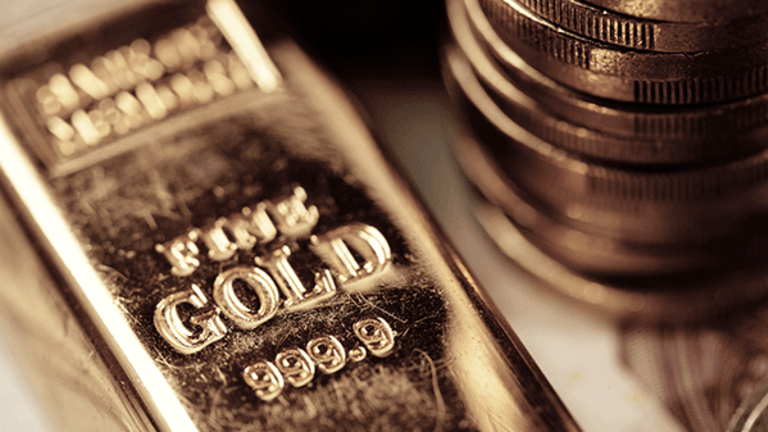 Trump Volatility May Cast a Favorable Light on Gold
The controversial president-elect's feuds and alleged misdeeds may already have gold prices rising.
The election of Donald J. Trump as the 45th president of the U.S. has been controversial from the outset, as news of the former reality TV star's statements and alleged misdeeds have unsettled the world.
However, market uncertainty about the next four years could give savvy investors great opportunities. Gold has long been the "safe haven" for investors worldwide. This makes sense: Stocks may come and go, but the physical, precious metal will always hold some value. Consider the SPDR Gold Shares ETF (GLD) . The ETF has risen more than 7% since mid December. 
When markets go haywire, especially due to geopolitical concerns or events, historically, the price of gold has tended to skyrocket. For example, in the 12 months following the tragic events of Sept. 11, 2001, gold prices jumped by more than 560%, while the stock markets stalled.
Although, hopefully, Trump's presidency won't have such a devastating effect on the world or the economy, the "Trump effect" has already hit the stock markets hard.
Immediately after the surprise results of the Nov. 8 election, U.S. stocks shot up. However, in the ensuing months, world markets have tossed up and down.
On Monday, gold prices shot to nearly an eight-week high as global investors panicked following remarks by the president-elect about NATO. Nor did U.K. posturing over a "hard" versus a "soft" Brexit help investor confidence.
Nearly three weeks into the new year, gold has jumped nearly 5% to higher than $1,208 per ounce.
Investors should prepare for the potential of another four years of price swings higher as Trump continues to open his mouth or comments on Twitter.
SPDR Gold Shares ETF is backed by physical gold and mirrors the price moves of the precious metal.
Historically, the stocks for gold miners and producers have also moved in tandem with the spot price of gold. However, there could be a few complications to this pattern resulting from a Trump presidency.
Trump's threats against NAFTA could hurt gold miners that depend heavily on operations south of the border. Goldcorp, which has operations in Canada, Mexico, as well as areas of South America, could feel a negative effect, as could Barrick Gold, which owns large mines in the U.S. but is headquartered in Canada. Still, the benefits could outweigh the risks with these solid miners.
On the other hand, U.S.-based gold producers such as Newmont Mining stand to register healthy gains under Trump as the price of gold rises and tax rates fall.
Holding onto gold, either in its physical form or through a sturdy producer's stock, can be a sound play, particularly in volatile times. Indeed, with Trump creating an almost daily controversy, post Brexit Europe headed in uncertain directions and other parts of the world reeling from political and social volatility, the precious metal looks especially good.  
---
What if I told you I know a way you can see a $67,548 per year - or more - in profitable trades just by following this simple step-by-step process? The trader who is sharing this secret has been right more than 8 out of 10 times, turning $5,000 into more than $5 million for himself. Click here to see how easy it is to follow his lead and collect thousands of dollars in "Free Money" every month.
The author is an independent contributor who at the time of publication owned none of the stocks mentioned.