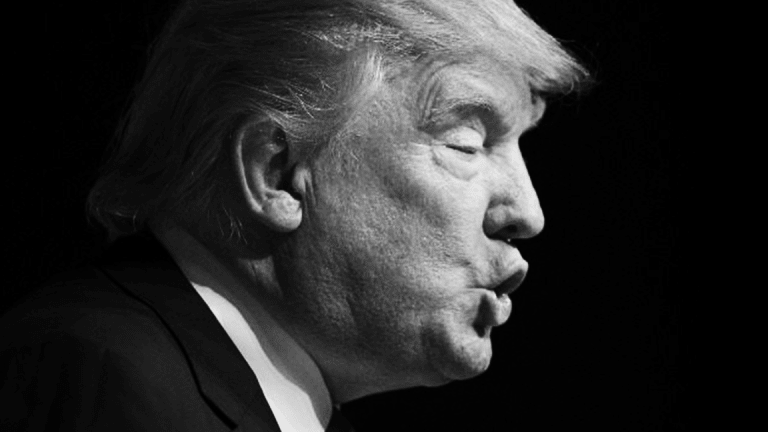 Trump's Call to Shut Down Broadcast News Puts Media in No-Win Situation
The president encourages actions to silence broadcast news outlets in the latest example of the dilemma in how to cover his inflammatory statements.
President Donald Trump kept up his drumbeat of attacks on the work of U.S. reporters and editors on Thursday, Oct. 12, with yet another tweet calling for efforts to revoke broadcast licenses related to news networks.
While the work of media outlets is protected by the First Amendment and broadcast licenses are held by hundreds of local TV stations, Trump's attacks on certain news organizations continues to shape the news cycle. As he has done since announcing his campaign for president in summer 2016, Trump's latest tweets serve to demonize reporters and editors, much to the delight of his core supporters.
News outlets, it seems, have little choice but to cover the president's pronouncements. 
"The news media finds itself in a dilemma because the president's words should have power," said Nicco Mele, director of Harvard University's Shorenstein Center on Media, Politics and Public Policy. "But what if the president's words are designed merely to incite more hysterical responses and news coverage? I'm afraid it's a trap that will constantly compound itself."
The latest anti-media missive from the president follows assorted barbs and tweets targeting NBC, ESPN and CNN. Earlier this week, Trump berated Comcast Corp.'s (CMCSA) - Get Free Report NBC News for reporting that during a July meeting in the White House, he called for a tenfold increase in nuclear arms, a proposal that apparently caught military leaders by surprise. Trump accused the report of being "fake news" while asking, "At what point is it appropriate to challenge their license?"
In May, Trump denigrated CBS News, walking out of an interview with "Meet the Press" host John Dickerson, and last week he berated Walt Disney Co.'s (DIS) - Get Free Report ESPN after "SportsCenter" host Jemele Hill called for fans to consider boycotting sponsors of the Dallas Cowboys after its owner Jerry Jones declared that anyone who knelt in protest during the playing of the national anthem, would be benched for that particular game.
But not every news outlet has made it to Trump's enemies list. On Wednesday, the president appeared on the Fox News Channel, owned by Rupert Murdoch's Twenty-First Century Fox Inc. (FOXA) - Get Free Report , where he mistakenlyconflated higher stock prices with reducing the U.S. federal deficit in an interview with a stalwart supporter, host Sean Hannity.
Clearly taking sides, Trump called on Thursday for supporters to do what they can to stifle network news organizations.
The cycle of critical as opposed to fawning coverage followed by presidential attack continues. Where it ends no one knows. President Trump may be betting, though, that it's a strategy that could help him win re-election.
"He has come to use the power of the presidency, and the platform that he has, to undermine confidence in the institutions of the press," said Julian Zelizer, a Princeton University professor of history and public affairs and CNN contributor. "The aim is to get into people's minds that what they are reading isn't true even if there is no basis for him to say that. That's a serious threat -- it's more than just innocuous tweeting by the president."
Picking up on this ongoing routine, Trump leveled a more generic broadside against media organs that have questioned his policy proposals or the veracity of his statements. 
Trump's assertion that he may seek to revoke NBC's broadcast licenses belies the way in which networks and local TV stations are granted licenses. Not only is there no such thing as one license that a broadcaster such as NBC might own, its programming is carried by dozens of local affiliates around the country, most of which aren't owned by Comcast. 
"On one hand, Trump's threat to pull the license of NBC is hollow," Blair Levin, director of Gig.U and a former FCC chief of staff, said in an e-mail. "The NBC television network does not have an FCC license. Rather, the licenses reside with the local television stations that carry NBC programming. Nonetheless, Trump's statements should concern anyone who cares about the First Amendment and political speech. He is creating a climate in which government forces can be used to reward those he regards as friends and punish those he regards as enemies."
Yet Trump's latest twitter outbursts may be less about actually trying to shutdown NBC than portraying himself and his supporters as under siege from an unfair media  
"The media is a useful target for President Trump to incite his base and keep them engaged and loyal to him and his point of view," Mele added. "He's trying to drive the media cycle with the most outrageous comments he can muster."
And reporters and editors are following. The FCC and NBC weren't immediately available for comment.
Comcast is a holding in Jim Cramer's Action Alerts PLUS Charitable Trust Portfolio. Want to be alerted before Cramer and the AAP team buy or sell CMCSA? Learn more now.
More of What's Trending on TheStreet: