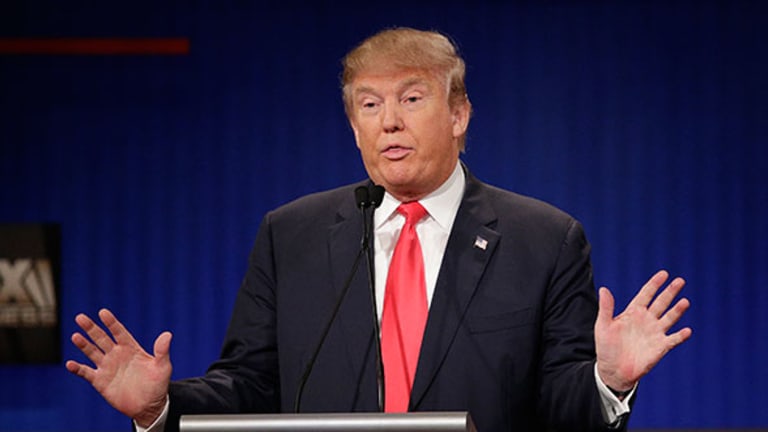 Trump's Veterans Stunt Is Boldly Going Where Many Failed Campaigns Have Gone Before
Donald Trump might be biting off more than he can chew with his veterans fundraiser pledge -- politicized altruism doesn't always pan out as planned.
Editors' pick: Originally published Jan. 28.
Politicized altruism doesn't always pan out as planned. Just ask Mitt Romney.
In 2012, the then-GOP presidential contender and his team suspended a would-be "victory rally" in light of Hurricane Sandy on the east coast and decided instead to utilize an already-booked Ohio venue for a storm relief event. Attendees were encouraged to bring relief supplies as donations, and the Romney campaign reportedly spent $5,000 of its own money on granola bars, canned food and diapers from Walmart.
Donations were said to be going to the Red Cross. The problem: the Red Cross didn't want them. The organization does not accept in-kind donations from community organized collections given the logistical restraints -- time, personnel, etc. -- accepting them entails.
Romney came under fire for politicizing the disaster, with critics pointing out that his biographical video played in the background during the event and played his campaign music.
John McCain learned a similar lesson that no good deed goes unpunished in 2008, when he suspended his own presidential bid because of the "historic crisis in our financial system" just weeks ahead of election day.
The maneuver allowed his opponent, Barack Obama, to portray him as "erratic in crisis," and even Republicans were dismayed. "We don't need to quit the game," Ed Rogers, chairman of lobbying firm BGR Holding and McCain supporter, told U.S. News at the time. "We need to change the game." President George W. Bush also later revealed disappointment in the Arizona senator's actions.
As for Donald Trump, who is skipping tonight's Republican debate to host an event to benefit veterans organizations, has proven time and again that he is a different kind of political animal, having defied the odds at almost every turn of his presidential bid. His decision to skip the Fox News debate and host an event of his own won't sink his candidacy, but a measured amount of backlash has already begun.
For one thing, Trump has to figure out who the money it raises is going, and organizations aren't exactly lining up behind him for cash. The Trump camp in an email to supporters said Thursday's event would "benefit Veteran Organizations." As to which entities it will specifically be helping, it's a mystery.
Paul Rieckhoff, founder and CEO of Iraq and Afghanistan Veterans of America, took to Twitter Wednesday to announce that his organization had not and would not be accepting donations from the GOP frontrunner.
"Since we've gotten so many questions: no, @IAVA has not heard from the Trump campaign and we have no idea what groups he's involving tomorrow," he wrote. He later added, "If offered, @IAVA will decline donations from Trump's event. We need strong policies from candidates, not to be used for political stunts."
The Wounded Warrior Project has also denied involvement with Trump's plans. A spokesperson for the organization said in an email, "We are not aware of any fundraising efforts on our behalf with Mr. Donald Trump."
VoteVets.org, which calls itself the largest progressive group of veterans in American, issued a statement to Trump: "Don't hide from Megyn Kelly behind us."
Neither Trump representatives nor the event organizer responded to request for information on the organizations to which it will donate the funds raised on Thursday.
Moreover, Trump's record on veteran support across the board is mixed, and his rally has brought past examples of his missteps and shortcomings to the forefront.
Historically, Trump's veteran support bark has been stronger than his bite. From 2009 to 2013, the Donald J. Trump Foundation donated $5.5 million to charities, of which only $57,000 went to organizations that directly benefit military veterans or their families, according to Forbes.
The New York Daily News also pointed out that Trump has in the past complained about street vendors, including veterans, in New York. "While disabled veterans should be given every opportunity to earn a living, is it fair to do so to the detriment of the city as a whole or its tax paying citizens and businesses?" he wrote in a 1991 letter to John Dearie, then-chairman of the state assembly's committee on cities.
Trump came under fire over the summer for his statements about McCain, who was for years held captive as a prisoner of war in Vietnam. Trump said the Arizona senator is not a war hero and is only considered so because he was captured. Jeb Bush, Lindsey Graham, Marco Rubio and Romney were among the many who condemned Trump and pushed back in McCain's defense.
His involvement in a military fundraising event during the fall caused a stir as well.
Last September, he headlined a fundraising event at the U.S.S. Iowa Battleship Museum hosted by Veterans for a Strong America. The decision raised eyebrows when the Associated Presspointed out that the IRS had revoked the group's nonprofit status, citing the group's failure to file tax returns for three consecutive years (the event invitation lists the organization as a nonprofit).
In a phone interview with TheStreet this week, Joel Arends, Iraq war veteran and chairman of the group, said that VSA would be in attendance at Trump's Iowa event but would not be receiving the proceeds. "We want every dime of that money raised to go towards supporting wounded veterans and their families," he said.
He added that Veterans for a Strong America had again been incorporated in South Dakota under a slightly different name, Vets for a Strong America, but had not yet filed for nonprofit status for the IRS. He declined to disclose how much money had been raised at the September event.