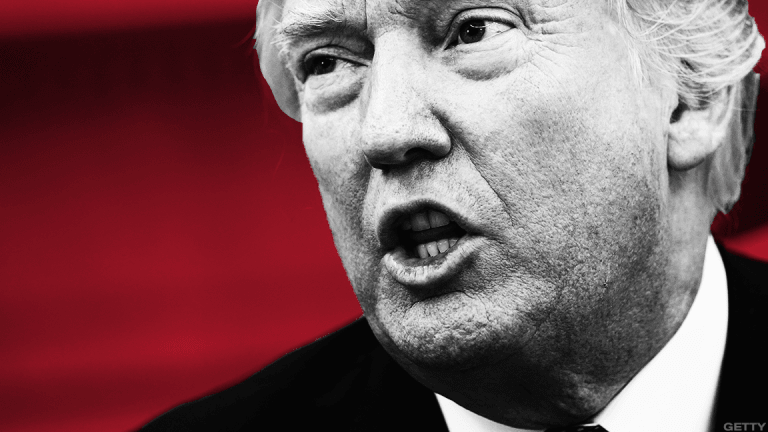 Trump's Golf Empire Looking More Like a Duffer's Scorecard
While Trump Golf makes millions for the Trump Organization, politics seems to be a double edge sword on the bottom line since Trump's address changed from Trump Tower to 1600 Pennsylvania Avenue.
While Trump Golf makes millions for the Trump Organization, politics seems to be a double edge sword on the bottom line since Trump's address changed from Trump Tower to 1600 Pennsylvania Avenue.
These days Donald Trump's golf empire looks like a duffer's scorecard, a smattering of pars, the odd birdie, and way too many bogeys.
Trump Golf owns or operates a dozen golf courses in the U.S. and four overseas. Two of his courses in Scotland, Trump International Golf Links in Aberdeen and Trump Turnberry, were named to GOLF Magazine's top 100 courses in the world in 2017. But for the first time since 2003, none of his U.S. courses cracked the list of the top 100 U.S. courses.
Eric Trump, one of the president's sons, rides herd on his golf brand and has said that since 2005 his father has invested $1 billion in golf. At a March golf promotion, Trump, who's an executive vice president with his dad's company, said "The stars have all aligned. I think our brand is the hottest it has ever been."
Golf writer James Dodson was reported by Vanity Fair in May to have asked Eric Trump where the financing for Trump Golf was coming from, since traditional funding in the sector had dried up.
Dodson reported that Trump replied "Well, we don't really rely on American banks. We have all the funding we need out of Russia." Eric Trump subsequently said Dodson's reporting was "completely fabricated."
Trump's golf courses and clubs contributed $325 million, or about 58% of the Trump Organization's total revenue of about $563 million over an 18-month period, according to a June 2017 filing with the U.S. Office of Government Ethics. Golf revenue fell about $12.2 million from the previous reporting period. Nine of the courses showed decreased revenue while half a dozen posted increases and one course was flat year over year.
The decline in revenue came as Trump National Golf Club Mar-a-Lago in Palm Beach, Florida, doubled its initiation fee from $100,000 to $200,000. The bump came in January after Trump's election and according to a member the only change at the club is its owner now flies on Air Force One. The mark-up had the effect of adding revenues for Trump Golf while also making it look as it if the Commander-in-Chief is cashing in on his office.
Mar-a-Lago isn't even at the top of Trump's country club price points. Trump National in Bedminster, New Jersey, charges new members $350,000, and the Trump International Golf Course in West Palm Beach, Florida, clocks in at $450,000, according to media reports. The clubs, like the Trump Organization, are private and their membership schedules are not disclosed. Research by The Deal shows initiation fees for the clubs range from $50,000 at the Trump National Doral Golf Club in Miami up to $450,000, based on published figures.
Trump Golf did not respond to inquiries into whether other Trump properties besides Mar-a-Lago increased their country club fees after Trump took office.
Unlike previous chief executives, Trump has not separated himself from his businesses to avoid real or perceived conflicts of interest. In January, he said he placed his holdings in the Donald J. Trump Revocable Trust and turned the day-to-day management of the Trump Organization over to his family and company executives. In February the Trust was amended to allow it to distribute money at Trump's request, with Trump's son Donald Jr. and Trump Organization CFO Allen Weisselberg appointed as trustees.
Some of Trump's country club facilities have seen an increase in event bookings from political groups aligned with the President. Before Trump declared his candidacy for the land's highest elected office, just nine GOP groups had booked events at Trump clubs, according to The Washington Post. But 2017 has seen at least 27 different political groups paying to enjoy the ambiance at Trump's clubs, adding $363,701 in revenues. And the Republican Governors Association ponied up another $408,000 for an event at Trump National Doral.
Even the U.S. Secret Service contributes to Trump Golf's coffers. The President and his family's bodyguards have paid $138,000 by renting golf carts at facilities in Florida and New Jersey during President Trump's visits, according to USA Today.
Still, while some flock to curry favor with the President, others have turned the other way. Non-profit organizations that booked events at Mar-a-Lago as well as at Trump National Golf Club at Colts Neck in New Jersey have canceled fundraisers. For instance, the United Way of Monmouth and Ocean Counties in New Jersey cancelled its event at Colts Neck amid the backlash that followed the president's equivocal response to the white nationalists and neo-Nazis that incited recent violence in Charlottesville, Virginia.
Likewise, the American Red Cross canceled its annual fundraiser at Mar-a-Lago because the club "has increasingly become a source of controversy and pain for many of our volunteers, employees and supporters"
In all, almost 20 events at Mar-a-Lago were cancelled, according to The Washington Post.
Trump National Golf Club Los Angeles, a course that Trump purchased in 2005 and spent $250,000 rehabbing, saw withdrawals in 2015 after Trump's remarks that some Mexican immigrants were "killers" and "rapists". The Professional Golfers Association removed its Grand Slam event that year from the L.A. course. In 2016, the PGA moved its 2017 WGC-Cadillac Championship from Trump National Doral to a course in Mexico City amid controversial remarks by Trump on immigration and a possible Muslim ban.
Not all tournaments have forsaken Trump. The 2017 U.S. Women's Open was held at Trump National Golf Club Bedminster in July. The 2017 KitchenAid Senior PGA was held at Trump National in Washington D.C. in May. And the 2022 PGA Championship is slated for Bedminster.
Several media reports including USA Today reported that when the U.S. Golf Association considered moving the Women's Open, the ever litigious Trump threatened to sue the organization.
The federal ethics filings by Trump list only income, not profits or losses, so the value of the documents is limited. Trump Golf also doesn't break out revenue from golf activities, country club memberships, pro shop sales and food and beverage receipts. Trump Golf is under the corporate umbrella of the Trump Organization, which is privately held.
But there are documents from public agencies in California and New York that show that there are fewer golfers at Trump National Golf Club Los Angeles and Trump Golf Links at Ferry Point. It's also worth noting that both courses are public, unlike the other domestic courses in the Trump portfolio that are private.
The ethics documents show revenues at the Southern California course are off $900,000 over the last two reporting periods. And a check of public records at the city of Rancho Palos Verdes backs a slide in revenues as well. Trump National in L.A. pays a 10% golf tax directly to the city for green fees, cart rentals and use of the driving range. For the month of July it paid $25,306. That payment represents the lowest total for that month in the past four years. Public records show that since fiscal year 2013, golf revenues have slid from $3.3 million a year to $2.8 million, with revenues being flat from 2015.
The Rancho Palos Verdes tax figures also present something of a riddle. For the period from January 2016 to June 2017, the city reported that Trump paid a total of $452,960 in taxes, which means that the Southern California course generated a little more than $4.5 million in golf revenues. According to Trump's filings with the Office of Government Ethics, over that same period of time, Trump National generated $14.9 million in revenues. That leaves $10.4 million in sales from events, of food and beverages, and the pro shop.
That seems like a lot of duffers loading up on logo sweaters and shrimp cocktails.
Larry Glick, a long time Trump executive who works at the company's golf operation, did not respond to requests for an interview.
Allan Kaufman, a senior analyst with the city of Rancho Palos Verde, said he was unsure of how that wide variance in revenue would be closed.
Jon Dahlstrom of consulting firm Paradigm Golf Group said that while the $10.4 million in non-golf revenues seems high, it could be true. "You have to understand the brand that Trump has built," he said. "It's in the top 2% in America, the premium elites of the elites. If you asked the guys that run a course down the street, they would tell you it's impossible. But it's plausible."
Christopher Cain, director of the PGA Golf Management Program at the University of Nevada, Las Vegas, said it was impossible to understand the revenue picture without the course's books. "Maybe they do really well on events; the margins on catering can be pretty substantial."
At Ferry Point, a course owned by New York City but managed by Trump, revenues dipped $600,000 according to federal documents. City financial reports obtained by New York City Park Advocates and made available to The Deal show that Ferry Point gross golf revenues were $7 million for the last reporting period, down $1.1 million.
While the Los Angeles course offers no country club memberships, it isn't solely reliant upon green fees and 19th hole libations for its cash. Trump Golf booked $12 million during the last filing period on land sales associated with the 7,300 yard layout.
The Deal tried to ascertain whether Trump Golf had increased greens fees at any of its dozen domestic courses, but 11 of the courses failed to return phone calls. Bedminster reported it had not raised green fees this year.
While golf revenues are down on the domestic front, Trump Golf faces other issues in the United Kingdom, Puerto Rico and in the Middle East. The most recent public reports from earlier this month from the Companies House, a U.K. financial regulator, shows that Trump's two Scottish golf operations lost a combined $23 million last year (see sidebar).
In Puerto Rico, now struggling to recover from Hurricane Maria, a controversy tied to Trump's management and licensing of Trump International Golf Club in Rio Grande, Puerto Rico, has resurfaced. From 2008 until the club declared bankruptcy in 2015, Trump Golf operated the course and took 4.5% of its annual revenues off the top in management fees. With $78 million in debt and $9 million in assets, the course filed for bankruptcy and was sold for $2 million, with the Trump name stripped from the course.
But the latest Trump golf controversy emanates from the United Arab Emirates. Trump is developing Trump World Golf Club Dubai, with Damac Properties. The 18-hole golf course is slated to be designed by Tiger Woods and the development will include a residential community known as Akoya Oxygen. Trump has licensed its name to the project and will eventually manage the golf operation. The community is slated to include 2,000 hotel apartments, villas, condos, shops, restaurants, a lake and Dubai's first tropical rainforest replete with waterfalls under its own dome. The project also includes 100 villas carrying the Trump brand which will go for up to $4 million each.
But the project is off to a rocky start since Damac hired the Middle Eastern arm of China State Construction Engineering Corporation to build a six-lane road tied to the residential development. China State is the seventh largest construction company in China and majority owned by the Chinese government, according to Moody's and Bloomberg.
The $32 million contract with China State is a headache for Trump because he promised that the Trump Organization would not do business with foreign government entities while he was in office. Moreover, China State Construction enjoys an unsavory reputation based on allegations made by the World Bank that its bids for Philippine road construction were rigged. The company was banned from World Bank financed projects for a number of years.
The project collected another black eye when it was reported this summer by the New York Times that migrant workers from Nepal, India and Pakistan doing construction on the project were not being paid on time, in some cases paychecks arrive months late.
The Trump Organization told the newspaper that Trump has no ownership interest in the project nor is he developing it and has nothing to do with its construction. "Trump has a zero-tolerance policy," a statement said. "To the extent any worker at the project believes they are being treated improperly, we would urge them to immediately notify their employer and the proper governmental authorities."
More of What's Trending on TheStreet: