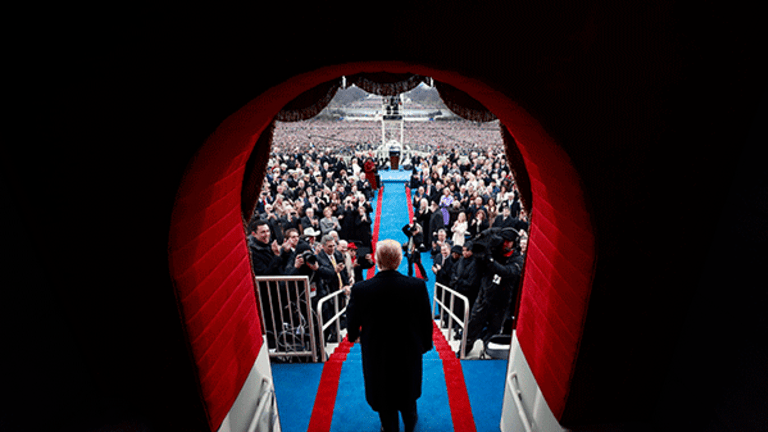 Trump Remembers Wall Street, Forgets 'Forgotten Man' Investor. Sad.
Considering Donald J. Trump's rhetoric, you'd think he'd be inclined to look out for the small investor. Think again.
The investing public apparently isn't included among Donald J. Trump's "forgotten men and women."
The president's populist rhetoric would suggest that he'd be watching the backs of everyday investors, setting policy to shield them from finance's seamier characters.
Reality, though, is that "forgotten" little guy and gal investors are in for a painful bait-and-switch. Instead of pursuing investor protection, Trump's idea of securities regulation is to focus on creating jobs -- code for stripping away rules that protect the investing public.
Trump's betrayal of his flock will kick in big-time if, as expected, he manages to delay or get rid of a potent pro-investor Department of Labor rule that companies are set to begin implementing April 10.
The DOL fiduciary rule, which would force brokers giving retirement advice to put investors' interests ahead of their own, has made the securities and insurance industries apoplectic and set off a string of lawsuits and proposed legislation attempting to undo the rule or delay it.
Trump signed an executive order on Friday halting new and pending regulations until his administration could review them, but it isn't clear that the order would apply to the DOL rule. InvestmentNewsreported Monday that Trump will need to take a separate action to quash it, which he's expected to do.
Barbara Roper, director of investor protection at the Consumer Federation of America, says it would be a "clear violation of the Administrative Procedures Act" to try to undo the rule using Friday's order. Although companies don't have to begin complying with the rule until April, it has actually been in effect since June, she said.
One way or another, though, Trump's team is expected to try to kill it. So much for the spoils of populism.
Much as Trump deserves criticism if he helps finance's worst dodge the DOL rule, we can't blame him for all of the distress headed for the unsophisticated investor. The small investor was pretty much on the regulatory back burner even before the president was sworn in.
Consider the original language in a bill that was passed in the House of Representatives on Jan. 12.
The SEC Regulatory Accountability Act, a brazen endeavor to overwhelm the Securities and Exchange Commission with administrative busywork, initially listed among its demands that the agency justify any attempts at passing a new rule by showing that it would "promote efficiency, competition and capital formation."
Those all are nice ideas as far as they go, but missing from the list of justifications for new rules was any mention of the agency's core mission: the protection of investors.
It's pathetic that this needed to be done at all, but New York congresswoman Nydia M. Velazquez shamed her colleagues into adding the phrase "protecting investors"' before the bill was passed. Kudos to her, but you can't get away from the reality of the proposed law. At best, the welfare of investors was an afterthought.
It's a shameless agenda to hobble the SEC with red tape that poses "risk of great harm to the average investor," said John Gavin, CEO of Probes Reporter, which publishes research based on SEC documents.
Sorry folks, but it gets worse.
Trump already has promised to dismantle the Dodd-Frank Wall Street Reform and Consumer Protection Act that was passed in the wake of the 2008 financial crisis. Related to that effort, he also is expected to find ways to defang one of the only financial agencies that has a strong record of helping the public -- the Consumer Financial Protection Bureau, bane of financial firms.
As for the SEC, which has been a less aggressive regulator than the CFPB, a pro-jobs mandate from Trump could lead the agency to become more timid.
When Trump announced on Jan. 4 that Wall Street lawyer Jay Clayton was his pick to run the SEC, he did make references to the need for financial types to "play by the rules."
But he also emphasized that job creation was his goal. It wouldn't be a risky bet to expect the new president and his regulatory officials will take it easy on the targets of financial regulation.
Clayton similarly gave a nod to the need to "carefully monitor" the financial sector before pivoting to the more important Trumpian goal to "set policy that encourages American companies to do what they do best: create jobs."
For perspective, consider the announcements of previous nominees for SEC chair.
When Barack Obama said in 2013 that he'd be nominating Mary Jo White, a former prosecutor, to be SEC chief, his most frequently noted line was "You don't want to mess with Mary Jo." White wound up being a far less ferocious regulator than Obama had promised, but at least the former president tried to get the optics right with his emphasis on her record as a tough prosecutor. There were no mentions of the SEC's role in creating jobs in the press release or prepared remarks surrounding White's nomination.
There were, however, in George W. Bush's 2005 nomination of Christopher Cox as SEC chair.  Although Bush did emphasize vigorous enforcement of the law in introducing Cox, he also said he'd given the Republican congressman from California a "clear mission" to strengthen trust in the markets "so the American economy can continue to grow and create jobs."
Three years later, we were in the worst economic crisis since the Great Depression. I'm sure it was just a coincidence, but just saying.
Trump's SEC pick, like too many other regulators, is a creature of Wall Street. Clients of Clayton's firm, Sullivan & Cromwell, include Bank of America (BAC) , Bank of New York (BK) , Goldman Sachs (GS) and JPMorgan Chase (JPM) , according to a company publication.
Indeed, the firm is so embedded in the legal business of Wall Street that it regularly advises Wall Street's lobbying group, Sifma, "on their communications with the Securities and Exchange Commission and assists the association in the formulation of its policies," the publication says.
Oh, and I almost forgot. Clayton's wife is a stockbroker at Goldman.
Who knew populism could be this much fun for the 1%?