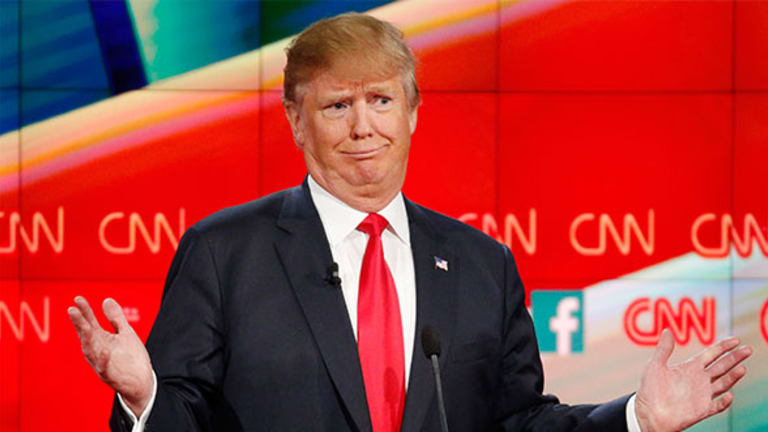 Trump Presidency Would Likely Unsettle Markets; Clinton Win Would Not
Equity markets may see significant fluctuations to events that are widely perceived as negative.
In 2016, markets have reacted to unexpected outcomes with extreme volatility, falling sharply following events that were perceived as negative. The result of the U.K.'s Brexit Referendum was one such event.
The unanticipated Brexit rocked markets. Loss of confidence sent the pound to its lowest levels since 1985, London equity markets into turmoil. A number of businesses moved out of the U.K. due to growing uncertainties.
If the volatile Republican U.S. presidential candidate Donald Trump wins, that could have a similar effect. Democratic nominee Hillary Clinton would likely have a more positive impact.
Trump unsettled many financial services professionals by providing scant detail about how he would rev up GDP growth, which has been lagging other major economic recoveries. Trump's remarks about immigrants, minorities and women have alienated many voters. To be sure, Trump trails Clinton by a sizable and growing margin. 
But upsets have occurred often enough in U.S. politics to suggest that Trump is not completely without hope. The political pundit Nate Silver, who analyzes polls on a state-by-state basis, gives Trump a roughly 15% chance of winning. The website, RealClearPolitics which takes an average of all major polls nationwide, has Trump running six points behind Clinton. 
According to a report from Merrill Lynch, markets tend to react positively to an assured outcome. Extreme market fluctuations may occur as investors react to results they perceive as negative.
According to a recent report by Bankrate, 61% of the surveyed people believed that the outcome of the presidential election was the biggest threat to the U.S. economy over the next six months.
The main reasons for a Brexit vote included fears about immigration and a belief that the British economy relied too much on the EU. Trump has raised similar concerns and shown sympathy for Brexit, tweeting on one occasion, "They took their country back, just like we will take America back. No games!" 
He has expressed an anti-immigrant sentiment that is remarkable for its brashness: "Come November, the American people will have the chance to re-declare their independence. Americans will have a chance to vote for trade, immigration and foreign policies that put our citizens first."
In a column for The New York Times, Yale economics professor and Nobel Laureate Robert Shiller wrote, "Leaders today often do not openly declare themselves to be ethnic nationalists -- in which identity is defined by perceived genetic, religious or linguistic heritage rather than democratic ideals or principles."
A Trump win would likely create uncertainty in U.S. relations with countries like China and Mexico, since Trump has complained about currency manipulation, building a wall and driving out undocumented immigrants. That could reduce output by hundreds of billions of dollars. 
Gobal investment could also be severely impacted. Carnegie Mellon economist Lee Branstetter said, "'Trumpanomics' would be Brexit on steroids, and the economic consequences would be far more dramatic." He warns, "Trump is advocating a far more complete repudiation of globalization than Brexit."
Clinton would likely be seen more positively by markets. According to CNBC, "it would represent a continuation of the status quo."
Following the Brexit news, in her released statement Clinton said that the Brexit decision underscores the need "to pull together to solve our challenges as a country, not tear each other down." 
This article is commentary by an independent contributor. At the time of publication, the author held no positions in the stocks mentioned.