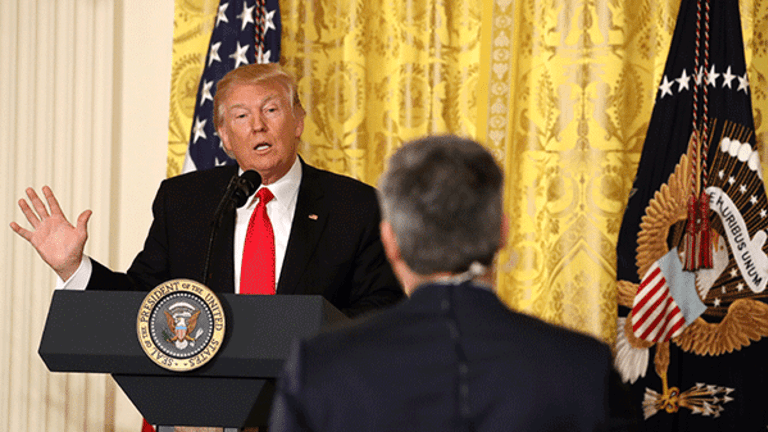 Trump May Already Have Lost Leverage in His War Against CNN
If the president wants to kill AT&T's $85.4 billion deal to buy Time Warner, he needs to force the Federal Communications Commission to rule on the merger.
If the president wants to kill AT&T's $85.4 billion deal to buy Time Warner, he needs to force the Federal Communications Commission to rule on the merger.
It's a procedural matter that a well-oiled machine would identify and seize on.
If the Trump administration really wants to pressure CNN by threatening to reject AT&T's (T) - Get Report $85.4 billion plan to acquire its owner, Time Warner (TWX) , it should be exploring ways in which the Federal Communications Commission could rule on the proposed merger. 
President Trump has repeatedly attacked CNN since taking office, raising questions as to whether the deal could be rejected out of political spite or because of fears that the news network would gain greater traction as part of a larger media conglomerate.
Yet at the urging of AT&T CEO Randall Stephenson, the FCC has yet to argue that it has jurisdiction to rule on the transaction that would merge the country's largest cable TV provider with the owner of HBO, TBS and the Warner Bros. movie studio -- in addition to CNN.
Instead, the merger only needs approval from the Department of Justice's antitrust division. And as any media lawyer knows, the DOJ's ability to reject a proposed transaction is more limited than that of the FCC. That's because the DOJ must litigate its decision in federal court, whereas the FCC can simply refer a transaction it views negatively to an administrative law judge. 
And that process can take a very long time. When the FCC in April 2015 kicked Comcast's (CMCSA) - Get Report proposed acquisition of Time Warner Cable to an administrative law judge, CEO Brian Roberts withdrew the plan the very next day.
"If the Trump administration was looking for a way to get in the way of stopping it, the FCC would be the lever to pull," said Paul Scrivano, global head of the mergers and acquisitions practice at law firm Ropes & Gray. "The FCC doesn't have to defend a decision in front of a court to litigate. There is not as much court oversight."
Stephenson repeatedly has argued that if the Department of Justice's antitrust unit approves the deal, it will gladly sell Time Warner's broadcast TV station, WPCH of Atlanta, rather than transfer that license, and a few other smaller ones, to AT&T. The FCC automatically would have to rule on the deal if a broadcast license were to be transferred.
In comments to Fox Business earlier this week, FCC Chairman Ajit Pai said the agency would act only if he were convinced of reasonable evidence that the deal would be bad for consumers. Yet it's unclear whether Pai was referring to taking action only in the context of a license transfer. An FCC spokesman had no comment.
"We want to make sure that there's a competitive marketplace," Pai told Fox Business. "Any transaction that is presented to me, I will apply the test that the FCC has long applied. Is the consummation of this deal in the public interests? And will consumers be better off?"
Pai, whom Trump promoted to chairman last month, often clashed with former FCC Chairman Thomas Wheeler when the Democrat-led commission forced conditions on mergers such as AT&T's successful acquisition of DirecTV. Prior to Comcast withdrawing its proposed acquisition of Time Warner Cable in April 2015, Pai said such a deal would likely be approved under a Republican administration. Time Warner Cable was later purchased by Charter Communications (CHTR) - Get Report .
Comcast is a holding in Jim Cramer'sAction Alerts PLUS charitable trust portfolio. Want to be alerted before Cramer and the AAP team buy or sell CMCSA? Learn more now.
The DOJ, of course, could still reject AT&T's pending acquisition of Time Warner. But if approval were denied on grounds that had anything to do with CNN, the DOJ would have to defend its decision in federal court, where AT&T has won its share of decisions. Stephenson's company has sued the government repeatedly in recent years over net neutrality and other issues. AT&T also battled the DOJ in court over its failed attempt to acquire T-Mobile US (TMUS) - Get Report in 2011. 
"The DOJ is subject to court oversight," Scrivano added. "They cannot, of their own power, simply say a deal is blocked; they have to go to court to litigate. That's a limiter on their actions."
Stephenson probably knew there would be objections from regulators about his company's plan to acquire Time Warner, but he may not have sensed that so much attention would be placed on CNN. Yet under Trump, CNN's coverage has become a focus of the Trump administration. 
Trump's son-in-law and aide-de-camp, Jared Kushner, recently summoned Time Warner's Gary Ginsberg to the White House to express the administration's collective dismay, The Wall Street Journal reported on Friday.
And on Thursday, Trump again asserted CNN's "reporting is fake" though he didn't dispute that the intelligence leaks that led to former national security adviser Michael Flynn's resignation were incorrect. 
Presidents have long sparred with individual news outlets. Yet Kushner's effort to influence coverage at CNN while the government is deciding whether to the AT&T-Time Warner deal is unusual.
President Richard Nixon, who also railed against the media for its reporting, tried to strip The Washington Post of a license to own a Florida TV station. Nixon later resigned ahead of a likely impeachment.
"It's one thing to attack the media publicly, it's quite another to say, 'Let us use the instrument of government to punish these people if they don't say nice things about us,'" said Blair Levin, a senior fellow at the Brookings Institution in Washington and a former FCC chief of staff. "If this was an effort to say, 'If you don't cooperate, we're going to act against you,' the Trump administration will find they have very little leverage."
Unless, of course, President Trump can figure out a way for the AT&T-Time Warner deal to go to FCC.