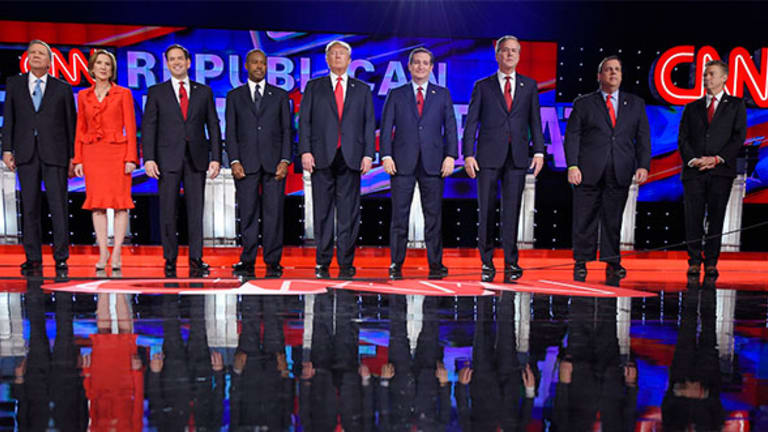 Trump, Jeb or Cruz: Which #GOPDebate Contender Would You Rather Have a Beer With?
Which of the leading Republican candidates for president would you rather have a beer with?
Ted Cruz knows he may not be the guy you want to have a beer with, but maybe you do.
Political pundits have long floated the idea that American voters tend to lean toward White House contenders they wouldn't mind having a cold one with. In 2004, Democrats pointed to that likeability factor as an explanation for George W. Bush's reelection, and in 2012, Republicans pondered the same when Barack Obama won a second term.
So, out of former Florida Governor Jeb Bush, retired neurosurgeon Ben Carson, New Jersey Governor Chris Christie, Texas Senator Ted Cruz,Ohio Governor John Kasich, Florida Senator Marco Rubio, and Donald Trump, who would you rather have a beer with?
In the current GOP field, some contenders may fit the drinking buddy role better than others. Unfortunately, two who fit the bill won't be in the debate tonight.
South Carolina Senator Lindsey Graham in a September debate joked, "That's the first think I'm going to do as president -- we're gonna drink more." He's no longer in the race.
Kentucky Senator Rand Paul, who is sitting tonight's debate out, sipped bourbon during an appearance this week on "The Daily Show" with Trevor Noah.
Luckily, in the crowded GOP field -- and in the seven-man debate Thursday night -- voters still have their fair share of options to pick from as their favorite drinking buddy. Who among tonight's Republican presidential debate participants would you rather have sitting next to you at the bar? Remember, Donald Trump doesn't drink.