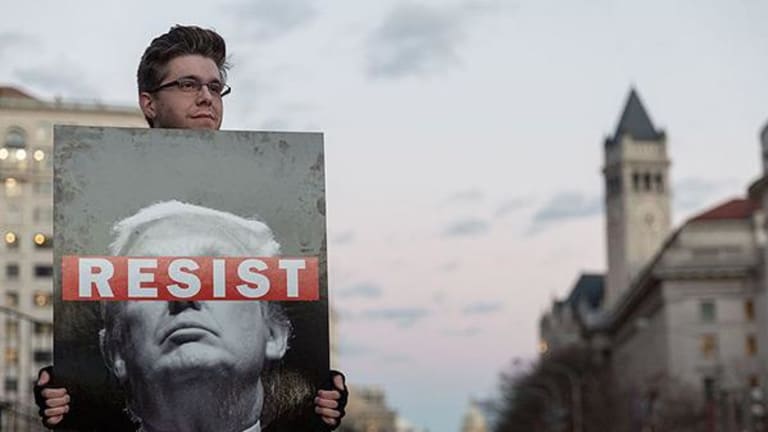 Trump Isolationist Tendencies May Hurt U.S. Companies
Some observers fear that the new president's confrontational manner could lead to trade wars that undermine U.S. business.
Donald Trump's nearly three weeks as president have unsettled many foreign countries, including some of America's closest allies and biggest trading partners.
Trump's series of executive orders, off-the-cuff comments, tweets and tense interactions with other world leaders have raised concerns about his leadership and ability to understand the complex nature of the global economy. The president has turned the U.S. toward a brand of isolationism that seemingly ignores the interdependency of national and regional markets. At worst, many observers fear that it could lead the U.S. into destructive trade wars that could cripple demand for U.S. products.
According to a Gallup poll, Trump's disapproval rating is the highest of any president at this early juncture of an administration. His foreign affairs bungling has contributed to this unpopularity. Consider the following:
Apple is a holding inJim Cramer's Action Alerts PLUS Charitable Trust Portfolio. See how Cramerrates the stock here. Want to be alerted before Cramer buys or sellsAAPL?Learn more now.
Trump reaffirmed his intent to build a border wall and to set a 20% tariff on Mexican goods to pay for the construction. He subsequently threatened to send U.S. troops into Mexico to track down outlaws. Mexico's President Enrique Pena Nieto canceled an upcoming visit to the White House. The tensions bode poorly for U.S. companies with manufacturing plants or other interests in Mexico. That includes the likes of Ford and GM. According to the U.S. Chamber of Commerce, a traditionally Republican-leaning organization, about six million jobs in the U.S. depend on trade ties with Mexico.
Trump pledged to rewrite the terms of North Atlantic Free Trade Agreement (NAFTA), an important trade deal that eliminates most tariffs on goods traded between Canada, the U.S, and Mexico, removes investment restrictions and protects intellectual property rights. According to the Office of the United States Trade Representative, Canada and Mexico buy more made-in-America goods and services than any other countries. The U.S. has a trade surplus with the NAFTA countries.
Trump's recent 90-day ban on travelers from seven Muslim-majority nations -- Sudan, Iran, Iraq, Yemen, Syria, Libya, and Somalia -- has led to a backlash within and outside the U.S., including the business world. A U.S. Federal Appeals court is due to rule on the ban, which was overturned by a Federal judge. The CEOs of Facebook, Amazon, Alphabet, Microsoft, LinkedIn and Lyft, among others have expressed their strong opposition to the ban.
The tech industry may feel the biggest impact because of the reduction in the foreign workforce. The High-Skilled Integrity and Fairness Act of 2017 introduced last week in the House of Representatives could limit the number of skilled foreign workers who can attain visas. The legislation is supposed to spur the hiring of qualified American workers.
At a recent meeting, Trump said that both China and Japan were manipulating their currencies to take unfair trade advantage. According to Reuters, he said, "Every other country lives on devaluation. You look at what China's doing, you look at what Japan has done over the years. They -- they play the money market, they play the devaluation market and we sit there like a bunch of dummies. The Guardian reported that Japan immediately rejected this assertion.
Trump strained relations with Australia after hanging up on the country's Prime Minister Malcolm Turnbull and later using Twitter to criticize a deal to take in 1,250 Australian refugees as "a dumb." The countries have had strong military, intelligence and cultural ties and exchange billions of dollars in investment and trade.
Even some members of Trump's party have raised questions about his decision-making.
Facebook is a holding inJim Cramer's Action Alerts PLUS Charitable Trust Portfolio. See how Cramerrates the stock here. Want to be alerted before Cramer buys or sellsFB?Learn more now.
Following the call with Turnbull, Republican Senator Mike Lee told CNN, "My hope is that we can achieve whatever objectives the president's willing to pursue in a way that won't damage the trade relationship or won't damage other aspects of our relationship."
Alphabet is a holding inJim Cramer's Action Alerts PLUS Charitable Trust Portfolio. See how Cramerrates the stock here. Want to be alerted before Cramer buys or sellsGOOGL?Learn more now.
This article is commentary by an independent contributor. At the time of publication, the author held no positions in the stocks mentioned.