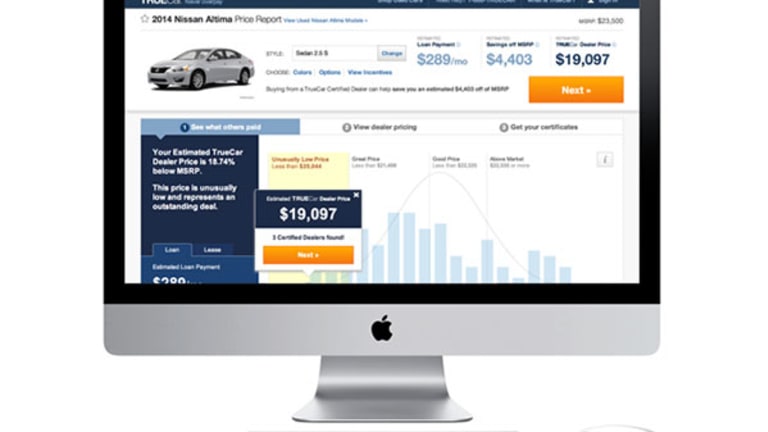 TrueCar Names Digital Industry Veteran Chip Perry as CEO
TrueCar shares have rebounded in the past month as the vehicle-buying service prepares for a new leadership team.
TrueCar (TRUE) - Get Free Report named Chip Perry, a long-time executive in the digital industry, as CEO and president, effective Dec. 15. 
The Santa Monica, Calif.-based company said that Scott Painter, who announced he was stepping down as CEO, also will resign as chairman and give up his board seat. A company spokesman confirmed the board hasn't yet selected a new chairman. 
Perry, 62, was the first employee of AutoTrader.com and was CEO from 1997 to 2013, an online directory of new and used cars owned by privately held Cox Automotive. Most recently, he served as president and CEO of Atlanta-based RentPath, parent company of ApartmentGuide.com and Rent.com.
Painter, a co-founder of TrueCar -- a service for buying new and used cars from franchised dealers -- announced in August that he would be stepping down following a tumultuous period that included losing major customer AutoNation (AN) - Get Free Report .
The company subsequently lost John Krafcik, who resigned his post as president to head Google's (GOOGL) - Get Free Report (GOOG) - Get Free Report driverless car division. Last week, TrueCar announced the departure of Larry Dominique, a former Nissan (NSANY) executive, who resigned as executive vice president. 
TrueCar shares lost about two-thirds of their value from their peak, following an initial public offering in May 2014. Shares have been rebounding as the company got closer to naming a new leadership team. TrueCar shares have gained 12% in the past month, compared to the Nasdaq's rise of more than 1% over the same period. 
"I've followed TrueCar's progress for many years and am truly excited to be joining the company. TrueCar has built incredible tools for car buyers and retailers and has a strong base on which to grow," Perry said in a company release. "My initial focus will be on TrueCar's dealer partners -- listening to them and finding ways to serve them better."
Although many U.S. car dealers have aligned themselves with TrueCar, agreeing to pay the company a commission for sending them customers who buy vehicles, others have been cautious. Like other online services, TrueCar uses transaction data to estimate what the market says new and used models are worth, a trend that has cut deeply into dealers' profit margins.
Before starting AutoTrader.com -- the digital version of the familiar paper publication distributed in convenience stores -- Perry worked as a management consultant for McKinsey in Los Angeles. He also served as a vice president at the Los Angeles Times in charge of building the newspaper's Web site, becoming familiar with online classified advertising.
Doron Levin is the host of "In the Driver Seat," broadcast on SiriusXM Insight 121, Saturday at noon, encore Sunday at 9 a.m.
This article is commentary by an independent contributor. At the time of publication, the author held no positions in the stocks mentioned.