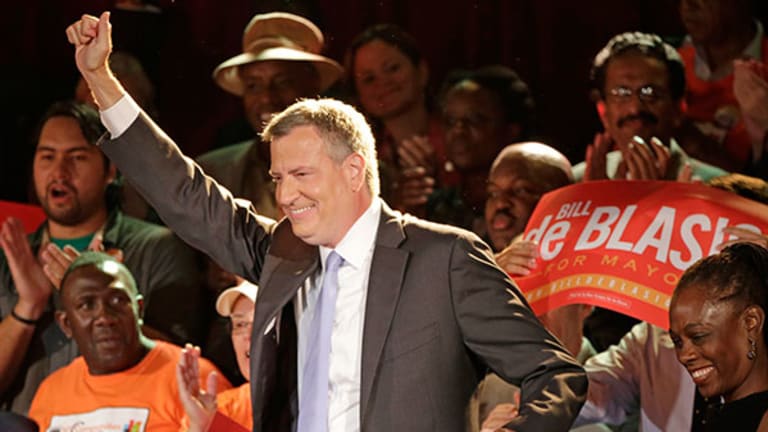 True Liberal de Blasio Spells Death for Corporate Tax Breaks
Suburbs equal corporate death: Just look at Microsoft vs. Amazon.
NEW YORK (
) -- New York mayoral frontrunner Bill de Blasio wants to end tax incentives for big corporations that want to do business in the city, and my only question is: What took so long?
Multinationals including
Bank of America
(BAC) - Get Bank of America Corp Report
,
Goldman Sachs
(GS) - Get Goldman Sachs Group, Inc. Report
Ernst & Young
,
NASDAQ OMX Group
and
MetLife
(MET) - Get MetLife, Inc. Report
have benefited from tax breaks that have tripled to $3 billion per year during the Bloomberg administration, according to the
Financial Times
, citing data from the Fiscal Policy Institute.
But those corporate subsidies are "a very suspect approach that hasn't yielded the kind of results the taxpayer deserves," De Blasio told the newspaper.
That's putting it mildly.
The fact is that companies need to be in major cities, because they can't attract the kind of young, childless, creative, work-around-the-clock people they want to hire if they are in a lifeless suburb.
No one likes tax breaks better than
Amazon
(AMZN) - Get Amazon.com, Inc. Report
, but it didn't even try to get them when it spoke to Seattle city officials about building offices that will double its presence in that city,
according to The New York Times.
Why? Maybe because officials in that city knew Jeff Bezos wasn't about to join
Microsoft
(MSFT) - Get Microsoft Corporation Report
out in the suburbs. It's not a coincidence that Microsoft, which trades at less than 11 times forward earnings and has a reputation as one of the dullest companies in the tech sector is in Seattle's suburbs and Amazon, which trades at more than 110 times forward earnings and is the envy of nearly every other company in the Fortune 500, is in the city's center.
Or look at
Motorola Solutions
(MSI) - Get Motorola Solutions, Inc. Report
, which "built a huge campus outside of Chicago 30 years ago, and now it's almost two-thirds empty and they're renting space downtown because they can't get people to come out there," real estate mogul Sam Zell explained to
The Atlantic Monthly
in its latest issue.
Goldman
will still move as many back office jobs to Salt Lake City as it can
, but New York will always be its U.S. headquarters. Why? Because there are easily 10 different city blocks in New York that have more world class cultural institutions than all of Salt Lake City. When they occasionally have time off, Goldman employees like to visit them. And their executives like to attend fundraising events honoring them.
Could London potentially steal some of Goldman's business from New York?
It seems unlikely. How much of that $3 billion a year in New York's annual corporate tax breaks goes to Goldman? Three hundred million seems high. In other words, its a pittance to Goldman. Its not enough to drive any major business decisions. If tax breaks were the answer to successful governance, New York would be emptying out while everyone moved to the U.S. Virgin Islands.
New York has accomplished some great things during Michael Bloomberg's administration, but fears de Blasio will take the city back to the crime-ridden, fiscally disastrous days of the 1970s are most likely irrational. New York's politicians have been sucking up to corporate interests for so long its gotten to be a reflex more than a policy decision. It's past time to move things in the other direction.
--
Written by Dan Freed in New York
.
Disclosure: TheStreet's editorial policy prohibits staff editors, reporters and analysts from holding positions in any individual stocks.