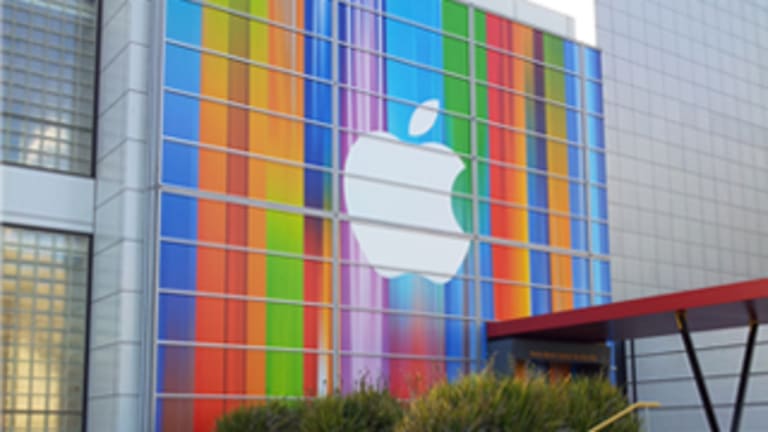 Trouble Ahead at Apple
As Apple looks more and more like the 'copycat' Steve Jobs accused other companies of being, Rocco Pendola says he's losing hope.
NEW YORK (TheStreet) -- All of this talk about software at Apple (AAPL) - Get Apple Inc. Report. It should scare the living hell out of you if you're concerned about the company's future. If you're not concerned, wake up.
TheStreet's
Anton Wahlman has
that expresses these worries amazingly well:
If Apple thinks its problem is the look of its software, I get seriously worried. If it thinks that it can have a bright future based on copying the look of Windows 8, there's a screw loose somewhere.
But that's what we're looking forward to at next week's Worldwide Developers Conference. We're going to hear how Apple has overhauled iOS to look more like
Microsoft's
(MSFT) - Get Microsoft Corporation Report
Windows Phone OS. Back to Wahlman for more greatness:
No, I kid you not -- if the rumors are true, Apple's next invention is to make the iPhone and iPad look more like Windows 8, which is "flat." This is supposed to reignite Apple's earnings, which have stagnated so far this year.
Aside from the perpetually bored tech press, have you heard any normal person complain about Apple's skeuomorphic design language on their iOS devices, begging for Apple to simply copy the Windows 8 look? Only then will they run to the Apple store and buy more Apple products again!
And then there's the
iRadio
sideshow, designed to
keep people hooked on Apple's "ecosystem"
and drive pocket change to the company's top line.
If Tim Cook -- or anybody else in Cupertino for that matter -- really believes this nonsense that Apple is a software company, they should be hospitalized only after they're released -- for cause -- from their employment contract. Such nonsense.
We're bombarded with news, as Wahlman implies, only tech geeks care about. We hear very little about what brought Apple to the dance. Hardware. That's Steve Jobs's legacy. And
Apple, led by Cook, continues to desecrate it
.
Also see: Intel Must Play Catch-Up Now >>
I hold out hope the rumors are untrue. That Cook is playing coy, keeping a low profile and taking us all for a ride. But when you consider talk of what's ahead --
thoughtless iterations of current products
-- it's downright alarming. Size. Shape. Color. That's all Apple's got?
OK. Fine. I am on record.
I do not want, nor do I think Apple should do a drastically different iPhone or iPad
. If it ain't broke, don't fix it. However, these cosmetic changes, alongside
Cook's imprecise language about what's next
, smack of a company that has lost focus. Lost its way.
Enough babbling about software and services. Let's talk hardware. Because it's the hardware that keeps Apple customers coming back. Most of us merely tolerate the below-average software and service platforms. Outside of the operating systems, they're pretty much all run-of-the-mill (iTunes and the handful of pre-installed apps Apple supplies with its products). They play a small role, if any at all, when its upgrade time with your favorite wireless carrier or you require a new tablet or computer.
The hardware makes the difference. I use Macs, iPhones and iPads because they're incredibly well-designed pieces of hardware. I pay a premium because they're efficient, reliable, easy-to-use and, yes, the operating systems are superior. But that's all Apple seems able to focus on -- messing with the very reasons why it remains dominant.
Also see: Gundlach: Apple Should Go to $500 'Fairly Easily' >>
Under Jobs, we had confidence Apple was prepared to extend that dominance with even more true innovation. Read the writing on the wall. Look yourself in the mirror. Have an honest talk with yourself. Do you really believe Tim Cook has what it takes to continue that epic trend?
If what we're hearing
and
seeing out of Apple is any indication, the answer is a resounding no. As Apple looks more and more like the "copycat" Steve Jobs accused other companies of being just a few years ago, I'm losing hope that my concerns will end up unfounded.
--
Written by Rocco Pendola in Santa Monica, Calif.
Rocco Pendola is
TheStreet's
Director of Social Media. Pendola's daily contributions to
TheStreet
frequently appear on
CNBC
and at various top online properties, such as
Forbes
.