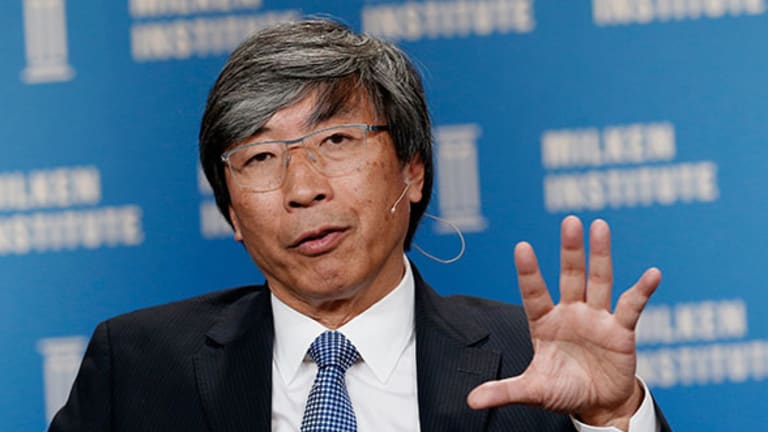 Tronc Investor Patrick Soon-Shiong Ups Stake Again in Battle for Control of Newspaper Giant
Michael Ferro, chairman of the Los Angeles Times and Chicago Tribune publisher, moves to thwart a Soon-Shiong buyout of Tronc, as each amasses a quarter of all company shares.
What's a Troncundefined worth these days, or, more precisely, what's a quarter of a Tronc worth in early spring 2017?
That's our media math question of the day. On Monday, Tronc Vice Chairman, would-be Friend of Trump, Los Angeles Lakers part-owner and anti-cancer crusader Patrick Soon-Shiong bought another 2 million shares of America's second-largest public newspaper company. Soon-Shiong paid $30 million to HG Vora, a $15 a share payday for the activist investment firm, which pocketed the same per-share price from Tronc Chairman Michael Ferro's Merrick Media in December as he bought 2.5 million shares of its Tronc stake.
While speculator HG Vora made a few bucks on its less than year-old investment, the financial fate of its two buyers can only be guessed at. Now Ferro and Soon-Shiong each hold just under 25% of Tronc's shares, and both are prohibited from buying any more by the company's recently reformulated poison pill. 
As the two Tronc principals have added gradually to their holdings over the past several months, news industry and Tronc watchers have themselves speculated on the twin buying spree. Were the two -- joined at the wallet last last June when Ferro blunted industry leader Gannett's (GCI) hostile bid for the company by orchestrating a private placement sale of then-Tribune Publishing shares to the Los Angeles billionaire medical technology investor -- jointly amassing a big enough stake to prevent another hostile bid, from Gannett or elsewhere? Or was another game afoot entirely?
Though Tronc declined comment for this story and Patrick Soon-Shiong was unavailable, we now can answer that question. 
Soon-Shiong, long desirous of owning his hometown Los Angeles Times himself, joins the expanding club of those out-gamed, for now, by wily financial engineer Ferro. Ferro surprised his Tronc vice chairman by moving to throw him off the Tronc board, according to a March 9 proxy statement filed in preparation for the company's April 18 annual meeting. Tronc will pare its directors to nine from seven, with Soon-Shiong and Donald Tang not standing for re-election.
Over the past year of much Tronc intrigue, those close to the men described their relationship as "frayed," two super-egos making it tough to weave together. Within Tronc leadership, Soon-Shiong was described as "disruptive," and that provided good reason to cut him loose from his leadership role. Plainly, Ferro also perceived the threat from his better-monied partner.
Soon-Shiong, sources said, didn't see it coming, as he planned his own Ferro-free Times future. As he bought up company shares over the past several months, moving his stake from an initial 12.9% to 24%, Soon-Shiong planned a new route to his longtime destination, ownership of the Times, sources said.
He believed that he could parlay a quarter share of the company to acquire the whole thing, combining with other less-than-Ferro-friendly investors to make shareholders an offer they wouldn't refuse. Then, he could keep the Times, and presumably its sister The San Diego Union-Tribune, and, over time, sell the other properties.
The likeliest buyer? Gannett, which had been confounded by Ferro's hyperhostile response to its own hostile offer last spring, could re-emerge as the buyer of the Chicago Tribune, Sun Sentinel of Fort Lauderdale, Fla., and Orlando Sentinel, and all or some of Tronc's other four dailies. 
The deposed vice chairman has tried to put the best face on his diminished role, telling associates that "it frees me." That "freeing" is two-fold. Soon-Shiong will no longer be a company director, come April 18. In addition, when the company informed him he was being left off the next election slate, it also told him he was now free to vote own shares as he sees fit.
His earlier agreement with the company had forced him to vote his held shares proportionate to all votes cast in any election. How much do those changes aid Soon-Shiong's endgame buy-the-Times quest? 
While it's true that as vice chairman Soon-Shiong would have faced another layer of process in making an offer for the whole company, that board role wouldn't have prevented him from proceeding. Further, while he is now free to vote his shares as he sees fit, he finds himself in a clearer minority to Ferro's forces.
His acquisition this year, though, faces a more intractable opponent -- the calendar. 
Soon-Shiong's best shot at winning shareholder approval for a buyout bid would have included a proxy battle, offering up his own slate of directors at Tronc's annual meeting next month. Yet this year's meeting will be held about six weeks earlier than 2016's June 2 annual meeting. That timing -- likely strategically intended by Ferro -- meant that the deadline for Soon-Shiong, or anyone else, to propose alternatives to Ferro's hand-picked slate has come and gone.
That missed deadline offers an echo of last year. Then, Gannett missed its deadline to file an alternative slate of directors and could only muster a high-priced protest vote at Tronc's annual meeting. That protest worked to display substantial support for the Gannett bid, but protest or not, the just-say-no campaign continued until the almost-completed deal's weird end, as the deal fell apart at the eleventh hour. 
Consequently, now even with ownership of quarter of the company, Soon-Shiong must plot out a new strategy -- and that may well extend this publishing soap operatic fight for control of some of the country's largest metro news organizations well into 2018. Again, it is next year when a plausible proxy fight could begin to unseat Ferro, who has been steadfast in his drive to first win control of the company and then to maintain it.
Ferro's recent almost-acquisition of Us Weekly displays part of that strategy: mask the continuing deep declines in newspaper revenue through acquisitions, buying digital audience, digital revenue and hoped-for digital credibility. 
In the meantime, though, we'll see what other cards these two poker players can play.
Tronc limits both of them to a maximum of just under 25% ownership of the company. Both saw restrictions on their stakes when each was offered private placements of Tribune Publishing stock in 2016. Those poison pill restrictions have been reformulated over time, moving from the May 2016-prescribed 20% to today's 25%, and the board has the authority to further change those rules again.
That relaxation of restrictions itself has been controversial among a number of Tronc investors; poison pills often are designed to protect the interests of all shareholders' values, and investors have complained about the chairman and vice chairman's abilities to leverage more control, at smaller benefit to other shareholders. 
Both Ferro and Soon-Shiong recently have paid $15 a share for stock trading in the $13 to $14 range but those acquisitions also have been strategic. Ferro and Soon-Shiong's purchases from HG Vora removed a sometimes-dissident shareholder. Soon-Shiong also bought a fifth of Oaktree Capital's Tronc holdings. Oaktree had long publicly complained about Ferro's draining of company value and had publicly threatened a lawsuit last year, before backing off on that action over the past six months. 
So given the new realities, what's next and who may make the next move? That's murky.
Soon-Shiong could go public with an offer for the company, but he would face almost an identical situation that drove Gannett to corporate apoplexy last fall. Ferro likely would stonewall any sale, and Soon-Shiong likely would have to meet or exceed Gannett's $18.40 "final" price to get closer to a possible deal. Would he, and would he potentially move to that golden $20 a share price to which Ferro has long told associates he might acquiesce?
One observer suggested a Disney-style (DIS) protest, one that in 2005 ousted longtime CEO Michael Eisner, while another pooh-poohed that. "Tronc is no Disney. Who'd care?"
There remains the threat of lawsuit, as the company's alleged management improprieties and short history of agreements consummated with the companies associated with Ferro's Merrick Media hang in the air. Or, perhaps, we'll see some combination of new buyout offer and lawsuit.
Given all that's happened in recent weeks, clearly, both sides will restrategize. Soon-Shiong's Monday purchase of stock, almost maxing out his potential position, though, signals a determination to stay in the fray. "Patrick still has a lot of energy and conviction," one source close to the action said.
It hasn't been a great start of the year for Soon-Shiong. His Times plans thwarted for now, Soon-Shiong has joined the camp of those romanced and (so far) left behind by the new president. He had hoped for a health czar role -- another unorthodox, outside-the-box billionaire appointment by Trump -- but, like others leaving Trump Tower, he left with empty pockets after two meetings there.
Further, new reporting has questioned the likelihood of his "cancer moonshot" program.
"Soon-Shiong's use of the moonshot to advance his business interests may be good for his investors," reported the well-regarded STAT, a new national health and medicine site from Boston Globe Media. "But it also increasingly looks destined to disappoint patients -- the latest in a long trail of failed quests to win the war on cancer."
Soon-Shiong's Cancer Breakthroughs 2020 has disagreed with the article.
Finally, he lost his semi-official title as L.A. richest person to Elon Musk, as the tech entrepreneur took first place on this year's Forbes billionaire bingo sheet. 
Just last May, Soon-Shiong's investment of $70.5 million in Tribune Publishing and his publishing-aiding technologies were touted by Ferro and his CEO, Justin Dearborn, as they began their "transformation" of old-line Tribune  into Tronc, for Tribune Online Content. Now, with Soon-Shiong stripped of his vice chairmanship and his director role, that touting of the value of the portfolio of Soon-Shiong's Nant Technologies, including "100 machine vision and artificial intelligence technology patents for news media applications," has become a distant memory.