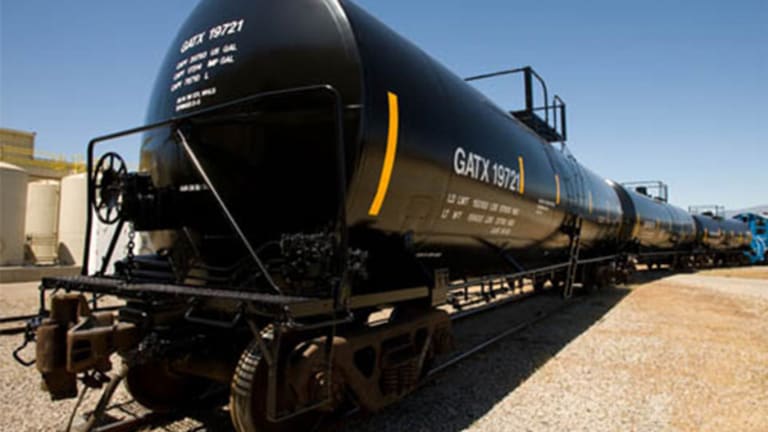 Trinity Industries Stock Poised to Keep Climbing After Huge Rally
For railcar maker Trinity Industries, the business environment couldn't get any better.
For railcar maker Trinity Industries, the business environment couldn't get any better.
NEW YORK (TheStreet) -- Increasing oil production and a positive regulatory environment will likely push railcar company Trinity Industries' (TRN) - Get Report   stock even higher, extending a 12-month rally during which its shares have soared by more than 133%.
Shares of railcar companies have soared over the past year on the back of the shale oil and gas boom, and Trinity is no different. The company alone represents 47% of the total shipments and 45% of the total backlog of the railcar industry.
Read more:New Lifetime High Reached By Trinity Industries 
Trinity's 12-month rally dwarfs the 22.5% increase for the S&P 500 during the same period. This year, Trinity's stock has risen about 80% to $48.72.
Railcar companies could also see a boost from the improvements in demand for coal from utilities following a drop in stockpiles and the revival of crop deliveries after the droughts in the Western United States.
Despite the rally, Trinity's shares are priced just 12 times their earnings estimates for the current year, as per data compiled by Thomson Reuters.
On the other hand, its peers, American Railcar Industries (ARII) - Get Report , FreightCar America (RAIL) - Get Report  and Greenbrier Companies (GBX) - Get Report ,  are priced over 17.5 times their estimated earnings for the current year.
Oil producers have been relying on railcars, particularly the tank cars, to transport oil to refineries from the oil-producing regions of North America due to the shortage of pipelines.
With increasing oil production, the industry used twice as much car loads to transport oil by rail last year than in 2012. And this robust growth is expected to continue as some of the key oil-producing regions, such as North Dakota and Saskatchewan, Canada, use railcars to transport a majority of their production.
Not surprisingly, railcar companies received orders for 33,900 railcars in the second quarter, taking the value of the industry's total backlog to its highest levels over the past 25 years. Trinity received orders for 9,880 new railcars during that period as its backlog climbed to record levels of $5.5 billion.
Read more: Why Trinity Industries Stock Is Higher Today
But the increase in the use of railcars for oil transportation also contributed to an increase in the number of accidents, which caused the spillage of millions of gallons of oil as well as the loss of dozens of lives. Consequently, American and Canadian regulators have moved to make rail transport safer by introducing new regulations.
The proposed regulations will hit most of the tank cars under operation, which will have to be retrofitted with new equipment or replaced by 2018. Even the 20,000 newer ones under service will require upgrades.
In other words, Trinity could report a boost in orders for newer cars as well as upgrades for older cars.
It is worth mentioning that the possibility of a surge in orders due to the safety regulations comes on top of the oil by rail boom. The convergence of these two factors will fuel Trinity's growth.
To capitalize on these trends, Trinity will ramp up its manufacturing capacity by reopening a major tank car manufacturing plant in Georgia. Additionally, the company has enhanced its maintenance service business to tap into the increasing demand for railcar upgrades by acquiring a plant in Arkansas and by expanding capacity at four other maintenance plants.
This, however, doesn't mean that Trinity has forgotten about its non-railcar businesses, which generated about 40% of the company's operating profits last year.
Two weeks ago, the company announced the completion of its $600 million acquisition of Meyer Steel, one of the leading providers of tubular steel structures for electricity transmission, enhancing its footprint in the energy and infrastructure market.
Meyer Steel will start making contributions to Trinity's earnings as soon as this year.
In an email, Jack Todd, Trinity Industries' vice president for public affairs, wrote that the company's policy is to not discuss its future operations.
Read more: Trinity Industries Rolls Up Meyer Steel
At the time of publication, the author held no positions in any of the stocks mentioned.
This article represents the opinion of a contributor and not necessarily that of TheStreet or its editorial staff.