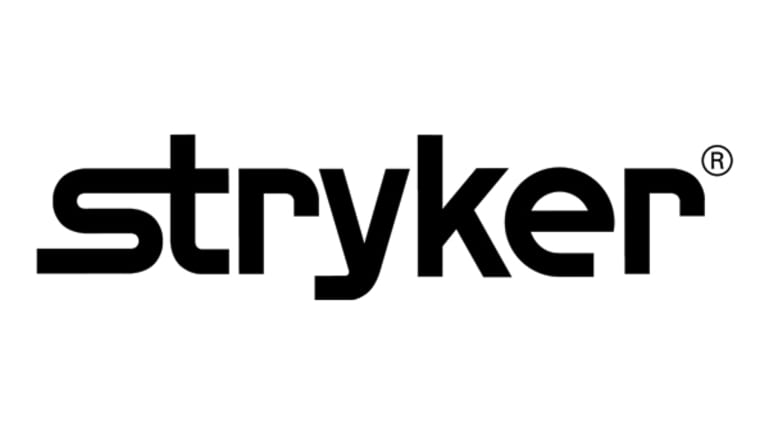 Publish date:
Trim Positions in Stryker Ahead of Fourth-Quarter Earnings; Buy on Pullback
Stryker must significantly outperform for all of 2015 just to meet expectations. That's a tall order.
Stryker must significantly outperform for all of 2015 just to meet expectations. That's a tall order.
NEW YORK (TheStreet) -- Medical devices maker Stryker (SYK) - Get Report will report fourth-quarter and full-year earnings results Tuesday. And while the Kalamazoo, Mich.-based company has delivered profits for eight consecutive quarters, there are reasons to be cautious. To protect profits, investors should trim positions in Stryker now, wait for any pullback and then buy.
Stryker stock closed Friday at $92.70, down 0.72%. Monday at noon shares were trading at $92.17, down 0.57% for the day. Shares have lost 2.3% on the year to date, trailing the Dow Jones Industrial Average (DJI) (down 1.05% year to date) and the S&P 500 (SPX) (down 0.35%).
Stryker stock has lost more than 3% of its value over the past month. And there's reason for concern. Higher-than-expected fourth-quarter expenses rattled rival Intuitive Surgical (ISRG) - Get Report , sending its stock down almost 2.5% last week. Stryker investors should seek to protect the 20% gains earned over the past year.
Expectations have gotten too high, heightening the risk that Stryker could miss on the bottom line.
Analysts love this company -- for good reason. As noted, Stryker has been profitable for eight consecutive quarters. The stock has a consensus buy rating and an average 12-month price target of $98.
It's also important for investors to realize, however, that Stryker's reported profits haven't been as impressive, declining by an average of 40% year over year in the last four quarters. In the October quarter, the company reported 16 cents per share, which fell 40.7% year-over-year.
While analysts have trimmed fourth-quarter estimates by a penny to $1.45 per share, Stryker's price-to-earnings ratio of 55 should also come down. And for that to happen, the stock has to come down, too. Stryker's multiple is more than twice the average P/E of companies in the S&P 500, which is around 20.
When compared to other companies in the medical devices industry, it's tough to argue against how expensive these shares are.
data by
Stryker's P/E is twice that of St. Jude Medical (STJ) (P/E of 21.48), Zimmer Holdings (ZMH) (P/E of 25.22), Covidien (COV) (P/E of 27.81) and is nine points higher than Intuitive Surgical.
But while Stryker's P/E far surpasses its peers, its five-year annual growth rate projection of 9.5% does not. Zimmer is also projected to grow at a 9.5% per year rate for the next five years, while Covidien and St. Jude are projected to grow at annual rates of 8% and 8.15%, respectively, according to CNN Money.
In other words, Stryker must significantly outperform for all of 2015 just to meet expectations. Stryker is not worth the risk ahead of Tuesday's results. Investors should consider selling some shares now and buying back at a lower price in a month or two.
This article is commentary by an independent contributor. At the time of publication, the author held no positions in the stocks mentioned.