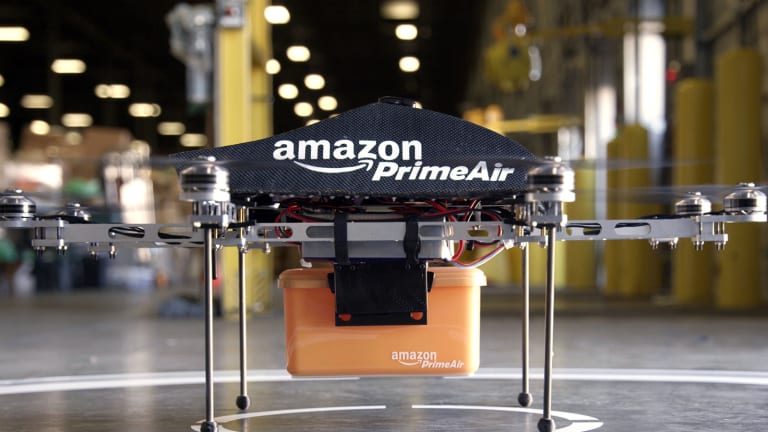 Transportation Roundup: Shop, Ship and Live Through Amazon?
Amazon referred to itself as a 'transportation service provider,' General Motors is expanding its self-driving car push, and American Airlines can barely rally on the best full-year airline profits ever.
In the Retail Roundup, I asked (rhetorically), "Why does this always find a way to circle back to Amazon?" Well, it appears Amazon (AMZN) isn't keeping limited to just online sales. I guess it hasn't been for a long time. Making Kindles, streaming videos and providing cloud storage is different than just selling books and merchandise. 
But taking it a step further, the company continues its push into logistics and transportation. The news of stellar supply chain management and plans to lease cargo planes is already out there. 
This should be enough to send fear into the board room at UPS (UPS) , which sees a lot of business come its way because of Amazon's online sales. But with the tech titan looking to take matters into its own hands even more, perhaps UPS (and FedEx (FDX) , too) may want to consider what else they can do to fight back while times still on their side. 
As if Amazon's shipments aren't a big enough piece of the e-commerce shipping pie, what if the mega e-tailer starts shipping on behalf of other parties, too, garnering even more market share? Now that Amazon has referred to itself as a transportation service provider, nothing can be ruled out of the equation.
Nothing can be ruled out, especially, because it's Amazon. The company continues to venture into new arenas, always trying to expand its market share in its quest for global domination. 
Amazon fell 7.6% on Friday to $587 a day after reporting fourth-quarter earnings. 
Blurring the Auto Lines
Tech companies continue to blur the lines with old-school businesses, like Amazon and shipping. Well, a similar story has been playing out in autos, with Alphabet's  (GOOGL)  Google's push for automated driving. Apple (AAPL) has been in the hunt, too, but questions have emerged as the project's team leader has reportedly stepped down. 
I wonder if that's interpreted as good or bad news for traditional automakers? I would presume the former, because having the country's largest company by market cap, with hundreds of billions of dollars on hand in cash (and several times that likely available in the credit markets), coming after you can't be a good feeling. 
That might be part of the reason why General Motors (GM) formed a team to "speed up development of self-driving and electric cars," according to Reuters.
Will it be enough? I think so. I would have thought one of the world's largest automakers would have made a move like this a while ago -- especially with tech super stars as Google, Apple and Tesla (TSLA)  already devoting millions of dollars and countless hours into disrupting the entire auto-sphere for the next century. 
But because autonomous driving is so far off -- although the technology is very promising -- and regulatory hurdles and perfection will be hard to come by, GM should have time. 
The automaker also has a lot of resources and experience to draw from, which should help in its quest for self-driving cars. Of course, it's advances are already well-known in the electric car world, with its new longer range Chevy Bolt. 

It will be interesting to see who emerges as the king of autos in the distant future. 
Flying American
Shares of American Airlines (AAL) climbed 2.2% Friday, less than the S&P 500 ETF's (SPY) gain of 2.48% on Friday. As if the robust gains in the broader market weren't enough to take shares of the airliner higher, the company topped earnings estimates for the fourth quarter. 
And as if beating earnings on a day where the indices surged weren't enough, the company reported the highest full-year profit in the history of the airline industry. So c'mon, 2.2%, that's it?
The lackluster move might make sense if the stock was up big year to date, but shares were down 10% ahead of Friday's session and down 17% over the past three months. The airlines have been down significantly despite the drop in oil prices. 
Fuel prices are the largest raw expense airlines have, which has confounded many good investors, including TheStreet's Jim Cramer, co-manager of the Action Alerts PLUS portfolio, who tackled the issue a few days ago.
One worry could have been Boeing (BA) and its poor guidance, or worries that demand for air travel is falling. But aside from Boeing's lousy guidance, there doesn't seem to be any ground for the bears to stand on. Airlines are raking in record profits, demand for traffic remains strong and all the other aerospace companies -- you know, General Electric (GE) , Honeywell (HON) , United Technologies (UTX) and Alcoa (AA) -- are seeing strong revenue from the industry.
Making matters even more confusing is how low of valuations and what big cash flows most of these airlines currently have. While shares of American were up on the day, they weren't up convincingly despite the tailwinds it should have had on Friday. 
Strong results from Hawaiian Airlines (HA) and JetBlue (JBLU)  only add legitimacy -- and likely more confusion -- to the bull case for airlines.
This article is commentary by an independent contributor. At the time of publication, the author held no positions in the stocks mentioned.