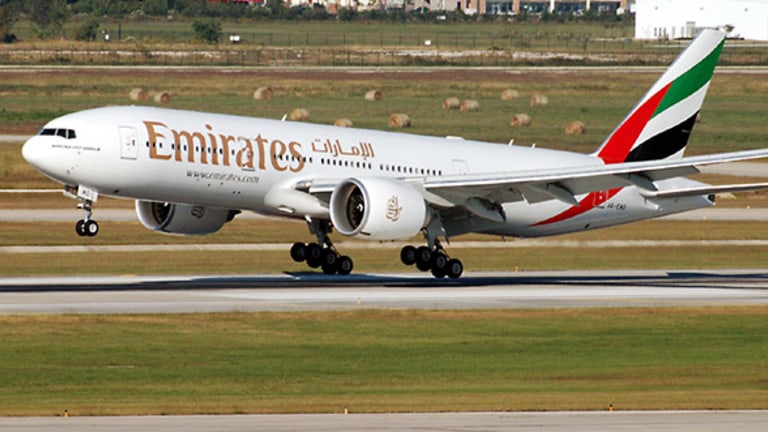 Transportation Roundup: Boeing Disappoints; Toyota Repeats as Sales Champ
Boeing's earnings results spooked investors, no one can figure out why airlines are going lower despite falling crude prices, and Toyota holds onto its crown as the top-selling automaker again.
Shares of Boeing (BA) haven't fared will in 2016, and they certainly didn't do well Wednesday, when they closed down 9% following the company's fourth-quarter earnings results.
Despite topping EPS and revenue expectations, the company provided what many investors viewed as lousy guidance. Management expects the company to earn between $8.15 and $8.35 per share in 2016, below analysts' expectations of $9.43 per share, on revenues of $93 billion to $95 billion -- which also fell below expectations and below 2015's results. 
The results follow Boeing's decision announced a few days prior to cut back 747 production due to a slowdown in demand in the air cargo market, which led to a fourth-quarter charge of $569 million. 
This is where investors seem split, however. 
Bulls argue that despite the charge of more than half a billion dollars and soft guidance for 2016, the company is still doing fine. With an orders backlog of $489 billion -- yeah, billion -- and projected operating cash flow of $10 billion for 2016, the company has enough work to keep itself busy for years. Boeing's $14 billion buyback and 3.4% dividend yield are just icing on the cake. 
Or so they say. Bears argue that the problems exist outside of Boeing, and that the lack of revenue growth and slowdown in air cargo demand suggests global growth is continuing to weaken -- which will ultimately hurt Boeing. 
So far, investors seem to be siding with the bears, or are at least taking a more conservative approach, as shares of Boeing are down nearly 20% on the year. 
Are airlines finally waking up? It seems that way, even though the S&P 500 ETF (SPY) is down more than 1% Wednesday. Hawaiian Holdings (HA) is trying to buck the trend of airline stocks getting pulverized despite falling fuel prices, as the stock raced higher by 11% on the day. 
Fueling its gains were an upbeat earnings report and an upgrade from Deutsche Bank.
But there's a curious and perplexing issue out there. The broader airline industry continues to trade lower, despite the many good things that are happening. TheStreet's Jim Cramer, co-manager of the Action Alerts PLUS portfolio, has observed how airline stocks -- along with most stocks -- are being dragged lower by falling crude oil prices. 
The issue with this comes down to common sense: Why sell a stock lower, when the company's single largest expense (fuel), continues to get cheaper and cheaper? 
The one argument here could be supply vs. demand. If oil prices are falling due to a drop in demand, then demand for economic activity, such as shipping and traveling, could be in decline as well. 
But we're hearing directly from the airlines -- and seeing in their actual earnings results -- that demand for travel is anything but weak. Couple that with the fact that airlines can lock in low fuel costs for nearly a decade, and then consider that most of these stocks already have low valuations, and you can see why investors are perplexed. 
Notable airlines Delta (DAL) , American (AAL) and Southwest (LUV) are all down on the year, falling 11.7%, 6.4% and 13.4%, respectfully. 
Toyota (TM) just keeps on rollin'. The automaker took home the trophy for the world's No. 1 seller in 2015, marking the fourth consecutive year the company has won the award.
Toyota sold 10.15 million cars in 2015, besting Volkswagen (VLKAY) and GeneralMotors (GM) , which sold 9.93 million and 9.8 million vehicles, respectively. The top-selling achievement comes despite the automaker's decline from 2014, where it sold 10.23 million units. 
Globally, Toyota may have taken home the hardware, but when it comes to individual brands in the U.S., Ford (F) came out on top, as sales rose 5.3% on the year to 2.5 million. Chevrolet --  a General Motors brand -- came in second, with sales of 2.125 million, up 4.5% year-over-year.
Despite this good fortune, and with the U.S. seasonally-adjusted annual sales rate hitting north of 18 million vehicles throughout 2015 -- the highest it's been in years -- auto stocks have not fared quite so well. 

U.S. Vehicle Sales data by YCharts
Ford and GM are down 20.5% and 13.5% over the past year, and both sport dividend yields close to 5%. Toyota shares are down 11% over the previous year, while Volkswagen is down a remarkable 40% over the last 12 months -- although much of that can be traced to its appalling emissions cheating scandal, which came to light last fall. 
In the end, investors have seemed like they've been pricing peak autos into these stocks for years -- Ford and GM are down 34% and 22% over the past five years! -- despite a fairly steady climb in auto sales, rising dividends, and especially as of late, increasing profits. 
There's no telling if or when this beat-down of automakers will reverse in 2016, but so far, it doesn't look promising. Investors are clinging to the automakers' recent guidance and fat dividends as the lone bright spots in an otherwise dark environment. 
The fear is that, coupled with Boeing's results, there really is an economic slowdown looming ahead. 
This article is commentary by an independent contributor. At the time of publication, the author held no positions in the stocks mentioned.