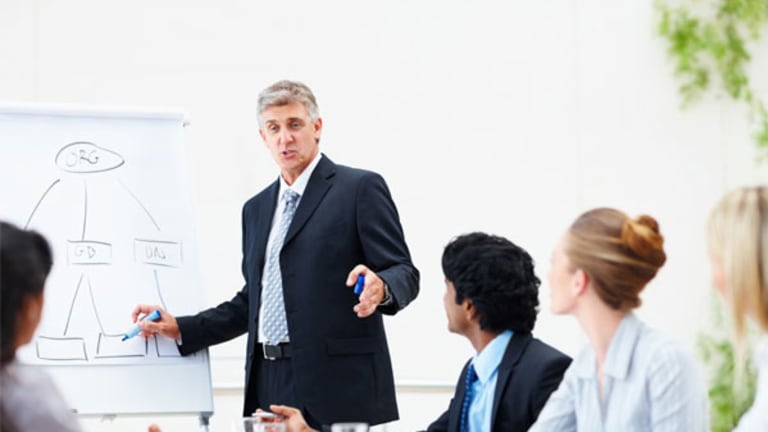 Transparency on Executive Pay Begins With Clarity
With a sound, transparent pay structure in place, you may not silence every critic, but you will be able to defend those figures with sound and honest reasoning.
NEW YORK ( TheStreet ) -- It was a milestone in U.S. business history when, on Jan. 25, SEC commissioners voted 3-2 to enact the say-on-pay measure that subjects compensation plans to non-binding shareholder votes as often as once a year. The closeness of the vote, along with ongoing Republican opposition to the Dodd-Frank Act, suggests the debate will continue. If anything, shareholder opposition to specific compensation decisions, fueled by public hostility to perceived excesses, will keep this issue spotlighted in the media well into the foreseeable future.
As such, it is a particularly opportune time to revisit the kind of communications strategies, including shrewder use of proxy statements, that corporations can pursue to retain the best talent and minimize investor opposition. The following commentary on this critical balancing is excerpted from the recently published book,
The Communicators: Leadership in an Age of Crisis, by Richard S. Levick and Charles Slack.
It is an additionally appropriate time to revisit this commentary as it draws heavily on the insights of Pearl Meyer, whose expertise on the subject was unsurpassed. Sadly, Ms. Meyer died on Jan. 24, 2011.
At a time when Congress and government regulators are raising the specter of regulating or capping compensation in the corporate sector, boards face a persistent Catch-22: how do they attract and retain leaders capable of guiding the company through difficult times without drawing the ire of shareholders and the public outraged by real and perceived excesses in CEO compensation?
Pay restraints or caps may attract headlines but, as long as the free market system prevails in the United States, companies will have to pay the compensation necessary to attract and retain qualified leadership, says Pearl Meyer, co-founder and senior managing director of Steven Hall & Partners in New York, and one of the nation's leading consultants on executive compensation.
Meyer, a 2010 inductee into The Directorship Institute's Corporate Governance Hall of Fame, says the current period is, by far, the most contentious she's seen in more than 30 years of advising companies and boards on pay practices. She believes that most of the anger directed at CEO compensation, while fueled by the troubled economy, stems from a fundamental lack of public understanding about just what executives do to earn their paychecks.
"It's easy for the public to understand why Madonna gets paid millions for singing and dancing or Tiger Woods for hitting a golf ball," Meyer says. "But when people look at the individuals running corporations, they see them sitting in big offices and nice automobiles with drivers, or in private corporate aircraft, and they think, 'My God, I can do that.'"
"There is a lack of appreciation and understanding of the quality and value, sacrifices and personal cost of leadership and its responsibilities and the decision making, the years of striving, the expertise, and the personal wisdom and strength required to lead an organization," Meyer says "These are tough jobs and the reason we pay CEOs a lot is that they have unique talents, strengths, and records of success."
According to Meyer, many boards become their own worst public relations enemies by hiding their pay-related methodologies behind closed doors or under reams of financial jargon. They and the companies they serve can no longer afford such lack of clarity. Today's bellicose environment requires absolute transparency in all communications with investors, the press, and the public.
Chiefly, most boards have failed to ensure that the company's potentially most valuable communications tool -- the proxy statement -- is put to optimum use. Anyone who has spent much time looking through proxies knows that most are repetitive and laden with boilerplate legal terminology and arcane phraseology to a point that they are almost unreadable.
When investors or journalists comb through a proxy statement, they naturally gravitate to one of the few sections of the document that anyone should be able to grasp at once: the bottom-line numbers on how much the top executives earned and for what. The numbers are there (they have to be) but, in the absence of supporting information that is well-reasoned and clearly stated, observers will fill in the blanks themselves, often concluding that the eye-popping salaries, bonuses, and stock grants are the result of cozy arrangements with compliant boards, rather that rewards realistically tied to measurable performance.
The first task, says Meyer, is to take the writing of the proxy out of the hands of legal counsel and into the hands of the most skilled writers and communicators available. While counsel certainly must guide and review the document, the emphasis should be on making sure everybody can understand it. "To protect themselves and their reputations, boards have to communicate. They have to rewrite their proxies with an executive summary, as well as tables and charts that are not repetitive, not long-winded."
The proxy should make clear precisely the program's architecture and what compensation standards are in place for top management -- how salary, annual and long-term incentives, and equity grants were determined.
As scrutiny on corporate pay intensifies, Meyer believes companies will, and should, moderate peripherals such as gross-ups, severance, supplementary benefits, and perquisites. "Peripherals are not linked to performance or the long-term value of the corporation, or to the price of the stock and the welfare of the shareholders or other stakeholders," Meyer says.
She also sees companies moving away from compensation packages that maximize bonuses and minimize base salary. In the past, a salary of, say, $250,000, with $1 million in bonus was viewed as an appropriate way to incentivize creative thinking and reward strong leadership. In a more cautious period, coming off an historic market collapse, such structures are seen in a different light altogether. Says Meyer, "Boards need to make sure that the individual can live on his salary and threshold bonuses without the pressure to earn a large incentive award and take unwarranted risks."
Incentives that a board does implement must be carefully tied to the underlying values and long-term objectives of the corporation - not just a single year's earnings or a temporary spike in stock performance. Companies may benefit from one-time market conditions or other factors having little to do with CEO or other executive performance.
"There's a widespread misunderstanding that CEOs can create or control stock price," Meyer says. "One year, a pharmaceutical company had fabulous operating and stock performance. Its executives were well-rewarded and everybody was pleased with the result. That was 2007. By the time the annual meeting occurred in the spring of 2008, the market had gone down and this company's stock with it. Shareholders complained bitterly about why the executives were so well paid when their stock was down."
By the time those payouts appeared in the 2008 proxy, the good times of 2007 were long forgotten. The whopping payouts to the CEO and other executives for 2007 results echoed like a slap in the face to investors.
Alternatively, consider the company's long-term growth objectives and tie more compensation directly to the achievement of those benchmarks, Meyer suggests. Pay structured in this way not only more closely aligns executive pay with the company's concrete goals, but it's much more readily acceptable to stockholders and understandable to the public as well.
With a sound, transparent pay structure in place, you may not silence every critic, but you will be able to defend those figures with sound and honest reasoning. The proxy is a critical place to start, but don't limit your communication just to the proxy. "Both management and directors should have further dialogue with shareholders," Meyer says. "Use any means you can find to communicate and educate. Directors need to insist on this new approach to reassure stockholders of the soundness of their oversight and protect their reputations, which are at stake."
Richard S. Levick, Esq., is the president and chief executive officer of Levick Strategic Communications, a crisis and public affairs communications firm. He is the co-author of The Communicators: Leadership in the Age of Crisis and Stop the Presses: The Crisis & Litigation PR Desk Reference, and writes for Bulletproofblog . Mr. Levick is on the prestigious list of "The 100 Most Influential People in the Boardroom," which is compiled by the NACD and Directorship Magazine. Reach him at rlevick@levick.com.
This commentary comes from an independent investor or market observer as part of TheStreet guest contributor program. The views expressed are those of the author and do not necessarily represent the views of TheStreet or its management.