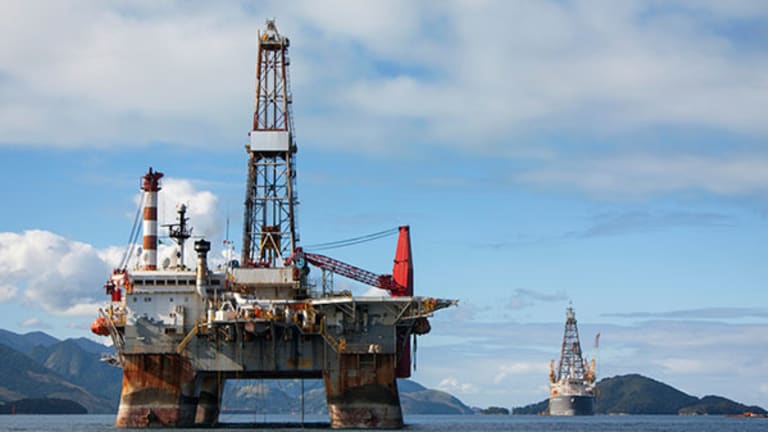 Transocean Still Has Room to Sink Ahead of Earnings Report
Drilling services giant Transocean has been pummeled by low oil prices, and there's no knowing where crude will settle. If profits dip further, it may have to suspend its dividend.
NEW YORK (TheStreet) – Uncertainty over where oil prices will head next remains high, and that doesn't bode well for Transocean (RIG) , the world's largest contract drilling services company by revenue.
Transocean, headquartered in Zug, Switzerland, will report fourth-quarter and full-year results after the market closes Wednesday. And investors who are still holding this stock thinking the shares have reached bottom better think again. This is because Transocean's business, which is primarily servicing oil and gas wells, is highly sensitive to the direction of oil prices. Not to mention, it makes its money on dayrates, which are also sensitive to market price movements.
Dayrates are the lifeblood of oil producers and drillers: Simply put, the amount of money a contractor like Transocean gets paid is based on the number of days its rigs stay in operation. When its entire fleet of rigs is operable every day, Transocean makes more money. And, naturally, it loses money every day a rig sits idle.
Based on last week's report by the U.S. Energy Information Administration, which pointed to higher commercial crude oil inventories in the U.S., demand is likely to head lower for drilling companies' rigs, suggesting that more of Transocean's fleet may be idle for longer-than-expected periods.
The Energy Information Administration said inventories increased by 7.7 million barrels to a record high of 425.64 million barrels in the week ended Feb. 13. Analysts were only expecting an increase of 3.2 million barrels, meaning they under-projected by more than 140%. With that in mind, it's also possible that analysts have underestimated the degree to which higher oil inventories may adversely impact Transocean's results Wednesday.
To the extent Transocean can slash its spending, which it must if it's going to operate profitably, its stock may recover. But that's a big "if." And without any firm idea about where oil prices will settle in the near term, the company may consider suspending its dividend.
Transocean recently cut its quarterly payout from 75 cents per share to 15 cents to offset weak revenue. It was a justified move, but the poor performance behind it cost CEO Steven Newman his job. And it will be a while before Transocean stock, which has plummeted more than 50% since June, recovers those losses.
Energy companies have been punished by weak oil prices all year. Transocean, whose shares closed Friday at $17.01, is down 7% year-to-date and almost 11% in just the last five days. But if you're still holding on, it's not too late to cut your losses. Take a look at the chart.

The stock has been one of the hardest-hit energy companies, lagging the 1.74% gain in the Energy Select Sector SPDR Fund (XLE) -- home to some of the prominent names in energy, including Exxon Mobil (XOM) (down 2.74%) and Chevron (CVX) (down 3.19%).
All told, Transocean stock has dropped 34% in just three months, and there is no sign that things will get better, regardless of what its earnings results reveal Wednesday.
For the quarter that ended in December, analysts are looking for earnings per share of 78 cents on revenue of $2.1 billion, suggesting 7% year-over-year jump in earnings, while revenue is projected to decline 10% year-over-year.
For the full year, the company is projected to earn $4.80 per share, up 16%, while revenue it projected to decline 5% year over year to $9 billion.
This article is commentary by an independent contributor. At the time of publication, the author held no positions in the stocks mentioned.