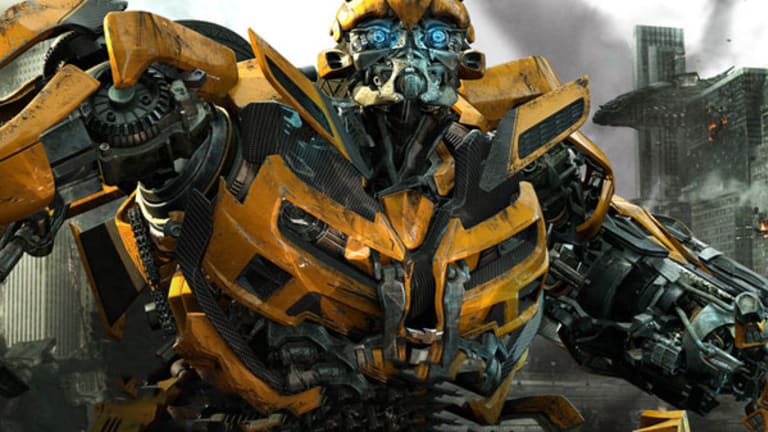 Transformers New Trilogy Set to Lift Hasbro and Viacom
The first movie of the trilogy is set to open this summer.
The first movie of the trilogy is set to open this summer.
NEW YORK (TheStreet) -- Since its initial release in 2007, the Transformers series has been one of the highest-grossing movie franchises.
After three successful films from 2007 to 2011, Transformers is getting a new trilogy with the initial film coming this summer. Two publicly traded companies have a lot to gain.
The new trilogy partners toy maker Hasbro (HAS) - Get Report and media company Viacom (VIA) - Get Report are together again after the successful three-picture run.
Box Office Mojo, an industry Web site, is projecting that Transformers: Age of Extinction will gross $285 million in domestic markets and $750 million in international box office.
The movie being partially set in China is cited as once reason why the foreign take could be so high. The last Transformers movie grossed $165 million in China, one of 11 countries where the movie grossed at least $20 million.
In its last fiscal year ended in September, Viacom reported a 1% decline in total revenue to $13.8 billion. Filmed entertainment revenue decreased 11% to $4.3 billion, despite hits such as World War Z, Star Trek and G.I. Joe. The filmed entertainment segment also saw operating income decline 28%. The addition of Transformers in the current fiscal year should be a welcome sign for investors.
In its last fiscal year ended on Dec. 29, Hasbro reported revenue of $4.08 billion, almost flat with the prior year. In its first quarter, revenue rose 2%, led by strong international and entertainment and licensing revenue. Hasbro should see a strong second half from the box office and toy revenue from Transformers: Age of Extinction.
Hasbro shares are up 69% since the first movie hit the big screen in 2007. On Thursday morning, they were trading at $55.60, up 45 cents. Viacom shares were trading at $84.84, up 2%.
>>Read More: Whole Foods Investors Were Warned
>>Read More: Kass: Facebook-WhatsApp Fallout
At the time of publication, the author had no position in any of the stocks mentioned.
Follow Katje on Twitter@chriskatje
This article represents the opinion of a contributor and not necessarily that of TheStreet or its editorial staff.