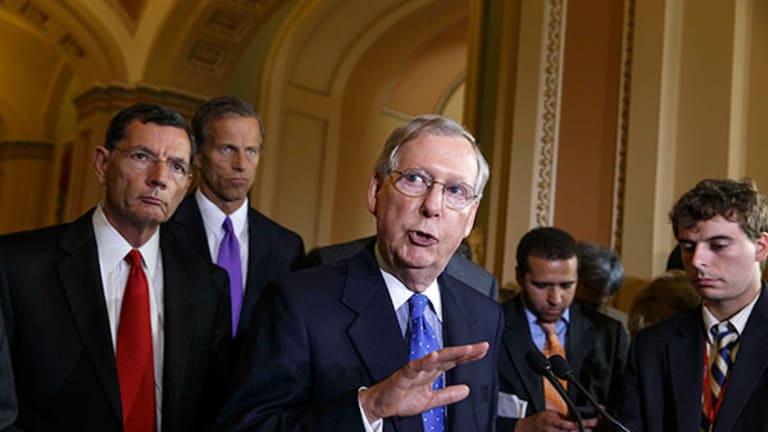 NEW YORK (TheStreet) -- The fate of TransCanada's (TRP) - Get TC Energy Corporation Report controversial Keystone XL pipeline is still in limbo as the U.S. Senate rejected by just one vote a bill seeking approval to begin construction. But the defeat in the Senate isn't the end of the world for Canada's second-biggest pipeline maker.
The Calgary-based company has been waiting for six years for approval from U.S. policy makers on the project, which aims to ship up to 830,000 barrels of heavy oils a day produced from Canadian tar sands to the refineries at the U.S. Gulf Coast. Had the Senate approved the pipeline, President Obama, who was not in favor of the approval until the State Department completed its review, could still have vetoed the legislation. 
Amid the U.S. delays, the estimated cost of Keystone XL has climbed to $8 billion, 48% higher than its previous estimate, TransCanada said during the third-quarter conference call earlier this month. 
Meanwhile, futures for West Texas Intermediate crude and Brent crude have fallen to $74 and $78 a barrel, respectively, after remaining above $90 through a large part of the last two years. FirstEnergy Capital analyst Steven Paget, however, said in an email to TheStreet that Keystone XL remains an economically viable project even in a $70-$80 a barrel oil price environment.
Keystone XL, however, is neither the biggest nor the most attractive project in TransCanada's portfolio. On the contrary, the pipeline is a small part of TransCanada's massive backlog of several commercially secured projects valued at $46 billion which the company expects to put into service through the end of the decade.
TransCanada's $12 billion Energy East pipeline is the company's largest project which, Paget confirmed, could be more attractive than Keystone XL in terms of revenue, profit and margins.
Energy East, which the company expects to come online by the end of 2018, will allow Canadian oil producers to ship their output to the country's Atlantic Coast. Russ Girling, TransCanada's CEO, predicted earlier this month that the pipeline will lift the company's annual earnings before interest, tax, depreciation and amortization by $1.7 billion. TransCanada already has signed 20-year contracts for 80% of Energy East's 1.1 million barrels a day shipping capacity.
Besides Energy East, TransCanada has $13.6 billion of smaller scale projects coming online though 2018 that will drive the company's growth in the coming years.
It's worth mentioning that TransCanada isn't just about oil and gas pipelines. The company also generates nearly 20% of its earnings from its power generation business.
Essentially, Keystone XL doesn't underpin TransCanada's future.
Similarly, Canadian oil producers such as Canadian Natural Resources (CNQ) - Get Canadian Natural Resources Limited Report and Suncor Energy (SU) - Get Suncor Energy Inc. Report , which would have been among the biggest beneficiaries of Keystone XL since it would have given them access to the U.S. Gulf Coast and from there to the rest of the world, also have "moved on to some extent," said Paget. This was due, in part, to the availability of "many crude by rail transport solutions," Paget explained.
It also helps that several new pipelines are also being added, easing the flow of crude oil to the Gulf Coast refineries. Enbridge (ENB) - Get Enbridge Inc. Report , for instance, is developing new pipelines and expanding the capacity of its existing pipelines that also carry Canadian crudes.
Consequently, according to one estimate, with improvements in transportation networks, the shipments of Canadian crude to Gulf Coast refineries could nearly double in 2015 from August levels. 
TransCanada's stock has risen by 8.5% this year to close to $50. 
The company didn't respond to email and phone messages requesting comment before the publication of this story.
At the time of publication, the author held no positions in any of the stocks mentioned.
This article is commentary by an independent contributor, separate from TheStreet's regular news coverage.