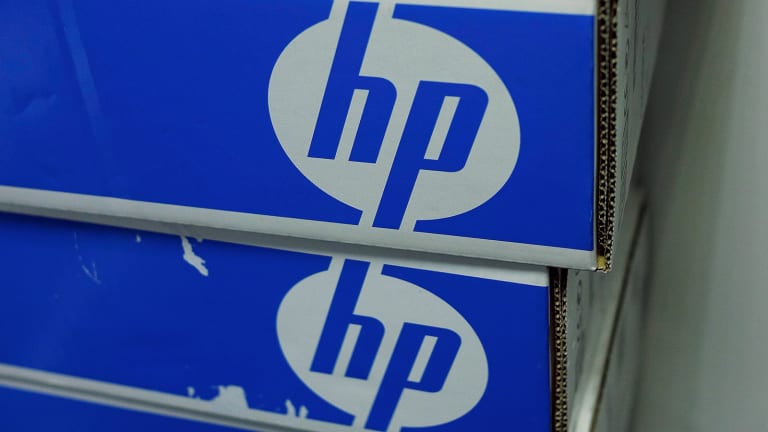 Trading Hewlett-Packard Before the 2-Way Split -- Both Entities Look Promising
Managements of the two H-P derivatives should be focused on building upon their respective strengths.
This commentary previously appeared on Real Money Pro on Oct. 28, 2015, at 8:30 a.m. Click here to learn about this dynamic market information service for active traders.
On Nov. 1, Hewlett-Packard ( (HPQ) - Get HP Inc. Report ) officially will be split into two entities. Investors will receive one share of Hewlett-Packard Enterprises (HPE) and one share of HP Inc. (HPQ). 
Investors can buy and sell these shares today in the when-issued market under the HPE-WI and HPQ-WI ticker symbols. Hewlett-Packard Enterprises (HPE-WI) currently is trading at $15.90 in the when-issued market, while HP Inc. (HPQ-WI) is trading at $11.77 when-issued, for a combined value of $27.67 per share.
The thought process for the break-up was the belief that Hewlett-Packard was just too big and diverse to manage. Even after the split, both companies will be Fortune 50 enterprises. The hope is by splitting HP in two, each of the surviving entities can focus on their respective strengths while driving margins, earnings and shareholder value higher.
At the moment, Hewlett-Packard Enterprises is perceived as the more dynamic investment. Importantly, Meg Whitman, the current HPQ CEO, will be moving to head HP Enterprises. Moreover, the consensus view is that HP Enterprises has more opportunities to grow as the largest computer server manufacturer. Besides enjoying the largest market share, HP servers continue to gain market share while generating double-digit operating margins. 
We expect Whitman to further build out HP Enterprises' product portfolio in storage, networking and software technologies. Multibillion-dollar acquisitions are not out of the realm of opportunity as more customers want to buy multiple leading-edge technologies from one provider. According to Sanford Bernstein, HP Enterprises should earn $1.80 per share in 2016, which equates to a current valuation level of about 8.8x earnings. 
HP Inc. offers investors a more dominant business franchise, with powerful cash generation characteristics but a more uncertain future. The stock is currently in the show-me camp. For starters, its core printing and personal computer (PC) businesses are in secular decline. Printing is declining 1% to 5% per year while PCs have seen double-digit unit declines in recent years. HP Inc. definitely will be swimming against a tough tide.
However, the company continues to gain market share in these declining markets to help offset some of these secular pressures. We also expect more aggressive cost-cutting actions to enhance margins and earnings in the coming years. Lastly, HP Inc. is expected to have an aggressive dividend policy after the split, with a starting yield of more than 3%.
Sanford Bernstein estimates HP Inc. should earn $1.76 in 2016, which places the P/E valuation multiple at a lowly 6.7x earnings. This low multiple combined with an above-average dividend yield should lead to a stable share price in the short term, with the good possibility of meaningful upside potential down the road.
We like both parts of the coming Hewlett-Packard split and plan to hold both pieces. We believe the sum of the parts are worth about $40 to $42 per share and expect each name to trade a number of P/E multiple points above their current prices. We think both managements will be very focused on building upon their respective strengths and are highly motivated to improve their anemic stock prices.
For new investors looking to pick up only one of the names, we believe HPE is better suited for growth- oriented or GARP (growth-at-a-reasonable price) investors, while HP Inc. would be better suited for deeper-value or income-oriented investors. Regardless of your investment style, we look for both to be profitable investments six to 12 months out.
At the time of publication, David Katz and his clients had long positions in the pre-split HPQ.