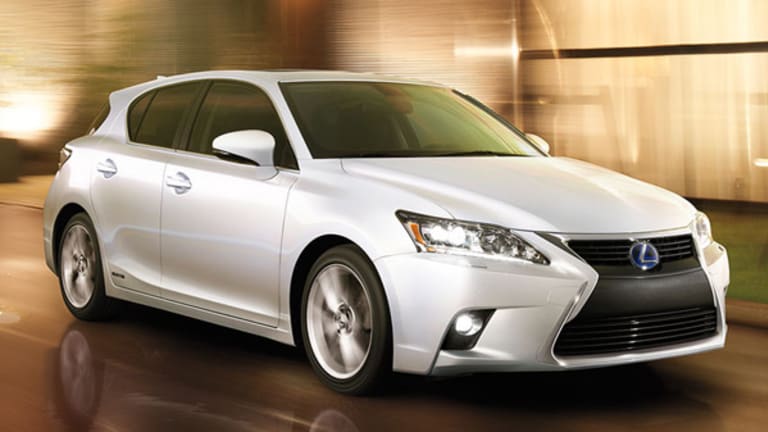 Toyota to Recall 2.3 Million Cars on Glitches in Airbags, Emission Controls
The Lexus and Prius recall comes as the car maker secures shareholder support to reel in separately listed subsidiary Daihatsu.
The Lexus and Prius recall comes as the car maker secures shareholder support to reel in separately listed subsidiary Daihatsu.
Toyota Motor (TM) - Get Report said it will recall a total 2.3 million vehicles installed with defective airbags and emission controls, adding to a slew of recalls by automakers and auto parts manufacturers worldwide.
The Japanese company said on Wednesday it will recall its Prius, Prius PHV, and Lexus CT200h models installed with cracked airbag inflators that could explode once the temperature inside the car rose, as well as its Prius, Prius PHV, Prius a, SAI, Lexus CT200h, and Lexus HS250h models installed with emission control devices with risks of gasoline leakage. The number of cars with the airbag inflator defects totals over 743,000 units, while those with emission control defects total approximately 1.55 million, according to the automaker's disclosure. Other reports have suggested higher figures.
The glitches were found for cars manufactured between 2009 and 2015. The automaker will start the recalls from Thursday.
Toyota's recall adds to a series of similar actions taken by its counterparts in recent months. Mitsubishi Motors (MMTOF) in February recalled vehicles with improperly installed right-turn indicator switches, while in April, Nissan Motor (NSANY) recalled cars installed with air bags with risks of not deploying. Worldwide, automakers including Ford (F) - Get Report , BMW (BAMXY) , and General Motors (GM) - Get Report that adopt defective airbags manufactured by Takata have also been forced to make recalls over the last two years.
On Wednesday, Toyota also said that its global output, including those for separately listed subsidiaries Daihatsu (DHTMY)  and Hino (HINOY) , advanced 11.1% year-on -year. Toyota on its own enjoyed growth for the first time in two months for its domestic production and for a third consecutive month overseas.
Daihatsu shareholders on Wednesday approved a bid from Toyota for the outstanding 49.8% stake despite some dissent about the valuation. Toyota in January said it would offer 0.26 of a share per Diahatsu share, or about Y399 billion ($3.9 billion) at the time for the outstanding shares. The takeover is due to close on Aug. 1.
Shares in Toyota closed up 2.9% in Tokyo. The automaker, which has a large operational base in the U.K., has lost nearly 11% since the close of June 23, the day the country's voters chose to leave the European Union. The company has reportedly warned it employees that a Brexit would cause major risks for its U.K. business.