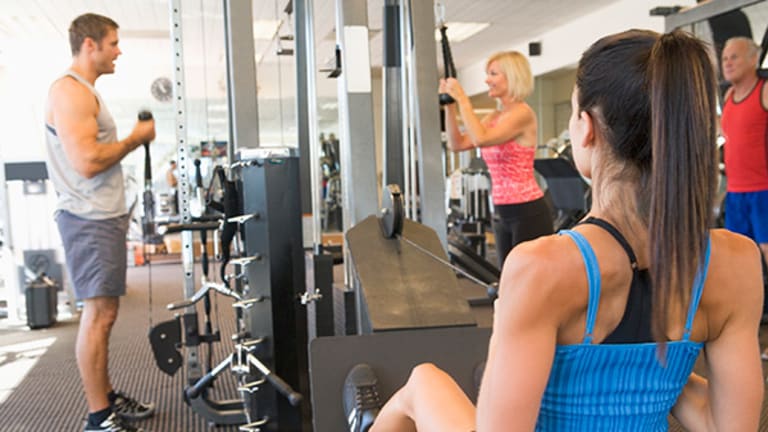 Publish date:
Town Sports International Isn't Profitable Like You Think -- Here's Why
New York Sports Club parent Town Sports International this week reported an earnings 'surprise,' but look under the hood and you'll see things aren't so rosy.
New York Sports Club parent Town Sports International this week reported an earnings 'surprise,' but look under the hood and you'll see things aren't so rosy.
Shares of Town Sports International  (CLUB) - Get Town Sports International Holdings, Inc. Report , which owns the New York Sports Club chain of fitness centers, soared this week after the company reported a big fourth-quarter profit. 
Investors should ignore the headline numbers. Sure, it's true that Town Sports International did record a profit for the quarter of $87 million, or $3.47 a share, according to generally accepted accounting principles. The company isn't really profitable, though, at least not in the way that matters to shareholders. Town Sports International didn't lie, but you need to pore over the full earnings report to understand what is really going on with this business. As in most things in life, the details count.
Unfortunately for those buying hand-over-fist on the "earnings surprise," the real surprise is that the GAAP earnings number included a $77.146 million boost from a one-time accounting item, $73.6 million of which wasn't cash. It also included a related $2.97 million gain from a terminated lease. Both items were related to the sale of a building.
Back out those items -- both of which are unrelated to the company's actual operating performance -- and Town Sports International would have lost around $60 million in 2015, and that still includes the $14 million tax benefit claimed for the year. Instead of delivering 2015 earnings of 84 cents a share, by our calculations, the core bottom line for the year should be a loss per share of $2.35.
So what exactly were those one-time items?
Town Sports International currently rents all of its locations, but until late 2014, it owned a building on 86th Street in New York. The company sold this building on Sept. 12, 2014 for $85.6 million, but it committed to leasing the space back from the new owner, and to lease space in a new high-rise building that would eventually take its place. So Town Sports received the cash from that transaction back in 2014. But because it accounted for the deal as a sale-leaseback, it couldn't recognize the proceeds as income at that time.
In December 2015, the company terminated its existing lease with the buyer of the property, as well as the agreement to enter into a future lease on the new building. And that caused Town Sports to recognize the income from the real estate sale in its income statement. 
The company explains everything right here, in its fourth-quarter earnings press release: 
"In September 2014, we completed the previously announced legal sale of our East 86th Street property for gross proceeds of $85.7 million to an unaffiliated third-party, which housed one of our New York Sports Clubs as well as a retail tenant that generated rental income for us. This sale-leaseback transaction was characterized for accounting purposes as a financing rather than a sale until any continuing involvement in the property ceased. In December 2015, we terminated our current lease and the agreement to enter into our future lease with the purchaser/landlord, and received gross proceeds of $3.5 million in connection with the termination. Because the lease was terminated with no continuing involvement, this sale-leaseback transaction was accounted for as a completed sale. Under this treatment, we have recorded a $77.1 million gain on the sale of the property, recorded in Gain on sale of building in our condensed consolidated statements of operations for Q4 2015."
So that big profit is mostly due to a one-time real estate sale that took place in 2014! This is not something that will occur on a regular basis to bolster the company's bottom line. 

Meanwhile, there are other troubling trends for this company.
Revenue from membership dues fell more than 10% in the fourth quarter of 2015 compared with the same quarter a year earlier, and total revenue for all of 2015 fell 6.5% to $424.3 million from $453.8 million in 2014, even though membership increased by 12%. You can't blame the company and bullish traders/investors for focusing on the record membership numbers and big membership growth, but the problem is that to get these new members, the company is charging low fees, more than offsetting the benefit from the new memberships. Based on our calculations using company data, average monthly revenue per member fell 16% to $65 in 2015 from $78 in 2014, and monthly membership fees per member were down 19.4% to $48 from $59. Both of these will fall even more for the foreseeable future. 
We explained how this would play out last May, again in a January report, and again in this February update; it isn't rocket science! Due to more and stronger competition from the likes of Planet Fitness and its $10-a-month memberships, and high-end clubs such as Equinox and Lifetime (both charging more than $100 a month), midrange gyms like New York Sports Club are stuck between a rock and a hard place, losing members to both. New York Sports Club's solution was to try to compete on price, lowering its monthly membership fees substantially. This allowed new members to join at a rate drastically lower than what existing members were paying, but it also allowed current members to drastically lower their membership fees and switch from annual to monthly contracts. This is why membership is growing and why attrition is falling ... for now.
The headline never tells the whole story, let alone the actual story. Trade the "news" if you want, just accept that you're not reacting to all the information, let alone the important information. 
In sum, we reiterate our belief that Town Sports International equity is worth zero, though we've been bearish for years. Anyone considering shorting this stock into the ground would be well-served to remember the adage, "markets can stay irrational longer than you can stay solvent." Low-priced microcaps can see huge price swings on little or no new information, so while we're confident of the outcome, we are not so confident of the path. Significant involvement of activist hedge funds introduces an additional source and degree of risk to the terminal short case.

This article is commentary by an independent contributor. At the time of publication, the author held no positions in the stocks mentioned. 
The opinions presented herein are solely those of Stone Street Advisors LLC. Neither Stone Street Advisors LLC nor any of its members has a position in CLUB or CLUB derivatives, nor any plans to initiate a position. Nothing contained herein shall constitute a solicitation, recommendation or endorsement to buy or sell any security or other financial instrument. Stone Street Advisors LLC makes no representation or warranty as to the accuracy, completeness or timeliness of the information contained herein, and disclaims all liability arising from errors or omissions contained in this presentation. This document is presented for informational purposes only and does not constitute investment advice. Stone Street Advisors LLC is not an Investment Advisor.