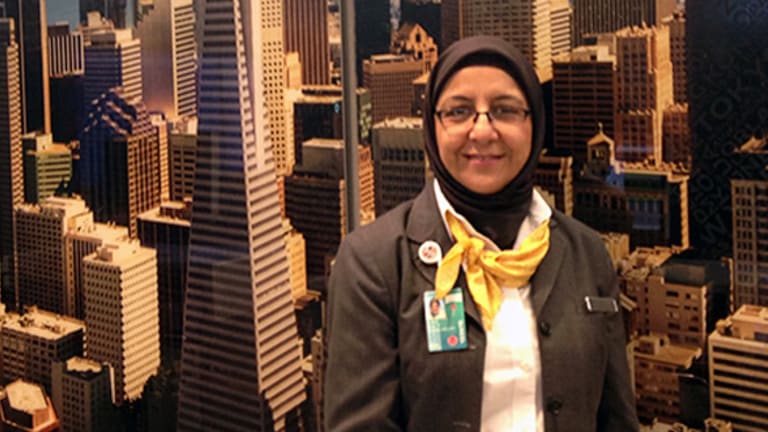 Top Six Airline Customer Service Moments of 2015
The top airline customer service moments of 2015 include a United agent helping a passenger connect with his ailing mother and a US Airways flight attendant comforting a teenage passenger.
Editors' Pick: Originally Published Thursday, Dec. 17.
The airline industry receives a lot of complaints, but a little known fact is that it also attracts a lot of praise.
That isn't reported to the U.S. Transportation Department, but it is reported to the airlines, which regularly receive complimentary letters from passengers who are impressed by the high level of service.
Each year, TheStreet recognizes top customer service moments at each airline. We asked the airlines to provide examples.
This year, a dramatic improvement in the airline industry's financial health is providing many benefits for U.S. travelers, including newer aircraft, improved airport facilities, better on-time performance and higher completion rates.
Still, commercial aviation remains a service business in which customer interaction with airline staff remains a critical component.
Our list of the top six customer service moments this year begins the story of Dori Zazi, a United (UAL) customer service representative in San Francisco, who seems to have a knack for understanding people.
It was apparent one day in May when a passenger flying from Tucson to Hong Kong via San Francisco learned, while making his connection, that his mother had been rushed to a hospital emergency room because of severe pneumonia.
The passenger realized he needed to quickly change his plans. Obviously, complex logistics are tough to manage at emotional times. But this particular passenger had the good fortune to encounter Zazi in United's first-class lounge.
"He seemed distressed," Zazi said, according to a United employee publication. "I could tell right away that something was seriously wrong. I wanted to help him to the best of my ability. We stepped aside and spoke in private about his personal family matter. I recall being in a similar situation a few years ago with my father, so I understood what he was going through. It was very important that he be able to see his mother right away."
Zazi rebooked the passenger on a flight back to Tucson. A United spokesman said airline policy empowered her to allow whatever the customer requires.
Later the passenger wrote to United. "Ms. Zazi provided immediate reassurance! She took my boarding passes and checked-luggage tag and told me to return to the lounge while she handled everything.
"Ms. Zazi is one of the most understanding and compassionate people I've ever been fortunate enough to meet," he said. "Her compassion was real and she even shed a few tears while talking to me."
This passenger took the time to write to United even though his mother died a few days later. At least he had a chance to speak with her before she died, and he fondly remembered the customer service representative who took the hassle out of making that happen.
US Airways Flight Attendant Comforts Teenager During Turbulent Flight
Once in a while, a flight encounters severe turbulence, testing passengers and crew alike.
One such flight occurred in April, when US Airways Flight 1567 encountered turbulence flying from Phoenix to Orlando.
"The turbulence was worst I've experienced in my 30 years of flying," said Philadelphia-based flight attendant Bess Seitanakis, according to an American (AAL)   employee publication. "Once it subsided, the cabin crew got up to take care of the customers."
The passengers included 15-year-old Chasen, who wasn't familiar with such difficult flying. Seitanakis figured this out pretty quickly. Later Chasen's mom wrote a thank-you note to American, in which she wrote, "Bess knew immediately my son was experiencing extreme anxiety. He was having difficulty breathing and calming down.
"For the next 2 1/2 hours of the flight, she watched over him, talked to him, knelt next to him and held his hand. She told him that she had flown for 30 years, that everything would be okay and that the worst was over."
After landing, Seitanakis arranged for Chasen to meet the captain, Charles Glenn II. Glenn spoke with Chasen, explaining what happens during turbulence and how planes are built to handle them.
Also, Seitanakis gave Chasen her contact information. Before his next flight he texted her and she arranged for the pilots and flight attendants to chat with him and to show him the flight plan before departure. Flight attendant Callie Lamothe checked in with him throughout the flight.
"When I was Chasen's age, I knew I wanted to fly," Seitanakis said. "I didn't want this one experience to end that for him."
Delta Culture Allows a Customer Service Manager to Call in a 747 to Provide Bathrooms
One day in April, a water main broke at Minneapolis-St. Paul Minneapolis Airport. This created many problems, but perhaps the worst problem of all was that airport toilets were not accessible.
At that point, Richard Benz, who is Delta's (DAL) MSP airport customer service department manager, "had the idea of parking a spare aircraft at a gate to allow customers to use the lavatories," said Delta CEO Richard Anderson during one of his weekly messages to employees.
Because big problems demand big solutions, Benz and his team requisitioned the biggest airplane they could find.
"Richard, together with his colleagues Scott Redinger, Jeff Hart and Susan Cole, identified an available 747 to park at gate F12," Anderson said. "We basically just had the 747 pulled up and people went on the airplane to use the facilities and our customers obviously were pleased and many shared their thanks on social media."
Maybe at some companies, people get in trouble for deciding that a huge piece of equipment like a Boeing 747 should be shifted around just to make a few customers happy.
It seems the Delta culture is different. The incident, Anderson said, is evidence that "we all have the authority to use to make the operation work for our customers."
Southwest Flight Attendant Cheers Deaf Two-Year Old by Using Sign Language
Mark Murphy is a Phoenix-based Southwest (LUV) flight attendant who has learned American Sign Language.
The skill came in handy on a flight in November from Seattle to Phoenix.
Among the passengers was two-year-old Leo, who was flying with his mother Stephanie. After the flight, she wrote to Southwest.
"I have had a lot of experience with adults who stop talking to Leo as soon as they find out he is deaf," she said. But this time was different.
"I was standing in the front of the plane waiting with my son to use the restroom. Mark saw us waiting and started to talk to my son. Mark was very friendly, and usually I don't say anything and just let them talk to Leo. Since Leo is two years old, most adults understand that they don't typically respond anyway. However, I decided to tell Mark that Leo was deaf. Mark then started to talk to my son using sign language. Leo loves to communicate with anyone who will use ASL. Leo lit up and flashed a big smile at Mark.
"This little act of kindness towards my son made my flight experience very different," she wrote. "Mark did something that my family and I don't experience every day. He made the experience for my son a truly wonderful one."
Virgin America Gets Involved in Wedding Planning
On a surprisingly regular basis, airlines like to help out with peoples' love lives. That's why, on Aug. 23, a couple named Angelia and Rory got a special celebration as they boarded Virgin America (VA) Flight 276 from San Francisco to Cabo San Lucas to celebrate their honeymoon.
At the gate, the team surprised the couple with a celebration that included a sombrero for Rory, a gift for Angelica and sheet cake, not to mention early boarding.
But it wasn't just a gate ceremony. Actually, Virgin was also involved at the wedding, which included  a Virgin-made "breaking news" video, featuring a large number of happy people on a flight celebrating the couple's impending honeymoon trip to Cabo. 
The video  featured reporters Ashley Bloom and Claudio Brescia, normally employed as an administrative assistant and a guest services teammate.
Flight attendants Christopher Cahilig, Yoni Godefa, Joanie Raffo and Migueal Diaz also worked on the project.
This all happened thanks to Jackie, the mother of the bride, who contacted Virgin America nine months in advance to arrange for special care for her "forever single" 44-year-old daughter. This gave Virgin's guest relations team plenty of time for planning.
According to a post on the airline's Web site, "During Jackie's first mood-lit flight from Chicago to Los Angeles, she had a revelation -- she needed to send her daughter, Angelia and soon-to-be son-in-law, Rory, on a their honeymoon via Virgin America! Especially since our rad pink and purple mood lighting matched their wedding colors.
"Intrigued by the destination possibilities and her love for us, Jackie thought, 'Wouldn't it be awesome if I could get Virgin America involved in my wedding present to commemorate Angelia's big day?'
Good thought, Jackie. Airlines love weddings.
Alaska Agent Sings the Star-Spangled Banner as Flight Boards With a Soldier's Remains
Like many companies, airlines make a special effort to honor soldiers.
A particularly moving honor was provided on Oct. 16, when Alaska (ALK) customer service agent Denise Snow was working a red-eye Anchorage-Seattle flight that was transporting the remains of a U.S. soldier. At the gate, Snow informed passengers that she was going to sing "The Star Spangled Banner" to honor the fallen soldier.
Julia Jette, a passenger waiting to board, emailed the airline that "everyone as far as I could see stood in respect and were silent as she sang. I was fighting back tears. The family member carrying the ashes was crying and it ripped my heart out. It was amazing and heart wrenching all at once."
Jette's husband made a video, which she posted on Facebook.
It has been seen more than 30 million times.
This article is commentary by an independent contributor. At the time of publication, the author held no positions in the stocks mentioned.